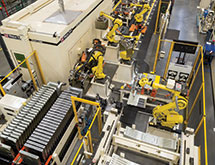 Wayne Trail, a Lincoln Electric Company
Manufacturers in today's economy face a number of challenges, including a greater demand for quality, shorter lead-times and the need to decrease their production costs.
Wayne Trail, a Lincoln Electric Company, specializes in helping manufacturers overcome these issues by supplying top-of-the-line automation systems to the industry.
"We provide solutions to our customers," says John Campbell, general manager of the Fort Loramie, Ohio-based company. "Our customers need to make products, or perform a particular process on their products, and are looking for that process to be automated. They need someone who can provide a turnkey solution for them as well as someone who has a global presence and can support their facilities around the world."
Founded in 1962 as a small tool and die shop, Wayne Trail today is a leader in designing flexible, automated systems used in metalforming, metal fabricating and metal joining applications. Systems produced by the company are used in a variety of applications including robotic welding and fixturing; laser processing systems; press automation; tube bending and fabricating systems; tubular hydroform and structural frame automation and build-to-print manufacturing services. The company's customer base includes the automotive, appliance, aerospace, alternative energy, agricultural and industrial markets.
Notable Wayne Trail clients include the Ford Motor Company, for whom it recently provided a large automation system used to produce hydro-formed components for the F-150 truck line. "We have a very good relationship with the engineers at Ford," Campbell says. "They rely on us as a place they can turn to for solutions to their process issues."
'Under One Roof'
Wayne Trail's diversity across different market segments is one of its greatest strengths. "Our customers might have a need for one, two or all of our automated solutions," Campbell says. "By partnering with us, we can bring them a breadth of knowledge and capabilities under one roof."
The company can also collaborate with its corporate parent and sister companies on projects. Wayne Trail was acquired three years ago by Lincoln Electric, the world leader in the design, development and manufacture of arc-welding products, robotic arc welding systems, plasma and oxy-fuel cutting equipment. Additionally, Lincoln Electric has a leading global position in the brazing and soldering alloys market. The Cleveland, Ohio, based-operation has 48 manufacturing locations, including operations and joint ventures in 19 countries.
Wayne Trail is part of Lincoln Electric's advanced automation systems group, which also includes Tennessee Rand, a Chattanooga, Tenn.-based tooling provider; and Easom Automation, which specializes in equipment including turntables and positioners. "We can offer not just one, but multiple, solutions to our customers," Campbell says. "As a part of the advanced systems group, we can combine our resources with our sister companies and take on larger projects, and not all companies have that breadth of resources nor that advantage."
The Lincoln Electric advanced automation systems group also includes Robolution GmbH, a Frankfort, Germany-based company that provides development, construction, installation and marketing of robot systems and related components, such as mounting jigs, gripper systems and peripherals. Lincoln Electric Automation also has integration capabilities in Mexico, Brazil and China that enable Wayne Trail to support customers with global projects, he adds.
Quality Processes
Wayne Trail also partners with a number of suppliers who provide the components and materials it needs for the systems it provides to clients. The majority of the company's systems are customized to client needs, but use a number of standard components.
"Our strong supply chain partners allow us to bring the best-quality solutions to our end customers," Campbell says. "We rely on our supply chain to have many of the same quality practices we do and work well with us as a team player."
The company's partners include Hydrotech Inc., which supplies hydraulic components. "Many times, our customers will have a need for hydraulic clamping or hydraulically powered forming/fabricating systems," he adds. "Hydrotech supplies us with hydraulic power sources, and we also buy pneumatic components from them."
Wayne Trail's manufacturing facility includes a machine shop, assembly and inspection facility. The company's manufacturing capabilities include CNC machining, jig and fixture building, refurbishment and prototyping. Two HAAS machining centers were recently added to the machine shop, Campbell notes.
The company also maintains a quality control room equipped with machines including both fixed and portable coordinate-measuring machines. The lab also features a variety of gauges as well as computer software and hardware. Wayne Trail's quality management adheres to ISO 9001 standards. "We do a lot of rigorous in-house testing and go through a lot of different quality checklists to make sure our products are sound, stable and able to go into the field," Campbell says.
Wayne Trail has implemented 5S methodologies throughout its operation to aid its quality standards and is currently in the process of implementing ISO 14001 training programs for engineering, assembly technicians and machinists at all levels of the organization to help keep the staff's skills strong, he adds.
Strong Support
Wayne Trail installs and provides technical support for all of its systems. The company's service department includes experienced technicians and customer service coordinators who can assist clients with service, parts, warranty and technical assistance questions. Calls for emergency service received after normal business hours are routed to service managers, who respond to them promptly.
"From site installation and start-up services ranging from complete turnkey projects involving logistics, systems and process solutions, to stand-alone equipment refurbishment, preventative maintenance or relocation, our customer service department is ready to assist," the company says.
Wayne Trail routinely enhances its team through hiring as well as by offering advanced technical training and improved communication tools such as remote diagnostic capabilities. "I am most proud of our ability to truly satisfy our customers and support them," Campbell adds.