We talk automation and ROI with Muratec's Scott Matlock
In today's marketplace, consumers' expectations surrounding access to products and speed of delivery have rapidly risen, and it's driving changes throughout the industrial machinery, manufacturing, warehousing, and distribution market segments.
How organizations balance automated solutions and human intervention in response to labor challenges, customer demands, and space utilization requirements can increase operational efficiency and productivity while significantly reducing costs.
"As automation develops and strengthens, manufacturing and supply chain leaders are increasingly looking at automated systems as highly advantageous. Simply put, those that don't automate will be left behind," begins Scott Matlock, General Manager of Murata Machinery USA, Logistics & Automation Division.
Murata Machinery is a manufacturer of fully customizable automated material handling solutions that help today's manufacturing and logistics leaders stay competitive. The company's Muratec brand reinforces the reliability of Murata Machinery's products and services by advancing innovative automation to create a more prosperous society.
New product debut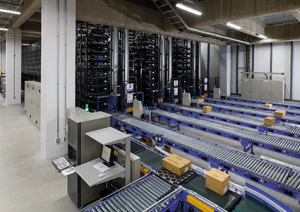 Regarding Muratec's latest technology, Scott's team has been hard at work on a new North American rollout of a small goods automated storage and retrieval system (ASRS), the Ledger A3 Mini-load. This industry-first, four-tote carriage crane delivers double the capacity compared to a conventional mini-load and transfers at twice the efficiency rate of a comparable system. Its crane transfers A3 size totes individually or simultaneously, sorting small items at large capacity and at scale with unfailing precision. The Ledger A3 can integrate with automated Goods-to-Person (G2P) transport systems and picking stations to minimize manual handling and further boost throughput.
"This system is designed and built specifically for lightweight, high-density storage and retrieval," Scott details. "We engineer many systems, ranging from light to heavyweight cranes, single- to twin-mast, and single- to quad-forks. We also engineer systems with high-speed shuttle sortation and automated vehicle transport. These Uni-SHUTTLE and SHUTTLINER systems are both relatively new to the market and will dramatically impact the sector."
The Ledger A3 is fast, moving 400 trays per hour, traveling 984 feet per minute, and carrying loads up to 60 lbs. in total across four totes. In layman's terms: it's big, strong, and fast! "We're excited about this system. It fills a missing gap in the small goods market for a high-density mini-load, goods-to-person system," he goes on.
The ROI of automation
With an extensive background in sales, engineering, and marketing within automation, industrial, and manufacturing sectors, Scott is an industry thought leader focused on engaging, challenging, and leading organizations toward growth and efficiency to boost their bottom line. Organizations can utilize full-system integration to enhance productivity and meet emerging market alterations with dexterity, efficiency, and accuracy.
"One important factor surrounding automation is ROI analysis," he reveals. "When we sit down with our partners and talk about a turnkey solution, we will always learn enough about their business to evaluate if full integration is an option. Then, discuss system and operating costs and the return they can expect on the investment. It makes a huge impact on how a customer will partner with us, and in turn, on how they will justify automation implementation."
There's no mistaking that automation can require huge capital expenditure, but as Scott points out, it can also pay dividends for stakeholders in the long run. "There are several things a business must consider before it begins to enhance automation; the most important being floor space. By introducing an ASRS, for instance, the overall floor space within a warehouse can be dramatically decreased.
"Then there is cost and operational expense," he continues. "These expenses can increase with a material handling system when compared to older manual or legacy set-ups, but an automated system can significantly reduce labor costs, optimize operations, and accelerate productivity, saving more in the long term. Facilitating the transition from labor-intensive to industry leading automation, in years to come, these kinds of systems will be the standard instead of the exception," he concludes.
One Muratec, many divisions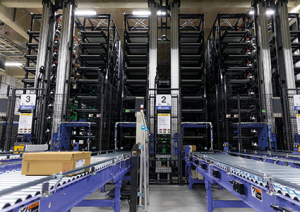 To deliver the most effective solutions for today's manufacturing challenges, companies must find the right partner with flexible solutions and the service to keep it running. Made by a global leader in machining and automation, with a tradition of quality, precision, and reliability, Muratec operates four distinct divisions. "First, there is the Textile division in Charlotte, North Carolina, our legacy team that first introduced automated machinery for fiber spinning and winding to the US market. Also, in Charlotte, our second division, Machine Tools, engineers high-performance turning and fabrication machinery for machine shops and Original Equipment Manufacturer (OEM) contractors to automate parts and component manufacturing," Scott explains.
"Third is our Oregon-based Clean Factory division, known as our semiconductor business. This world-leading team designs precisely controlled, highly automated, ISO-Class 1 certified clean room systems. Finally, there is the L&A division, for which I am the General Manager. Also headquartered in Charlotte, this high-performance team automates operations and accelerates productivity for mid-sized to Fortune 500 manufacturing, distribution, and logistics operations.
"Although split into multiple divisions, everyone across the organization works together as one cohesive team," Scott asserts. "The four divisions can integrate a full range of automation across a customer's supply chain, which uniquely eclipses our competitors operating in the same market," he explains. "We know our equipment, and we know our customers. Our history and experience offer us a unique perspective on both sides of the coin: technology and service."