A growing business
A family business that sees the benefits in simple farming, Weaving Machinery provides the machinery and equipment that makes low disturbance farming not only possible, but highly rewarding
Founded in 1983 by husband and wife Edward and Julia Weaving, Weaving Machinery has remained to this day a family run company, now with the involvement of their two children Simon and Sarie. Its primary aim is to offer farmers the best quality machinery at affordable prices. "When my father first established the company, he started out specializing in the buying and selling of second-hand farm machinery," explains Simon Weaving, who today is Weaving Machinery's Sales Director. "By that time, my father had built up good relationships with a large network of farmers in the local area, meaning that he knew and understood the type of equipment that they required and where to source it from.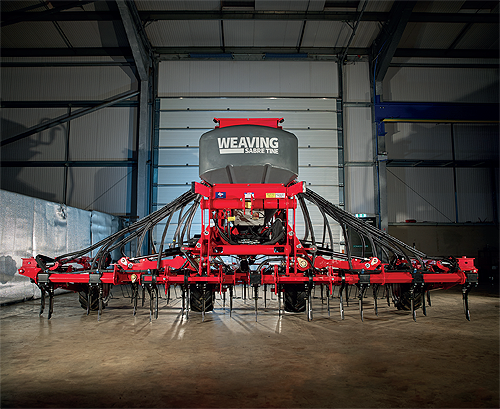 "As time went by, he began to dabble in purchasing new kit from countries in Europe, such as Italy, Spain and Austria, before eventually travelling to the United States in 1995, where he learnt more about the process of direct drilling and its benefits. This resulted in the company's first purchase and import of a no till Krause Drill, and his experience with that piece of machinery helped to spur on his ambition to provide the farming community with innovative and cost-effective machinery for all farming methods that we would manufacture ourselves."
Continuous investment in modern design and manufacturing methods has brought the business to the point where today Weaving Machinery is responsible for building a range of drills and cultivators, as well as supplying flails, hedge cutters, grassland equipment and electric gates. "We strive to provide a service to all types of farmer, whether they are small or large-scale," Simon continues. "All of our drills and cultivators have been designed to be as environmentally friendly as possible, which means they require less diesel, less horsepower to operate, and create less soil movement, which helps keep the land in better health.
"Our customers deal with us direct, meaning they don't need to go through dealerships or other third parties. As well as manufacturing machines ourselves, we deliver them to the farm, set them up, and accommodate any servicing requirements that a customer may need going forward. This is supported by our sizable parts department, where we store a wide range of components, not just for our own machines but those of other manufacturers as well. This complete service offering highlights how, for us, it is not simply about selling a product, but having the capability to back it up once in service. We believe that anyone can sell a single machine, but that it is by providing backup and spare parts, and having strong customer service that secures the second, third and fourth orders from a customer!"
In order to make life even easier for its customers, Weaving Machinery offers a number of financial options, including valuing existing machinery and trading it in against a new purchase, or providing finance on all machines at competitive prices. It also retains a large selection of quality used machinery in stock, which is all tested in its workshop prior to sale.
Weaving Machinery has come to be well known for its personal approach to doing business, something that is boosted by the fact that many of its employees come from farming backgrounds. "Our people have proven themselves to be extremely dedicated and loyal to not only our customers, but the company itself over the years," Simon reveals. "A number of them have been with us for anywhere between 10 and 30 years now, and we always look for ways to repay their loyalty. We believe in our people and they in turn believe in us, and that helps enormously as we look to push the company forward into the next stage of its journey."
In recent times, the company's manufacturing facilities have expanded to the point where they cover over 60,000-square feet of space in order to meet growing production demands for its farm machinery throughout the UK and Europe. "From our facilities, we carry out all of our own R&D work, and all of our design activities, which we conduct through CAD 3D modelling. While we do outsource our steel fabrication, cutting and bending, we conduct all of our own fabrication from welding, assembly, painting, and finally stress testing in-house," Simon details. "As far as our people are concerned, we have always endeavoured to ensure that they have the very best kit available for them to do their job, whether that means manufacturing tools, spanners, tractors for demonstrating or lorries for delivering machines."
Reflecting back on 2020, Simon reveals how Weaving Machinery navigated what was the most challenging year in recent memory for many. "For starters, we were fortunate in that manufacturing was able to continue throughout the whole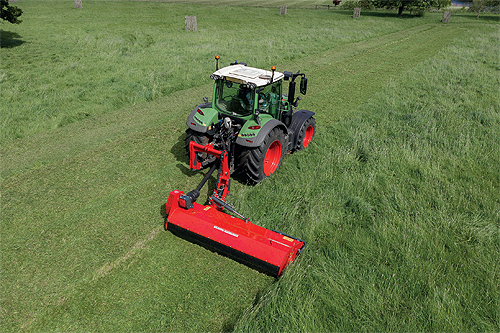 of last year in order for us to deliver a vital service to farmers," he says. "Clearly, we had to take a number of precautions in order to make life safer for our people, and this extended to ensuring that those farmers we delivered machinery to understood that employee safety was to be made of paramount importance when carrying out their work. Meanwhile, with 99 per cent of our parts being sourced from within the UK, we were also able to operate without suffering from any hold ups in delivery and with the ongoing support of what is a very loyal supply chain."
Such has been the success of Weaving Machinery in recent years that it also marked 2020 by being included within the influential London Stock Exchange Group's '1000 Companies to Inspire Britain 2020' report. "Such recognition really comes down to a combination of the efforts of our people and the service they provide, our customers and their belief in the 'Made in the UK' mark of quality, and the innovation that we apply to our machines in order to meet today's farming demands," Simon states.
In order to further the momentum that the company has built up and leverage it through 2021, an immediate area of focus for Weaving Machinery is to meet the many orders that it already has in its books for the coming months. "From there, it is about making ourselves slicker, smarter and more efficient as an operation," Simon adds. "We spent 2020 updating the vast majority of our in-house manufacturing equipment, and we will now be watching to see how the environment around us – what with the ongoing Covid-19 pandemic – evolves before pressing the green light on further expansion plans. These include opening new offices, a new stores department and a new showroom, which should be realized in the next 18 months.
"Looking further ahead, we want to see Weaving Machinery being recognized more widely as a great British brand – up there with the very best – whilst making sure that our customers, both old and new, know that we will remain there for them always through thick and thin. Farming continues to undergo dramatic changes at present, and we are changing too to accommodate that, all while providing the level of service and product quality that Weaving Machinery is known for."
Weaving Machinery
Services: Agricultural machinery, equipment and services
www.weavingmachinery.net