The stamp of authority
With family at its core, Weiss- Aug Group is celebrating 50 years as a leading provider of molding, stamping and assembly solutions
Weiss-Aug is a company built from the ground-up. It consisted of just five people upon its launch in New Jersey in 1972: co-founders and former colleagues Dieter Weissenrieder and Kurt Augustin, a couple of toolmakers, and a single secretary. The company was originally housed in a small building owned by Dieter's uncle, where it remained for two years, until – with space in short supply – Dieter and Kurt found themselves a new home in an industrial park in the state's East Hanover district.
It was the first of many expansions for Weiss-Aug. In 1978, Dieter purchased the land adjacent to the industrial park, where he began building up a stamping plant. This followed, in 1980, with the acquisition of a molding company, yet another addition to the breadth of Weiss- Aug's manufacturing expertise. With its molding business enjoying steady growth, Weiss-Aug committed to a further expansion in 1994, securing an overall total of 100,000-square-feet of space, and a total of 200 employees.
Nearly three decades later, Weiss-Aug is a veteran provider of custom insert molding, precision metal stamping and assembly solutions for the automotive, medical, electronic and semiconductor industries. In doing so, it's guided by a philosophy of 'doing the impossible'. "We handle complex and challenging programs that very few people want to handle," explains Dieter, now Weiss-Aug Group CEO. "I always say to our team members: we're watch makers, making extremely precise and accurate parts. It's an impulse that's been in our blood since the very beginning, when Kurt and I founded the company. Unfortunately, in the America of the last 30 years, it's an attitude and an approach to business that's become increasingly rare."
50th anniversary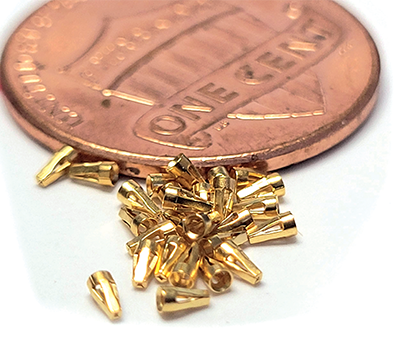 Another thread that has, and continues to run throughout the company's long history is family. "I've been blessed in one respect that my children are just as passionate about Weiss-Aug as I am," Dieter reflects. "I've been in business now for more than 50 years, and I've decided it's about time I slowed down and became a little less engaged. My daughter is being trained to take over the entire organization. She's currently responsible for the running of two of our plants, and she's already very much involved with the decision-making process. My son and son-in-law are also in the business, and I even have a nine-year-old grandson who's started to take an interest. Who knows, one of these days he might join us."
Dieter's decisions are guided as much by the interests of his own immediate family as those of the extended Weiss-Aug family. "We've had many offers to sell the company, but as a family-owned business, it's important to us to be able to provide reliable and safe employment for all of our long-term employees," he continues. "I know so many of them personally. In the last few years, we've seen retirements from four or five individuals who have been in the businesses upwards of 45 years, and just this year we said farewell to a 50-year employee. In their place, it's my hope that the new staff joining us realize they have a home here and can rest assured that they don't have to speculate about their job security."
In 2022, Weiss-Aug Group is celebrating its 50th anniversary. To mark the occasion, the company has drawn up a series of exciting plans to further highlight the contribution of its employees. "Being 50-years in business is a milestone," Dieter admits. "We have a number of activities planned, and we're hoping to have a big celebration in New Jersey to which all of our employees will be invited. That's scheduled for October, and because my roots go back to Germany, we'll be calling it the Oktoberfest. It's an occasion to say thank you to everyone for their hard work throughout all those years."
The hard work is paying off. In the last decade, Weiss-Aug has launched a series of acquisitions to further expand its product and service offering. "In 2014, we had the opportunity to purchase a majority stake in The Diemasters, a stamping and assembly plant of larger, intricate parts in Chicago," Dieter tells us. "They manufacture parts for lawnmowers, for small engines, and carry out some fabrication work. The logic behind the purchase was a desire on our part to extend our business into larger more complex automotive parts, as well as insert molding them."
As things turns out, it was an astute investment. "With the growth of the electric vehicles market, we're seeing the electrification of cars with the huge batteries, using larger, more complicated stampings and the opportunity to insert mold them," Dieter says. "In our original East Hanover plant, our maximum press size is a 90-ton machine, which is too small to run the new terminals and connections required for electric vehicles. At The Diemasters, we have everything we need to execute that promising line of work."
After purchasing the remaining stake in The Diemasters two years ago, Weiss-Aug has bolstered its investment with the installation of five new Nidec Minister presses, the largest of which sits at 350 tons. "At the same time, we had an opportunity to purchase JK Tool in 2014–15, a tool making company based near Pittsburg, Pennsylvania. They'd been a substantial supplier of ours for several years, with a fine reputation for the manufacture of progressive dies. Three years later, we re-located them to a brand-new plant close to the old facility, where they continue to produce progressive dies and tooling for us, and for some of our competitors."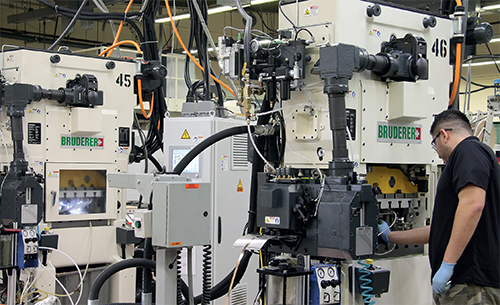 As its investment history implies, Weiss-Aug believes that maintaining close working relationships with its suppliers is another key to long-term success. "If you have a good relationship with anyone, it's far easier to work with them," Dieter points out. "What we don't do, although it's something I hear a lot from our competition, is demand that everything has to be cheaper, and that it has to done faster. For us, that applies unnecessary stress. Yes, we do need to have a competitive price – but take the blood out of our suppliers, and a year or two from now they'll be in worse shape.
"Consequently, it's been our philosophy to work very closely with our supply base," Dieter continues. "We don't change our suppliers much – some of them reach right back to when we started the business, and together we've built very strong relationships. If ever we have a delivery problem, I know that I can pick up the phone and say, 'Hey, can you push this shipment up a little bit?' And of course, they're going to bend over backwards to make it happen."
Latest acquisition
Not one for settling, the automotive and electronic sectors are only two portions of Weiss-Aug's business. "Twenty-five years ago, a very large medical customer came to us and asked whether we could produce insert molded products for their own product line," Dieter recalls. "We did, and we started the medical branch of our business here in East Hanover. That grew at such pace that we quickly built a new plant approximately ten miles away in Fairfield, New Jersey, dedicated entirely to the production of medical parts. That too has grown quickly, so we've also branched out with a plant in Monterrey, Mexico. Across all our facilities, we now have a total of a little more than roughly 650 employees, with the medical side accounting for approximately 60 percent of our total business.
"Our latest acquisition in that line was the launch of Lupine Research in Colorado," Dieter goes on. "In essence, they're a pair of PhD researchers, who formed a company which developed novel technologies which we have commercialized with our shared customers. They saw the value in joining the Weiss-Aug Group and together we formed Lupine Research in 2020. Their focus is on specialty plasma coating technologies, material science and advanced AI Automation which utilizes machine learning. Housed in a research and development lab, we fitted them with some very complicated testing equipment over the past two or three years, and they've returned the favor by helping us to continue developing the life science branch of our business. In general, we believe that the medical market remains very strong. It's one that allows us to continue doing the impossible. It's a customer base that understands very clearly what we do, and we've found it very accommodating."
For Weiss-Aug, the goal is to ensure that the next 50 years are just as successful as the last. "You can't just sit comfortably in the middle, you've got to take chances," Dieter confirms. "Our plan right now is to continue our expansion. We've just purchased some additional land in Pennsylvania, in the same industrial park where our JK Tool plant is located, with the intend to build another manufacturing plant. It's about forward-thinking and being innovative. You've got to hang over the edge – but don't fall off!"
Weiss-Aug Group
www.weiss-aug.com
Services: Custom insert molding, precision metal stamping and assembly