Weiss Spindeltechnologie GmbH
A wise choice
WEISS Spindeltechnologie is a state-of-the-art company specialising in high precision spindle units for turning, milling and grinding applications
From its humble beginnings in 1993, WEISS GmbH has developed its expertise in high precision spindle units over the last two decades to become a market leader in its trade. An integral part of the company's ongoing success took place in 2001, when Siemens AG (Siemens Automation and Drives Group, A&D) acquired majority shares. This development resulted in the company's name change to WEISS Spindeltechnologie GmbH – a Siemens Company, as well as aggressive expansions into strategic areas across the globe; this included the UK in 2002, Brazil in 2004, China in 2006, India in 2007, Italy in 2008 and the expansion of its production plant in Maroldsweisach in 2012.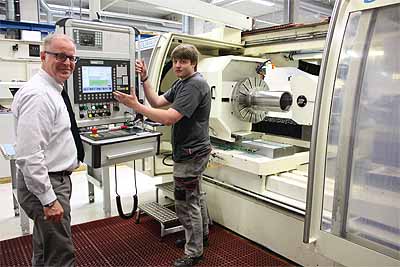 "We are producers of most customised motor spindles for all manner of cutting technologies; by focusing on providing tailored solutions for the machine tool industries evolving requirements we have become one of the technology leaders in this field. Not only do we manufacture the spindles, here in our production facility in Germany, we also offer a global service to ensure our customers can receive maintenance, repairs or new bearings in close proximity to their location. As such, our operations are under two business segments, GSS – Global Spindle Solutions, which is our spindle solutions brand, and SWSS, Siemens WEISS Spindle Service, our spindle service brand. For the former, we have branches in the US, the UK and China; however, for the latter we have many co-operations with service providers across the world. Most recently we have been in negotiations with two new service providers in Russia," explains Claus-Peter Lehnert, CEO of WEISS Spindeltechnologie GmbH.
Reachable from anywhere in the world, WEISS Spindeltechnologie's highly efficient and dedicated personnel are available to provide customers with a high quality service. With more than 3000 repairs per year on its own spindles and those from third parties, the company's maintenance and repair service is constantly expanding its knowledge to all spindle times in the global market. The spindles serviced from other manufacturers leave the company's branches in such a high quality condition that WEISS Spindeltechnologie can give a warranty on replaced parts for a period of 12 months. Wear out parts, meanwhile, are given a warranty of six months.
With the market remaining moderately stable for those operating within the machine tool industry, the company is in demand for its spindle units for turning, milling and grinding applications that are more than 90 per cent tailor-made to suit customer requirements. However, to meet the needs of its clients in places such as China, Brazil and Russia, the company has had to overcome national laws and regulations by setting up partnerships and co-operations, as Claus notes: "The situation is that we sell spindles to German and European machine tool builders, which are then sold across the globe. Eventually spindles will need a repair or servicing due to damage and so on, but it is extremely difficult to export back to Germany; for this reason we must be based in these countries. Because Russia is such an expansive area, we will have two service providers to ensure we can provide a quick, efficient and high quality service to our customers." In line with these expansion plans, WEISS Spindeltechnologie successfully displayed a range of its spindles to potential customers at the Metalloobrabotka exhibition in Moscow.
Although the majority of the company's products are tailor-made spindles, the company has also developed some standard items over the last 12 months. For example, in March 2015 the company showcased its hybrid range of spindles that have been developed for the Asian market at the Timtos 2015 exhibition in Taipei, Taiwan. At its new size of 132, the launched spindle has an A63 interface and delivers a torque of up to 140 Nm and boast a maximum speed of 3000 min-1. Especially designed for machines that process steel components and are capable of heavy cutting, the hybrid series is an economic alternative to indirect spindle drive solutions.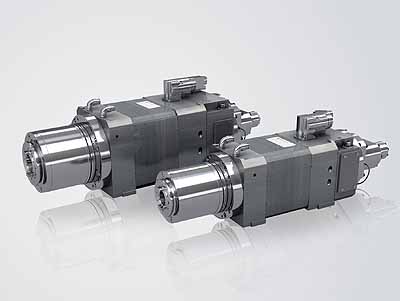 The hybrid spindle is also available in manufactured size 80, with the BT30 tool interface, which has a performance of up to 11.5 kW and reaches torques of up to 21 Nm as well as speeds of up to 24000 min-1. Meanwhile, the larger model at a size of 100 is fitted with the BT40 interface, has a performance of 18.kW, reaches torques of up to 54Nm and speeds of up to 20,000 min-1.
Alongside this innovative range, WEISS Spindeltechnologie also exhibited the results of its collaborative development work with a modular geared spindle, a product that boasts an output torque of up to 1900 Nm, which means speeds of up to 12,500 min-1 are possible. Primarily used in tal milling machines that process hard-to-machine materials, the spindle is highly suitable for manufacturers of large systems in the sector of energy technology.
With passion and a pioneering spirit, WEISS Spindeltechnologie is certain to continue its trend of stable growth as it remains dedicated to the task of finding innovative, custom-made solutions to its global client base. One way the company will reach this target is through its internal 'Fit for the Future' programme, an essential development that will shorten delivery times for repairs and increase productivity, as Claus concludes: "We will invest in productive and improved processes throughout the company, while also focusing on the development of the machine tool industry's request for big data; this will enable us to offer solutions that will ensure their machines are fit for the future. To do this we will be involved in automated spindle tests and use big data technology to learn more about spindle behaviour."
Weiss Spindeltechnologie GmbH
Products: High precision spindle units
Sites: Schweinfurt and Maroldsweisach