Bringing innovation to the kitchen
An important part of the Welbilt family of brands, Merrychef's accelerated cooking solutions are designed to increase speed of service and streamline workflow, but never at the expense of quality or reliability
An award-winning, global leader in the manufacture and supply of professional catering equipment, Welbilt's heritage spans more than eight decades in the field of foodservice. With business operations in the United States (it is headquartered in New Port Richey, Florida), Europe and Asia, the company boasts 20 manufacturing facilities throughout the world, and it sells through a global network of over 5000 distributors and dealers, in over 100 countries. Welbilt's portfolio of leading brands includes Cleveland, Convotherm, Crem, Delfield, Frymaster, Garland, Kolpak, Lincoln, Manitowoc, Merco, Multiplex, and Merrychef.
Colin Lacey has been with Welbilt for over 15 years, in which time he has filled various senior management positions. In 2019, Colin was appointed as Vice President and Managing Director of Merrychef, and tasked with further developing the brand, leading the product line globally, and managing its manufacturing operations.
"A single entity within the Welbilt portfolio, Merrychef designed its first accelerated cooking oven in 1950, and now it leads the way in high speed cooking technology, being a premier designer, manufacturer and supplier of accelerated cooking systems," Colin explains.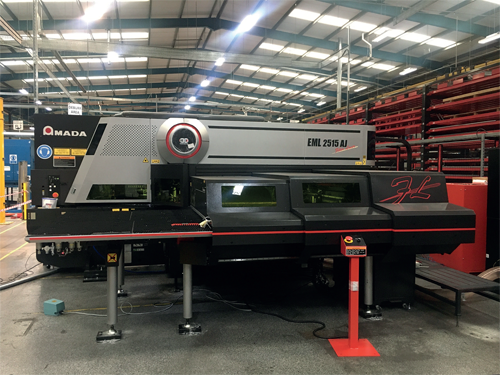 Merrychef's accelerated cooking technology makes use of a combination of convected hot air, microwaves and rapid heat impingement to cook products up to 20 times faster than conventional methods, thereby increasing the speed of service and reducing wait times. Merrychef's products have gone on to become staples of a number of large chains, including the likes of Subway® and Marks & Spencer. "Our typical clientele is made up of what we would refer to as 'Quick-Service Restaurants' as well as pubs, bars, cafés, coffee shops, and petrol stations, so essentially any business that has a need to cook food quickly, guaranteeing speed of service," Colin adds.
Seamless process
A UK headquartered company, Merrychef runs an R&D center in Guildford, Surrey, and manufacturing facilities in both Sheffield and in China. "Our main factory in Sheffield is a 100,000-square foot, vertically integrated facility," Colin continues. "Typically, when it comes to the building of our products, we will take steel and other materials and load them into an automated stockyard. From here it passes through a series of lasers, laser punches, and robotic bending, welding and sealing processes, before then being manually assembled and tested, ahead of final inspection and lastly distribution.
"So, what we have developed is an extremely seamless process, one that makes sensible use of automation, and we continue to make ongoing investments across the board. This includes the recent purchase of a new AMADA EML-AJ fibre laser/punch combination machine. We have also invested in several new pieces of bending equipment, which is also helping to further improve upon the flexibility and efficiency of the manufacturing process and allowing us to respond quickly and effectively to the demands of our customers."
Of course, as Colin goes on to document, there are a number of other important contributing factors that support Merrychef's ongoing growth and level of performance. "The first thing it comes down to is, without question, our people. We have a very experienced and stable management team and work force, which is quite entrepreneurial in its own right, and that is something we definitely encourage!
"Clearly, we have a fantastic product range, which is best-in-class in terms of not only speed, but also ease of use, cleaning, and energy efficiency, but in order to promote and sell this range you also need a great network of established dealers and distributors, and ours stretches all over the world. Connected to this, we have fantastic aftersales service support functions. These include carefully selected stocks of spare parts that our experienced technicians carry around with them in their vans, and we make a point of the fact that these experts can be in and out of a customer's store in a short space of time, during which they are able to fix a problem 95 per cent of the time there and then. Our customers cannot afford equipment downtime and repeat visits are frustrating and inefficient. We also produce a lot of marketing and training materials and videos that our customers can access in order to carry out simple repairs or identify specific fault codes that they can report to us. This ability to remotely access this information is becoming even more important, given that we continue to export around 90 per cent of the products that we build."
Customer benefits
Turning the conversation back to the wider Welbilt group, Colin is able to highlight some of the immeasurable benefits that Merrychef and its other brands receive from being associated with the organization. "I would say that Welbilt is a great example of a horizontally integrated business, one in which the cross-pollination of ideas is encouraged, and a great deal of best practice is shared across businesses and between a centralized team of experts," he enthuses. "One of the things that Welbilt has recently embarked upon, for instance, is a big program of standardizing common user controls that make up the interface of many of the machines produced by its various brands. This is likely to be of huge benefit for customers, particularly when it comes to staff training and ease of use."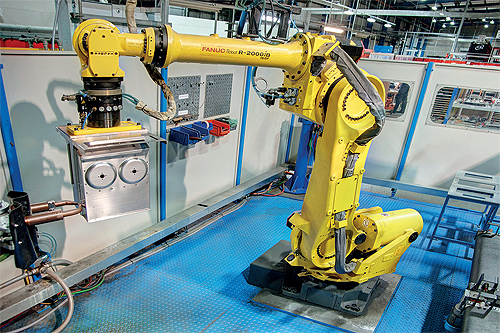 "As a group, we are also extremely cognisant of the need to achieve greater connectivity and make the best possible use of the Internet of Things. The ability to connect our customers and their products to a shared online platform gives them the chance to monitor equipment in real time, as well as analyse performance data."
Strategic plan
In the time since Colin took on his role with Merrychef, the brand has experienced a period of exceptional growth, something that it continued to achieve despite the Covid-19 crisis. As a matter of fact, Colin believes that the brand has come out of it stronger than ever before. "A key reason for this is the fact that we have an established strategic plan, which we have continued to execute throughout the pandemic," he adds. "We are also fortunate that – as a predominantly export-driven business – the world didn't stop all at once, with different regions emerging from lockdowns and restrictions at different times. This meant that we were never reliant on one particular market, and this helped to keep the business rolling."
Since around June 2020, Colin and his team have been almost consistently working at pace to fulfil orders and service both new and existing customers as more and more countries reopen. In addition to its major markets of the United States and Europe, the Middle East has rapidly become a strong source of orders, with growing investment in infrastructure such as gas stations and the introduction of more branches of quick-service chains leading to a steep rise in demand for Merrychef's industry-leading solutions.
"The outlook for the future is very good for us, and we are still going to be investing into our Sheffield facility, but we are also starting to examine whether our existing capacity of 100,000-square feet is enough to accommodate the needs of our customers," Colin reveals. "We are presently looking at ways to achieve maximum utilization of the facility, and also examining how achieving greater levels of vertical integration can support our activities. This could include taking some of the pressed parts that until now we have purchased from third parties and manufacturing those onsite ourselves. This could have the potential to not only reduce our own lead times, but also alleviate some of the challenges the industry currently faces when sourcing components from far afield."
Colin admits that both Merrychef and Welbilt are bullish about how bright the future looks, and as such there is not expected to be any let up in the executing of its respective strategies. "In the months and years to come, we will continue to introduce more new products in response to customer demand, while also embracing the reality that increased connectivity will drive a lot of elements of the business, from new technology advances all the way through to how products are ordered and placed.
"All the while that this is happening, the level of competition in the market is only going to heat up more and more, and we welcome that! After all, we believe that healthy competition improves us all, and considering the success of our products, Merrychef has nothing to fear from it whatsoever."
Welbilt – Merrychef
www.welbilt.com
www.merrychef.com
Products: Professional catering equipment