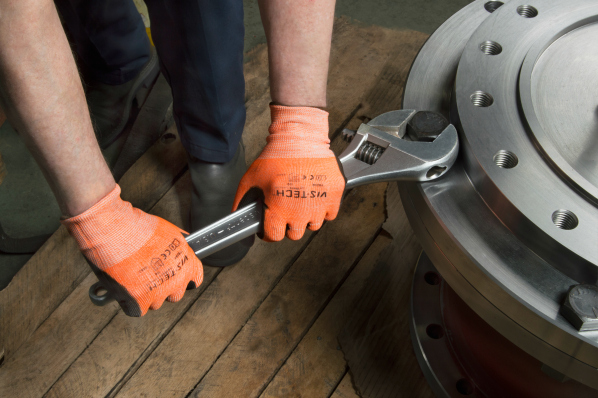 As the price of medical care increases, the cost of employee injuries escalates. Employees in many manufacturing industries – especially automotive assembly, food processing and operations involving heat – use various types of innovative gloves and sleeves for hand and arm protection designed and manufactured by Wells Lamont Industrial.
"Manufacturers are recognizing the expense of injuries and are willing to pay a little more for a product that will protect them, because in the long run, it can save them hundreds of thousands of dollars in preventing those injuries," General Manager Dan Schmidt points out.
Wells Lamont Industrial has research and development labs at its manufacturing plant in Philadelphia, Miss., and at its corporate headquarters in Niles, Ill., that can design differentiated products for special applications. "We're working to solve problems with our customers to help them identify ways to reduce hand and arm injuries," Schmidt says. "Our salesforce is going out and being that consultant to the leading manufacturers around the country to identify areas where they can save money, which include eliminating injuries and improving production by providing better hand and arm protection."
The company upwinds its own yarn from highly engineered fibers that provide cut protection, durability, dexterity and comfort. "We're vertically integrated," Schmidt declares. "We're unique – we may be the only glove manufacturer that is doing their own upwinding. Most of our competitors are buying their yarns from somebody else. We take these fibers and make our own highly engineered yarns and turn them into high-quality gloves and sleeves."
A recent example is a special sleeve for nurses at a children's psychiatric hospital to protect them from bites by their young patients. It was designed and developed by Wells Lamont Industrial in a series of prototypes that were sent to the customer, tested and refined several times. "Being able to have the capabilities to go back and forth like that – with a lot of suppliers who may be buying stuff from overseas, it would take months and months to do what we are able to do in weeks," Schmidt asserts.
Broad Product Line
Wells Lamont Industrial is known for having one of the broadest product lines in the market. "Historically, we've been pretty well-known for providing high-quality leather gloves," Schmidt says. Founded more than 100 years ago, the company has branched into palm-dip gloves that consist of a fabric shell with a thin coating, such as polyurethane or nitrile, on the palm and fingers to provide a good grip and dexterity. Many of the gloves
are formulated to resist chemicals typically used in certain industries.
Besides resisting cuts, abrasion and heat, Wells Lamont Industrial supplies gloves that provide impact protection. "We've really taken a scientific approach to impact resistance," Schmidt emphasizes. "We've developed our own testing apparatus and have been working with organizations to build specific standards for impact testing. Where a lot of other companies are just offering gloves that look cool, we're really focused on making sure that we're providing the highest level of protection to these workers. It's all about employee safety, and we take an engineering, scientific approach to doing that."
Although Wells Lamont Industrial is known for its leather gloves, leather does not provide as much protection from cuts and impact as newer technologies. "If you take a standard leather glove, it's just another piece of skin," Schmidt points out. "It doesn't really offer the customer cut protection, and people don't realize that – they think they're well-protected." So the company has added padding on the back of leather gloves for impact resistance and linings inside them that provide more protection from cuts.
Glove Manufacturing
The Wells Lamont Industrial plant in Philadelphia opened in 1945, and many of its employees have worked there for decades. They upwind fiber into yarn and manufacture the company's fabric gloves. "It's an amazing factory with amazing people," Schmidt marvels. Wells Lamont Industrial also utilizes a network of global partners that manufacture products overseas, such as leather and palm dip gloves. These longstanding, collaborative relationships ensure products are cost-competitive and consistent in quality.
Recent trends in the industry that Schmidt has observed include demand for gloves that are being designed to withstand multiple hazards, such as cut, impact and puncture resistance. This has been especially true in the oil and gas industry, where Wells Lamont Industrial has offered a number of new products in just the past year that address this need.
Another recent trend is the increased emphasis on food safety, not just employee safety. It is resulting in companies being more concerned about where their gloves are coming from and what they are made of. "We have a brand name called Whizard® that is a highly recognized brand for food gloves and sleeves," Schmidt says. "It's always been made in the U.S., and if you look at it from a quality standpoint, those Whizard products will be personally inspected by up to five people before they ever leave our factory."
Wells Lamont Industrial is following a strategy this year of focusing on products for critical environmental applications, such as clean rooms for manufacturing pharmaceuticals, medical devices and electronics. This is another example of an industry that demands consistent high quality and values products made in the USA. Wells Lamont Industrial manufactures a wide range of sterile and non-sterile liners that can provide comfort, cut protection or even touchscreen capabilities.
The Wells Lamont name is well-known. "People have always thought very highly of Wells Lamont," Schmidt maintains. "It's a strong brand."