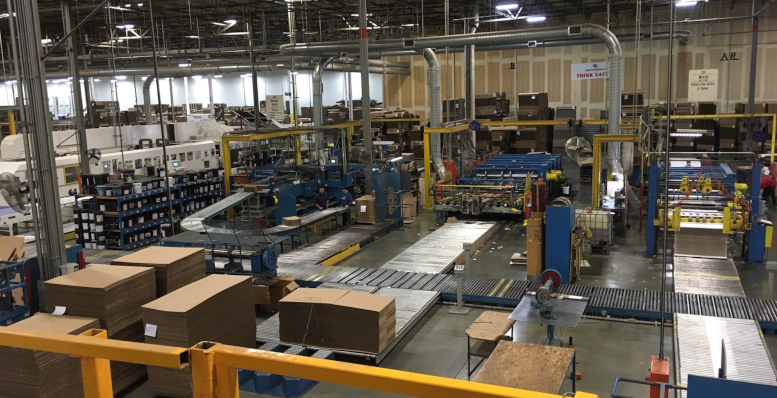 Wertheimer Box Corp. began manufacturing corrugated boxes in 1939 and has grown to become one of Chicago's largest independent packaging companies. President Doug Wertheimer says the keys to the company's success over the last eight decades has been evolving to meet the needs of its customers while maintaining fundamental values like service and quality.
"How does a company survive 80 years?" Wertheimer asks. "They have to have strong fundamental values to survive and this is what we have strived to maintain over the years. What makes Wertheimer Box different from other box companies is that I want to make the experience of ordering boxes from us fully satisfying for the customers. I call it the Starbucks effect. What makes Starbucks unique?  Because they can get something there they can't get anywhere else. The experience we give our customers is something special they can't get from anyone else. We're always there for them and give them the best value. It's unique."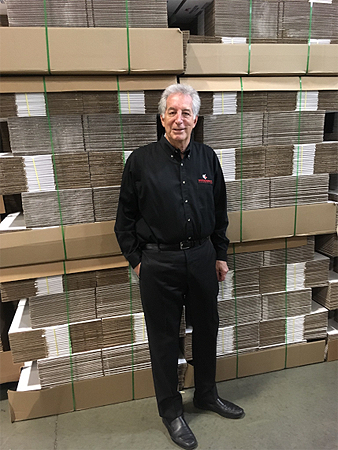 Ernest Wertheimer founded the Chicago-based company as a manufacturer of corrugated boxes – both custom designed and stock sizes – regular shipping containers, die cuts, and point-of-purchase displays. Doug Wertheimer joined the company in 1973 and his brother, Jay, followed a year later. At the time, Wertheimer Box was operating out of a 70,000-square-foot, two-story building with only two docks.
The Wertheimer brothers recognized the 100-year-old building was putting constraints on their ability to service their customers properly. Before any decisions were made, Ernest passed away in 1993 and Jay followed in 2004. "I could have walked away from the business when my brother died, however, I always remembered what my father told me, 'Keep the company going. This is your livelihood. Keep the company strong,'" Doug Wertheimer says.
Wertheimer knew the future of Wertheimer Box was bigger than its past and the company's employees were dedicated to providing the best boxes and services to its customers. In 2005, Wertheimer decided to move the company to a new 180,000-square-foot, single-story building with 27 docks in McCook, Ill., a southwest suburb of Chicago.
Wertheimer Box has also grown vertically by being a founding partner of Independence Corrugated, a corrugated sheet feeder in Oak Creek, Wis. The company invested in Independence Corrugated 15 years ago and it remains one of Wertheimer Box's key suppliers. "Wertheimer Box has been in the corrugated packaging sector for 80 years and people know us," Wertheimer says. "We have strong relationships with our suppliers. We are well known and respected in the corrugated industry throughout the country."
Expanded Capabilities
Since then, Wertheimer Box has grown tremendously in sales and manufacturing capabilities. Over the past 14 years, Wertheimer Box has added a state-of-the-art high-speed flexo three- color press, a mini flexo two-color press, a rotary four-color die cutter, a jumbo rotary two-color die cutter, a state-of-the-art flatbed die cutter and a jumbo specialty folder gluer.
"When we moved out to the new location 15 years ago, we became one of the most efficient corrugated plants in the Chicago area," Wertheimer remembers. "It was laid out to be efficient with the conveyor down the middle and equipment feeding the conveyor system. We have 27 docks, receiving is at one end and shipping is at the opposite side. We have a flow through system."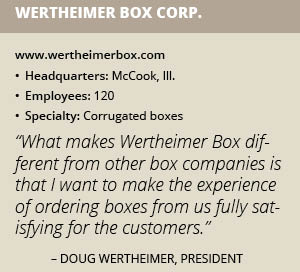 Today, Wertheimer Box has the ability to produce corrugated packaging within 24 hours for its customers. The company has a high percentage of foodservice and consumer goods customers. Wertheimer Box has also seen an increase in e-commerce business over the years as the economy has been getting stronger. "To be able to retain a surge capacity for the busier fall and holiday seasons, I brought the high speed flexo to handle the increased demands of our customers. E-commerce requires suppliers to respond quicker with the same quality as before."
Wertheimer Box always invests in new technology and equipment. "The high-speed flexo machine we bought in 2017 is a 170-foot-long machine. It can produce up to 15,000 boxes an hour. In 2018, we bought a new CAD design table to make faster prototype samples for our customers using new design technology."