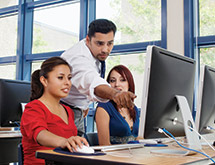 The Congressional Hispanic Caucus Institute (CHCI) led a delegation of its board of directors and advisory council, including Hispanic members of Congress, to a Tech Community Summit in Silicon Valley hosted by Google on June 5. In addition to the summit, the CHCI delegation held a high-level meeting with tech companies.
Last year, after mounting pressure from diversity advocates, leading technology companies made public their gender and race employment statistics, revealing a startling diversity gap, with Latinos being one of the most underrepresented minorities. The numbers revealed, on average, that top technology companies had less than 4 percent of Latinos in their workforce.
"We need each other and need to work together to address these very low numbers," says Rep. Linda T. Sánchez, CHCI chair. "I applaud the companies who have shared their employment figures – what gets measured gets results.
"We know that the tech sector is fueling job growth," Sánchez adds. "The Bureau of Labor Statistics estimates there will be approximately 1 million newly created STEM jobs in the next 10 years. That corresponds with an increase of 16 million Latinos in the same period."
The Tech Community Summit included Latino representatives of Silicon Valley technology companies, start-ups, nonprofits and associations joining CHCI's board and advisory council for roundtable discussions to address how best to develop a pipeline of Latino talent in the tech sector.
The conversation continued with high-level discussions at several of Silicon Valley's top companies to advance Latino diversity and address how technology companies can work towards better outcomes by:
> Replicating the most successful STEM and tech programs;
> Investing in higher education as well as Hispanic-serving institutions;
> Strengthening recruitment and retention strategies, including investing in paid scholarships and internships;
> Supporting Latino start-ups and looking to Latino firms through procurement processes; and
> Increasing Latino representation on their boards.
"We advocated for a comprehensive approach and critical investments so talented young Latinos can gain access to this critical job sector," says Esther Aguilera, CHCI president and CEO. "Silicon Valley does not need to look very far to recruit more Latinos and CHCI hopes to partner with them to ensure they are providing jobs not only for coders and engineers, but in marketing, law, human resources and the many other areas of work they employ."
CHCI has invited the technology companies to continue the conversation at its Public Policy Conference in Washington, D.C., this October 6-7.