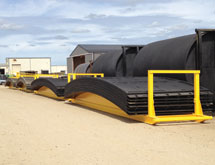 Western Manufacturing Ltd.
There can be no denying the pioneering spirit that has turned Western Manufacturing Ltd. into a Canadian success story. Owner Lonny Thiessen started the company as Westfab in 2008 with a $1,000 investment. Already, the company has expanded to two locations and roughly 36 employees.
"We started pulling some work in, and it is common in our business for the customer to pay a deposit upfront," Thiessen says. "We were careful with cash flow and never got more capital than that initial $1,000, other than deposits. Today, we're a company with no borrowed money."
From that initial investment in 2008, the company generated $30,000 on a small project in 2009, $5.8 million in 2010 and $32 million in 2011. Western Manufacturing is on target to hit $60 million in 2012.
Its products are sold throughout Canada. Although the company hasn't done a lot of work outside of the country, it is moving toward that goal. Already, the company has sold several projects into the overseas market.
Extensive Offerings
One of the company's strengths is its ability to provide complete service. A steel tank and oilfield equipment manufacturer, Western Manufacturing specializes in API 650 and API 12-F tanks, custom fabrication and frac tanks. Located in Alberta, the company has a 55,000-square-foot fabrication, sandblasting and painting facility in Grande Prairie and a 25,000-square-foot shop located in Hythe, about a 30-minute drive from Grande Prairie.
Western Manufacturing's capabilities include drafting, engineering, design, sandblasting, painting and delivery of final products. In addition, the Grande Prairie facility has a plural coating applicator for spraying single-coat tank linings and a 40-foot overhead crane that allows it to build up to 3,000-barrel shop-built tanks.
The company's custom fabrication services are used by an array of clients, including business owners, oil company purchasers and engineering companies. Its specialties include manufacturing round storage tanks, drilling and renting service equipment.
Some of the company's tank manufacturing processes have been automated. In fact, Western Manufacturing uses automatic welding equipment, stamping presses, computer numerically controlled plasma-cutting machines, press brakes and structural steel benders. In addition, the company boasts its own tank rolls, which are assembly jigs that have been designed and built in-house.
"They roll the entire tank," Thiessen explains. "Then we use some automated or semi-automated welding processes, all in conjunction with the rollers. We make a lot of our own rollers and welding jigs because we work on large, out-of-the-ordinary products."
But the custom nature of the work means that some parts of the tank manufacturing process cannot be automated. "A lot of the tanks we build are on our shop floor for up to 1,000 man-hours apiece from the time we start drawings and design," Thiessen says. "Often, it is a six-month process from the date we receive the order until delivery."
Western Manufacturing is working on ways to shorten that timeframe. That can be a difficult undertaking, because Thiessen says many of the company's customers define what they need even as they work with Western Manufacturing. Although the bigger tanks are typically manufactured in the company's shop over the course of three to four weeks, the company is efficient enough to build approximately 20 smaller, 400-barrel tanks per week.
Because talent is as important to the manufacturing process as any piece of equipment, Western Manufacturing has engineers on staff along with a drafting, design and engineering team. "They design the tanks for our customers," Thiessen notes. "Most everything we build is engineered to order. On the bigger tanks, everything is custom and goes through an extensive design, drawing and approval process."
Flexible Approach
The company utilizes specialized subcontract shops to keep corporate overhead low and help ensure faster delivery and a high quality of performance on projects. Outsourcing of excess orders is a key strategy employed by Western Manufacturing because it gives the company more flexibility before deciding whether to expand its capacity.
"Rather than building a big facility, we use subcontractors during booms, and we don't have to cut during downturns," Thiessen says. This arrangement also allows Western Manufacturing to bargain with suppliers on price and timing.
Western Manufacturing's flexibility helped it make inroads into the oil and gas industry in various parts of Canada. For example, the company supplies a lot of products into the ongoing plays in northern British Columbia and Alberta.
Although the oil and gas industry in Canada has seen a lengthy boom, Thiessen intends to keep Western Manufacturing's capacity as flexible as possible. This is because of the cyclical nature of the oil and gas industry.
"We have to maintain a strong dial-up or dial-down capability," Thiessen says. "Although we haven't experienced any downturns, we are ready for it."
For now, the boom in hydraulic fracturing technology and horizontal drilling continues to pay off for Western Manufacturing. For example, a new type of aboveground frac tank is being used in the oil and gas industry to store the fresh water that is injected with chemicals into the ground to re-stimulate oil wells.
Frac tanks are essentially a portable pond, and Western can build up to a 6,500-cubic-meter pond constructed of panels that clip together. The frac tanks are then sealed with a plastic liner and filled with water. Although they are open-topped tanks, they have a floating roof on top. The water and chemicals that flow back from the well are then stored in a traditional 400-barrel steel tank, which is another Western Manu­facturing specialty.
"We sell those kind of products to the companies that provide service to the oil well owners," Thiessen explains. "Our biggest customer base is made up of companies that rent the tanks to the end-users. However, we do sell directly to some of the oil and gas producers."
After seeing much success in its early years, Western Manufacturing will be challenged to continue to build on its rise. But the company's plan is to grow at a manageable pace, while it continues to provide excellent service in current markets and look for new opportunities.
"We're implementing an enterprise resource planning system and focusing on quality control and getting our ISO certification," Thiessen says. "We hope that will open the door for us in other markets. We would like to grow globally, as it looks like there's a real market in South America. We'd like to do more business there." mt