Grand designs
Following 35 years of manufacturing premium carpets, Westex Carpets has developed a winning combination of innovation, performance and design
"With our roots firmly planted in the sheep farming and textile heartland of West Yorkshire, the UK, Westex Carpets' current contemporary approach to premium carpet manufacture draws on our industrial heritage and traditional wool industry," begins Mark Vale, National Sales Director of Westex Carpets. "Westex was originally the concept of a master dyer who wanted to offer a wider range of colour and quality within carpet manufacture. Today, we continue to draw on and develop that legacy with two dedicated manufacturing hubs."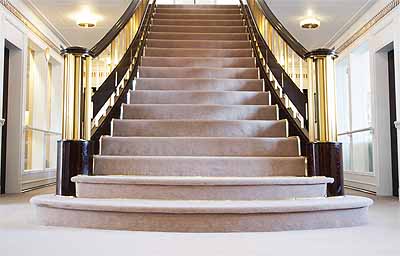 Proud to supply the finest quality carpets by using only the best quality materials, Westex Carpets' quality control centre is owner/management controlled, while its exclusive ranges and special dye service ensures its products can be found in many discerning homes, private establishments and public spaces across the globe.
Not only using only the best wools, spinning techniques, dyeing, tufting and high quality protectors, the company also ensures quality and resilience through its two and three fold yarn; acting like a spring, the yarns offer exceptional durability such as non-crush properties and also prevents pile reversal that isn't due to footfall. Complementing this level of quality is the company's range of more than 1500 options when it comes to style and colour, which means choosing a Westex carpet offers nothing but optimum customer satisfaction.
"We are a fully vertical UK manufacturing facility that has total control over all aspects of the business, from design to distribution. Along with our colour, quality, service and multi-width options to reduce wastage, we have created a winning combination that ensures an efficient and rapid delivery system to our customers," says Mark.
Mainly trading in independent retail stores alongside the larger national groups, Westex Carpets has had to face moderately volatile markets due to the economic downturn. However, due to its commitment to quality during the manufacture of durable, luxury and resilient 80/20 wool nylon and 100 per cent wool carpets the company has continued to succeed. "Even within this challenging market there still remains projects where the primary focus is on colour and quality as opposed to price and this is where we thrive. Opportunities in the commercial sector are also seeing growth with recent successes and a growing number of enquiry levels shows signs of upward activity in the market," comments Mark.
Some examples of the company's strong capabilities in delivering the best possible product to customers include the manufacture of 3000 square metres of custom made graphic carpet for the jewellers Ernest Jones as well as its sister brands in 13 working days during the Christmas period. "We also carpeted the Queen's stateroom and banqueting suite with our Ultima collection on the Royal Yacht Britannia and provided a special dyed velvet carpet for the Dubai airshow," says Mark.
Benefits of choosing a Westex carpet include the company's large range of standard colours, the superior quality of the product, which thus ensures lasting resilience, and stain resistance to keep carpets looking newer for longer. Moreover, the carpets are treated to prevent dustmites, are mothproof and all ranges are available in multiple colour matching widths.
Another notable benefit is the special dye service thanks to Westex Carpets' extensive colour bank and dedicated dye house, which allows the company to match any colour of 103the clients' choice. "This service has a minimum quantity of 40 square metres and we will provide a colour yarn pom that must meet the client's approval before production is underway.
"We can dyematch your colour sample, be that a paint card, swatch of fabric or more unusual object's requested to match such as a snooker ball, baby socks, and business cards – the choice is endless. Customers send us their required colour and we then send them a colour matched yarn pom for them to approve, usually within three days," highlights Mark. "Once approved we can deliver the carpet within three weeks; competitors who also offer this service usually discuss manufacturing lead times of five to six weeks for this same service!"
Indeed, operations at Westex Carpets are based on small batch, quick turnaround with operator input on quality at all stages of manufacture. "Because of this way of manufacturing, there is a lot of machine capacity, which can mean low utilisation but a lot of product variation. This gives the choice and service that our customers demand at the premium end of the market," explains Mark. "However, the vertical nature of the process means we can hold the yarn in its white state and colour it nearer to the point of order, but then process the small batch quickly due to machine availability."
Having established a solid reputation in the market for premium quality solutions and a swift turnaround, Westex Carpets is to continue boosting its presence both in the UK and Europe through product launches while also driving its service and quality commitment to an even higher standard. Discussing the company's plans for the future, Mark concludes: "We want to expand our commercial product portfolio and continue growing in the contract sector too. Export also offers excellent opportunities for growth with the assembly of a proposed new export division to aid agents placed throughout Europe."
Westex Carpets
Products: High quality carpets