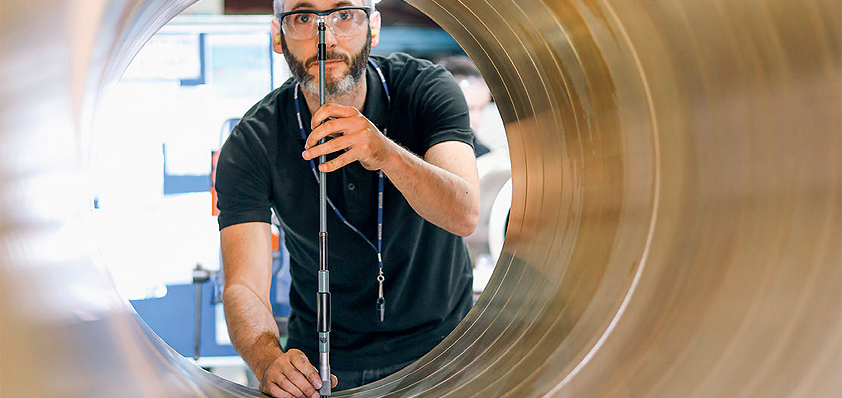 Trusted to do the difficult things
With four strategic companies specializing in casting and machining of copper and nickel-based alloys, Westley Group is embarking on a strategy to enhance their position at the forefront of the world's foundry and machining industry
The Westley name has a foundry related history dating back more than 200 years. Other companies within Westley Group also have more than 100 years of foundry and machining heritage and combine to create the four strategic divisions of Meighs & Westleys, Walter Frank, Spunalloys and Francis Birketts. Specializing in complex castings and high tolerance machinery,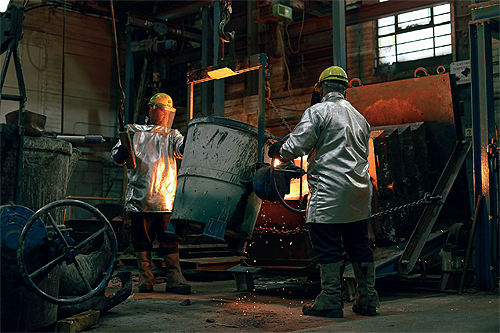 Westley Group provides heat, wear and corrosion resistant alloys for an extensive range of safety critical applications. Rob Salisbury, Group Development and Commercial Director, informs us of the qualities that have been cast into the company, making Westley Group one of the most trusted manufacturers in the business. "The modern-day Westley Group is a culmination of 15 years of organization and strategic positioning. Fundamentally, the Group is underpinned by two foundry centers of excellence; a large static sand casting facility and a large centrifugal casting facility. Synergies and opportunities for the Group then arise from well invested machining and assembly operations in two further locations. The Group brings together people and assets to serve a very demanding engineering space," Rob stipulates.
"We are also very proud to be a critically important industry partner for the UK's fleet of nuclear submarines, which underpin our nation's strategic CASD – Continuous At-Sea Deterrence," he added before noting that there are very few companies in the world that are able to match what Westley Group produces. This is owing to the spectrum of shared processes that are in place to increase efficiency within its unique production facilities. "From a foundry perspective, we have one of Europe's most flexible and diverse foundry platforms with over 40 electric induction furnaces. This is harnessed across a plethora of moulding and pouring assets. Our centrifugal die range and machinery is leading in this industry, and our static casting moulding and pouring equipment is unique in the world," Rob notes. He continues to highlight that the company is steadily increasing its machining assets to machine more of what it casts.
Castings are at the heart of what the business offers. Rob elaborates on how static castings are produced as complex net shape components up to ten tons in weight, while centrifugal castings are made as rings and tubes up to two-and-a-half meters in diameter and five meters long. "More and more frequently these castings are machined in-house to very precise build to print requirements for our customers," explains Rob. The company even boasts its own fire-fighting and end-of-line valve business, which complements the Group's casting and machining companies, and goes on to serve incredibly varied industry sectors.
Each new development has enabled the company to be fully prepared in taking on some impressive projects. Rob tells us of its recent achievement regarding Walter Frank's pressure regulating valve, PRV9i, which was designed and manufactured in-house. "From a standing start 12 years ago, we now have one of the world's leading FM-Approved hydrant valves, which has been specified and installed across the entire Middle East. Thousands of our valves are now in place, safeguarding enormous land and sea petrochemical, oil, and gas infrastructures," he says. This is also one of the primary reasons why the company has recently experienced significant international growth, so much so that in February 2021, Westley Group was listed on The Sunday Times HSBC International Track 200 report.
Alongside this, Rob also notes that the company also gained significant traction into overseas Navies – specifically in the USA. "From a sheer scale, size and quality perspective, not many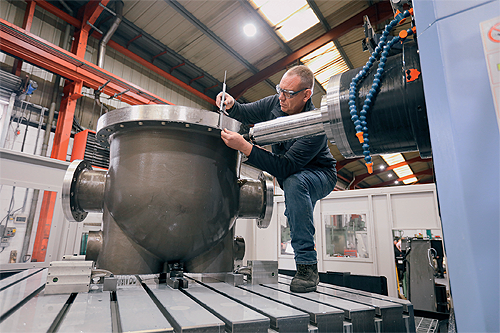 companies offer what we do, especially when the project requires production that is fully machined," he says.
In keeping up the pace of its current success rate, the company is exploring opportunities to supply more finished machined components, rather than raw castings. "The market trend is almost insisting on this to happen but it makes absolute sense for our customers to buy in a product which has been full machined, tested, and fully certified meaning it is available for immediate assembly or shipment," Rob explains.
However, Rob takes time to emphasize that none of these developments would have been possible without the dedicated 280 members of the Westley team. "We have worked really hard to create senior management teams on each site that have autonomy and responsibility. James Salisbury, our Group CEO, and I have always believed in treating someone as you would like to be treated. We look for that level of honesty and fairness in our staff and more than anything, we look for those who genuinely care for the business and their peers." Even during the Covid-19 pandemic, the company continued to excel, reiterating the pride the collective team effort created in ensuring the business stays unshaken by the pandemic. "Classed as key workers for a variety of industries, we have worked at full capacity throughout the entire period. We adopted a variety of measures to make workplaces as safe as we possibly could and I know every single one of our employees would agree with that," Rob continues.
As it steers towards the future, Rob feels that the company will organically thrive, as long as the factories are kept safe and full of work. He notes that the Covid-19 era has been strange for everyone and that means that stability and consistency are very important for all layers of the workforce. "We want to continuously improve and always seek growth through new opportunities", although, he adds, "don't rule out a strategic acquisition if we find the right business to further synergize what we do."
As domestic resources continue to contract across the world, Westley Group is becoming even more ideally placed to support other world Navies, as its static and centrifugal foundries and machine shops give it uniquely integrated manufacturing abilities. Rob concludes that "the success of the business is down to its employees who all work remarkably hard with exemplary dedication." The passion that keeps their fires burning will undoubtedly see the company continuing on its successful trajectory.
Westley Group
Services: Foundry, machining, assembly operations
www.westleygroup.co.uk