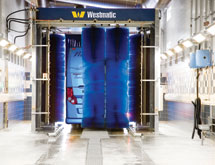 Washing a vehicle consumes a lot of water, and washing a fleet of large vehicles like trucks, trains and transit buses consumes more. This is environmentally unsound in areas where water is scarce, such as the western United States. But with Westmatic Corp.'s washing systems, up to 85 percent of the wash water can be reused and the remaining water treated before being discharged to the sewer system.
Manufacturing these custom systems that wash a variety of large vehicles is mostly a hand assembly operation, like building a house. Once the components have been received from Westmatic's suppliers, the machines are assembled in Westmatic's single 16,000-square-foot facility in Buffalo, N.Y.
"All of our jobs are custom," Westmatic Purchasing/Logistics Manager Director Chris Jordan stresses. "Once we receive an order for a machine, it's put into our production schedule. The assembly is broken down into components, and all of the parts are tagged. We use color-coding a lot so we know what part goes with what machine. It's very well-organized." Westmatic can have four custom systems in some stage of completion at the same time in its plant.
Most of the components used in the washing systems relate to steel fabrication, plumbing, electrical and pneumatics. "The machine framework and parts are hot-dip galvanized or made of stainless steel," Jordan says.
Westmatic builds its own electrical panels with electronic components produced locally and tests each one in-shop before being shipped. The programmable logic controllers that operate the washing system are customized for each installation according to the type of vehicles that particular machine will be washing.
The spare parts the company sells to its customers and the parts used in manufacturing create a sizable inventory. "Our goal in regards to spare parts is to fulfill customer orders and ship them out same-day," Jordan resolves. "This way, the customer is able to be back up and running as quickly as possible. There's quite a large amount of inventory that we keep here for the machines and for spare parts so that our operations, as well as our customers' operations, can run as efficiently as possible."
Made in the USA
CEO Robert Sundell, son of Westmatic's founder Jan Sundell, stresses to his managers the importance of buying American. "One of Westmatic Corp.'s top priorities in regards to manufacturing its American-made large vehicle wash systems is to establish and maintain strong working relationships with local suppliers," Jordan says. "That's one of the things I really focus on. We take pride in supporting the local economy. On every machine we manufacture, we put a sticker on it that reads 'Made in the USA.' That's the image and value we want to present – high quality, well-built products – and that's extremely important for us."
It also is important to the school districts, public transit and other government agencies that comprise 75 percent of Westmatic's annual sales. Westmatic was founded in Sweden in 1974. In 2009, the company established an office in Detroit and shipped its washing systems to the United States from 2005 until 2009, when Westmatic began manufacturing in the United States so it could sell to public agencies.
Since 2009, Westmatic Corp. has designed, manufactured and shipped every machine for the North American market from its headquarters in Buffalo, N.Y. Westmatic chose Buffalo for its headquarters because of its geographical location and proximity to Canada, which continues to be an important market for the company.
Rollover and Drive-through
Westmatic says its drive-through large vehicle washing systems are available in various different models and combine compact design with versatility. They can wash transit buses, tractor trailers, school buses, motor coaches, trains and automobiles. Brushes overlap on the front and rear of the vehicle being washed, and brush pressure is constantly monitored electronically. This reduces the need for operator judgment, making it a safe wash.
Westmatic also manufactures rollover systems in which a vehicle is parked in the washing system and large brushes roll over it. It even has developed a train wash system that can wash both diesel and electric trains.
The company calculates it has installed and services more than 2,000 wash bays worldwide. Approximately 25 percent to 30 percent of Westmatic's washing systems are sold in Canada. Others are installed in Hawaii, Puerto Rico, Martha's Vineyard and Barbados.
Private companies with their own fleets of vehicles, such as food and beverage distributors, also use Westmatic washing systems. A growing market in the industry is retail truck washes started by private owners or entrepreneurs, which are located along major interstates and highways where truck drivers can wash their rigs.
For the future, Westmatic hopes to continue its expansion into the large vehicle washing industry throughout North America. "We are constantly reviewing how we can be more efficient," Jordan says. "As the demand for our wash systems and our production levels continue to increase, it's reassuring to know that we have excellent, local suppliers we can rely on for quality products."