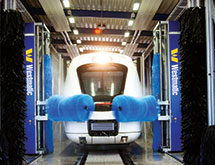 Trucks and buses work hard to carry people and goods to where they need to be, and that hard work means picking up a lot of dirt and grit. Keeping clean is essential for the long-term maintenance of big machines like those, and they require more than a hose and a bucket of soapy water. That's why owners of large truck and bus fleets have trusted Westmatic Corporation for 40 years to provide the automatic wash systems that keep their vehicles clean and neat. As Key Accounts Manager Steve Wawro explains, Westmatic has been on the cutting-edge of technology in the industry ever since it delivered its first automatic wash system, and it continues to lead the way in that regard today.
Westmatic was founded in Sweden in 1974, and it delivered the first automatic truck-washing system in 1984. By 1999, the company had developed its first-ever automatic washing system for trains, and in 2005 it established its first operations in the United States. Today, Westmatic specializes in designing, manufacturing and installing automatic wash systems and related products for trucks, buses and trains. Wawro says the company's customer base consists mainly of large national public transportation authorities, and to a lesser extent private fleets in sectors including foodservice distribution.
Although Westmatic has some good-sized competitors in the United States and Europe, Wawro says the company makes good use of the dynamics that set it apart from the rest of the pack. Westmatic's ability to leverage its European experience and dedicated research and development efforts into large-vehicle wash equipment that gets the job done effectively and efficiently.
European Lessons
Westmatic has two main manufacturing facilities – one at its corporate headquarters in Sweden and the other at its North American headquarters in Buffalo, N.Y. All of the equipment for its North American customers is sourced from its Buffalo facility, but Wawro says its operations and products are heavily influenced by its European parent.
"A great advantage for our North American manufacturing facility is that we're able to rely on the expertise from our Sweden counterpart in terms of how to build more efficiently and engineer more efficiently," Wawro says.
The company's European knowledge base is one of Westmatic's greatest competitive advantages in the North American market because of the fundamental differences between European requirements and North American standards. The cost of water and electricity can be as much as four times higher than the cost of those resources in North America, meaning large-vehicle wash systems designed for the European market must be designed for maximum efficiency. Additionally, environmental regulations in Sweden and elsewhere in Europe are more stringent, restricting the use of chemicals. As a result of following the lead of its European counterparts, Westmatic's North American operation builds wash systems that utilize 50 percent less water, electricity and chemicals than systems manufactured by its competitors.
"Our equipment is much more efficient, it's a greener product and we use fewer consumables," Wawro says.
New Development
Although Westmatic already has a significant advantage with the efficiency of its systems, the company continues to search for new ways to better serve its customers. Wawro says the company has devoted more resources to research and development in recent years to help it stay ahead of its competitors. For example, over the last few years Westmatic has introduced modular units that are assembled on skids. This allows the company to perform installations much faster and with greater ease at a customer's location, and it provides for easier maintenance than systems that are installed using traditional means.
Westmatic's R&D efforts have resulted in a new, patented water purification system, as well. Wawro says the ecological standards in Europe make this type of system mandatory, but the company is introducing it in the North American market as another cost-saving measure for customers.
Looking Ahead
Westmatic continues to grow its business in the United States and Canada, and Wawro says this means keeping up strong relationships with its suppliers is crucial for continued success.
"With such an increase in business, it's a challenge for our suppliers sometimes to meet our demands," he says.
The company recently hired a new purchasing director to help forecast demand and coordinate orders with suppliers. As long as the company can continue to keep ahead of the demand and develop the most efficient wash systems on the market, Wawro says, Westmatic expects to remain at the forefront of the industry for years to come.