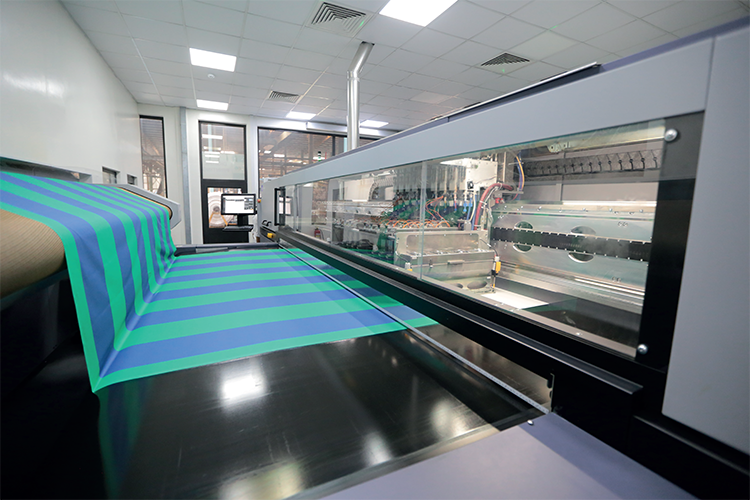 World-leading linens
For over two centuries, WestPoint Home has been an industry leading manufacturer of home and hospitality textiles
Since 1816, WestPoint Home (WestPoint) has been designing and producing next generation engineered textiles for customers across the home design and hospitality industries. The company combines modern designs with creative and unique material blends to create high-quality textiles that are soft to the touch and easy on the eyes. As it seeks to provide creative solutions for customers, through its extensive brand portfolio, WestPoint continues to grow its operations, and seek out opportunities in new territories and markets.
WestPoint's position as a global industry leader is in part due to its long and storied history, as group Chief Operating Officer, Steve Burns, summarizes: "The company is now 206 years old. It grew out of the American Southeast textile industry, near West Point, Alabama, and now specializes in home textiles for the home and hospitality for the global market."
Since originating in the US, the company has undergone numerous transitions, and become a global operation. The southern facilities were downsized, and most production was moved offshore. Despite these changes, WestPoint maintains strong connections to its roots, and the tradition that comes with being such a long-standing enterprise.
"We really do benefit from having more than two centuries' worth of history behind us. All that experience, and the ups and downs that have happened along the way, have given us a strong understanding of the textile industry and its demands," remarked Burns.
Unique culture
Its longevity is not the only thing that makes WestPoint stand out, however, as the company is also known for its impressive manufacturing footprint, and fully comprehensive sheet production capabilities. The company itself is unique, because it owns and operates a fully vertically integrated textile operation in the Kingdom of Bahrain. "We function under a US-Bahrain free trade agreement, which helps manage costs and allows us to invest in our facilities, which we consider amongst the best in the world," stated Burns.
The company has a global footprint, which has been important to its success. "We have sourcing and distribution offices in India, China, Pakistan, the UK and the US, so our employees and customers can benefit from our geographical diversity and extended reach," he affirms.
As an internationally operated company, WestPoint manages a significantly sized manufacturing network in Bahrain, alongside distributors across the US and Europe. The manufacturing footprint extends over four separate factories in the Kingdom of Bahrain, including a spinning mill, which takes in cotton and produces yarn, and a weaving mill, which turns unfinished yarns into useable woven material. In addition, there is a bleaching facility, which can reach a million meters of fabric a week, and a sewing and embroidery facility, as well as a state-of-the-art digital printing operation. The cut and sew operation has over 300 employees. This facility sews bedsheets, covers and pillowcases, and it also includes an embroidery operation. The team uses several critical technologies to ensure products are high-quality, efficiently produced, and well-priced.
"We also take advantage of the US-Bahrain free trade agreement, which allows us to run a comforter and pillow filling manufacturing operation in Florida. We import shells from Bahrain and use the US facility to fill and pack the finished products. This side of the business has been incredibly successful; we are a significant supplier of comforters to Ralph Lauren Home, for example. We also have about half-a-million-square-feet of warehousing space in Florida, which serves as the distribution and ecommerce shipping hub for all our US customers," states Burns.
The company is able to manage such an extensive operation thanks to its unique working culture, which prioritizes communication, collaboration and solution-orientated thinking. As Burns details: "We operate according to a Lean manufacturing philosophy. I personally have 30 years' worth of experience managing this way, and for us it's about teaching employees to solve problems for the business, while the company supports them with training and resources.
"One thing we are really proud of is our ability to communicate with the entire team to make sure everyone is involved. Instead of following western management approaches, where few people have all the information and directions come from the top down, WestPoint ensures that everyone is informed, giving them the ability to come forward and offer an opinion or solution. Our largest operation requires a team of 600 employees, and we still find that this is the most effective way of working. In fact, I think it gives us a competitive edge," the operations executive added.
Textile innovation
As an important part of the company's extended community, WestPoint's suppliers also enjoy a transparent and mutually respectful and rewarding partnership with the company. For example, WestPoint does not produce towels currently, but has three or four key partners in Pakistan and India that service the Hospitality and Retail businesses across the US and Europe.
The latest addition to WestPoint's ever-growing global operation is Vision Linens, a textile distribution company operated out of Manchester, England that was acquired three years ago to build a distribution footprint throughout the UK and Europe and expand global sourcing capabilities. The plan is to evolve the company's name to WestPoint Home UK soon.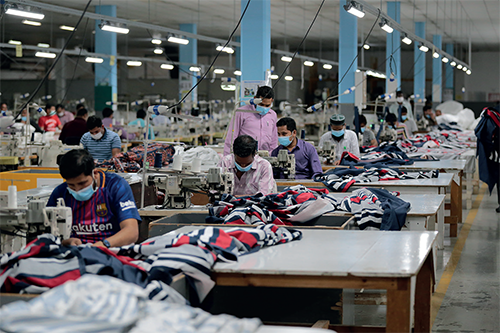 "There were two major things that drew us to Vision Linens when we were making the acquisition; it was a retail and hospitality specialty business, similar to our US operation, so we knew that it would fit well with WestPoint's broader mission. The Vision organization also has large relationships with businesses in Europe, which made it a strategic point of integration for us at WestPoint. Thanks to the connections made through Vision Linens, we now work with big hospitality brands such as Accor, Hilton and IHG, that complement our already existing Hospitality partnerships in the US," Burns stated.
Added Burns; "The acquisition occurred just before the outbreak of Covid-19, however this year we are seeing a lot of growth in the UK, and a major uptick in the hospitality industry more broadly. A large portion of the hotels we now supply fall under the Accor brand, which is providing hospitality support for the World Cup tournament in Dubai, so we expect some major growth when that gets underway."
The exciting addition of WestPoint Home UK comes just in time for the release of the company's latest textile innovation. Burns revealed that the company has developed a revolutionary antibacterial product for which WestPoint has the exclusive license. The product uses polyester and elemental silver to create a new kind of permanent antimicrobial fabric that improves in efficacy in many applications as it is washed over time. The material is in the last six months of an EPA approval process, whereby the kind of claims that can be made will be a game changer in the home textiles industry.
"Our development team in Bahrain has been working on this for a number of years, and now that the EPA product testing protocol team is working alongside them, we hope to release the product in the fourth quarter of 2022," confirmed Burns.
This new product also has green credentials. By creating an all-new fabric that improves with time, WestPoint has ensured that its customers will be able to use and re-use sheets, bedding and blankets for years to come. The company's drive to become more environmentally conscious doesn't end there. "We have a strong focus on sustainability at WestPoint. Over 30 percent of the products we make and sell out of our facilities in Bahrain are organic, and we also make sure to purchase cotton exclusively through the Better Cotton Initiative," he added.
Burns continues: "Our facilities are also incredibly water efficient, so much so that we are an industry leader in terms of how much water we recycle each year. Additionally, we are in the process of preparing our latest sustainability report, which includes annual efficiency and renewability goals."
The year 2022 has been an exciting one so far for WestPoint. Having made major strides toward European expansion and the release of a brand-new textile range, the company now looks toward further growth with new product launches with major brands such as Martex, Vellux, Luxor and Lady Pepperell across the US and UK markets. Along with reinvigorating some of the company's venerable brand names, they will be launching numerous branded initiatives for the important 'back to school' season with retailers like Bed, Bath and Beyond, JC Penney and Macy's. The company will also be collaborating with Ralph Lauren Home on several growth programs over the coming months.
"Our focus right now is on excellent execution, as we continue to navigate challenges in the global supply chain environment. We want to stay focused on our long-term growth plans, which means keeping a keen eye on supply levels, and managing demand," the operations leader mentioned.
The impressive legacy of WestPoint Home will no doubt continue in the long term, as the company remains dedicated to innovative thought and effective collaboration in the Hospitality category across the globe. "Over the next three-to-five years, we will continue growing our core business in Hospitality, and building partnerships to establish our presence there. We feel that the business can easily double in size over the next few years, and we will be investing in our own brands to help support this goal," said Burns.
"Alongside its organic growth, we will be looking to acquire new businesses across the US. We are hoping to increase our global footprint with the addition of strategic supply partners, and a focus on the best plant and facilities. The industry is a tough one, and there is a lot of competition, but we are dedicated to always being better. With the help of our amazing team, I think WestPoint is going to overtake its competition in the long run," he concludes.
WestPoint Home
www.westpointhospitality.com
Services: Textile manufacturer for home and hospitality