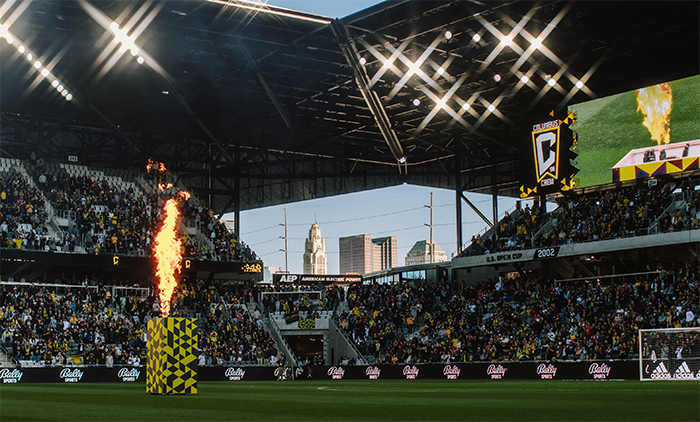 What goes into the sign gracing a storefront, entertainment venue, and sports stadium? Jones Sign Company has the answer
Since 1910, Jones Sign Company (Jones Sign) has been building a legacy. The bedrock upon which it has been built is comprised of quality, hard work, and a robust, innovative spirit that sees bumps in the road as new opportunities for growth rather than inestimable setbacks.
"We work hard today, so we can dream about what could be tomorrow," begins Todd Patrickus, Executive Vice President at Jones Sign. "From our humble beginnings, we have transformed into a diverse, national leader within our niche. Our company is both a family and a business – one characterized by innovation, progress, and momentum."
With no project too big, small, or challenging, Jones Sign has developed a reputation for excelling at custom branding, manufacturing and maintaining bespoke signage, lighting, and architectural units with speed, accuracy, and an evocation of dramatic impact across the US. The company, which has worked with the likes of Tesla, Sephora, and Virgin Hotels, is trusted by construction firms, design studios, multinational brands, and local customers.
Wayfinding signs, electric signs, electronic message centres, pylon signs, neon signs, channel letters, canopies, awnings, billboard structures, and custom wall signs. All these and more are available from Jones Sign. "As the primary source for comprehensive signage solutions in the US, our clients trust us to protect their brand and image," Todd asserts. "We take that responsibility seriously, providing the support and industrial expertise to see a project through from conception to installation – we always finish on-time, on-budget, and beyond expectations.
"We serve the following industries: retail and restaurant, entertainment and hospitality, healthcare, banking and financial, automotive, corporate ID, rebranding, civic mixed-use, sports venues, storefronts, and more," he goes on. "As evidenced by that extensive list, we have unmatched horsepower and turnkey services, which firmly sets us apart from the competition.
"Creativity, endless variety, unlimited scale, boundless resources, and collaborative delivery methods – if you can name it, we can offer it," adds Todd. "We have specialized experience with a range of materials and mechanics, including steel, aluminum, overhead cranes, jib cranes, water jet machines, routers, laser, vacuum forming equipment, letter bending machines, heavy duty welders, submerged arc welding machines, solid works programs on shop screens, cellular manufacturing, and third-party weld inspections."
Jones Sign boasts a dedicated team of over 600 employees spread across multiple locations in North America. "We are led by a robust network of estimators, designers, engineers, fabricators, and installers," notes Todd. "As a close-knit team, we have developed a mastery of geometry, color, technology, structure, design, and lighting. What makes us unique is having our experts working at their most efficient level within a Lean production environment. As a result, we are leading the signage industry by offering a truly vast range of products, a deep pool of resources, and world-class project management."
Significant acquisition
From a total of six state-of-the-art manufacturing locations, which cover a whopping 430,000 square feet, Jones Sign has firmly signposted that it means business – and it continues to grow. For instance, last year, the company introduced Jones Architectural Creations (JAC), a division dedicated to developing solutions that go beyond the sign, and acquired National Mallfront & Design.
As Todd reflects: "The business has done incredible work for top tier brands and we are honored to continue its legacy. By bringing National Mallfront & Design into our wider family, we will be better able to take any branding project to the next level. Jones Architectural Creations provides custom design elements and metalwork that transforms façades, enhances brand images, and turns concepts into reality. We offer solution-oriented services and support to our customers, making it not only possible but easily accessible to add unique architectural design elements to building façades."
National Mallfront & Design currently serves retail, hotel, restaurant, and banking and financial industries of various sizes. It manages all phases of the storefront architectural process from idea generation and design to fabrication and final installation; the firm has worked in the US and across Europe with eminent brands such as Fox Sports, Warner Bros, Versace, Louis Vuitton, and Prada.
Optimistic future
Offering Manufacturing Today further insights is Rich Ongirski, Senior Vice President, Sports at Jones Sign: "In terms of solutions beyond the sign, our sports division has worked on an impressive number of prominent venues, including TQL Stadium in Cincinnati and Lower.com Field in Columbus. The former is particularly memorable; for the home of FC Cincinnati, we engineered 385 fins to make up a beautifully designed façade.
"We also built the substructure supporting the fins and installed and programmed pixel-controlled dynamic LED lighting, which is responsible for the fun light show that attendees can see each evening," he continues. "Recently named as the Best Venue of 2022 by the World Football Summit in Madrid, Spain, TQL Stadium exemplifies our best-in-class planning and modular construction delivery."
As it stands, Jones Sign is engaged in four architectural creation projects for sports stadiums that are being newly constructed or undergoing a major renovation, indicating an exciting year ahead. As the pandemic begins to fade, it must be a sign of these increasingly optimistic times.
"Manufacturing and construction in the sports industry is a true specialty," admits Rich. "There is a unique process and sequencing to building a sports venue, including working around all game days and important events. Plus, opening day never changes, so delivering on-time is essential."
"We have a solid plan for future growth," Todd concludes. "Through our commitment to performing quality work, challenging the status quo, and driving efficiency, we intend to enact it. We are always looking for quality industry experts to join our expanding team."
www.jonessign.com