More to come
Expansion into the bakeware products segment and the purchase of a vast number of new machines have been the major factors for the successful 2018 What More UK is enjoying
Continued investment is the characteristic that has been definitive of What More UK in recent times. Almost two years have passed since we last featured the manufacturer of plastic housewares, gardening, and storage products on the pages of Manufacturing Today Europe. "In the said period," reports the company's UK Director, Tony Grimshaw, "we have invested almost £11 million in new machinery only." The early part of 2017 found the business amidst a sizable £8 million investment programme involving the purchase of more than 48 injection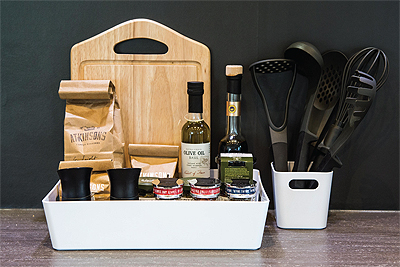 moulding machines, which has since been completed. "In fact, right after this investment was made, we decided to spend another £3 million on a new set of machines, this time delivered by an Italian manufacturer," Tony clarifies.
Labelling these "tomorrow's machines", he goes on to praise their qualities and reasons why the continuous development of What More's manufacturing capabilities is considered strategic for the company's future. "First of all, the new machines are truly state-of-the-art. They are a lot more efficient than our previous pieces of equipment, in terms of both energy usage and speed. Without a doubt, they are all quite expensive, but they are certainly well worth the investment. We have to keep ahead of the competition and the only way to achieve that and offset the extra costs we have that some of our competitors abroad do not, is through making sure we operate the best machinery available at all times."
In the meantime, What More has also been keeping an eye on its infrastructure development. The company has acquired planning permission to increase its factory space by 200,000 square feet when the time is right. "At this moment in time, we do not need this space, but it is certainly waiting to be triggered in the future," comments Tony. "We have an idea to bring our two manufacturing units under one roof, thus improving our efficiencies and reducing costs."
As 2018 is coming to an end, Tony can confidently state that the year has been especially successful for What More, not least because of the acquisition of the Chinese brand, Pushpan, which took place shortly before our previous interview with him. "We had just purchased the company the last time we spoke and it is now contributing heavily to our turnover and market penetration. Pushpan is a well-established international brand, and it is highly unusual to see brands being purchased from China in the way that we have acquired it. Today, we are utilising its success to help penetrate some of our target overseas markets with our total bakeware and cookware products."
What More has also focused on expanding within the segment with the creation of the business' Baker & Salt product range. "We have released a series of enamel-coated baking dishes and trays that have proven very successful with the customers and have even won several awards for innovation," Tony enthuses.
Export has always formed a significant part of What More's turnover with the business now selling its items into a total of 72 countries worldwide. "Our strategy when we go to a new country is not to flood the market there," Tony explains. "What we are trying to do, instead, is to be selective and pick one retail chain or a department store, through which we can grow our presence in the given country."
Speaking of the strongest geographical areas for the company, he gladly remarks that long before Brexit, What More had identified its overreliance on the EU, hence its decision to seek diversification into other marketplaces. "We analysed our export business five years ago and agreed that we should put some extra effort and resources into non-European markets. This has allowed us to strengthen our position in the USA and Canada immensely, and also to open up countries in Africa, South America, and Asia. By no means do we want to lose the EU and I am sure that our trading activities on the continent will continue even when Britain leaves the Union. However, being astute five years ago has pre-empted the necessity to hastily look outside Europe after the referendum," Tony analyses.
The lack of clarity around the future relationship between the UK and the EU notwithstanding, he notes that What More's business on the other side of the Channel has actually grown over the course of 2018. "We have seen a three per cent rise in our export activities as a whole, which is a very encouraging sign, because we are already the market leader in the UK, so it is just natural that we aim for tangible expansion abroad.
"Considering our long-term prospects, I can see further growth in export in the next five years. In addition, we would like to cement our status of a market leader in the UK, not only in plastic housewares, but also in bakeware and cookware. On top of that, we will continue investing heavily in our assets. We are in a very good position in this respect, because manufacturers trust us and often approach us with their new and innovative machinery, as they know we have the financial resources to pay for it. This gives us the upper hand against our competitors, for we can access the latest state-of-the-art equipment earlier than the rest of the industry," Tony concludes.
What More UK
Products: Plastic housewares, gardening, storage, and baking and cooking products