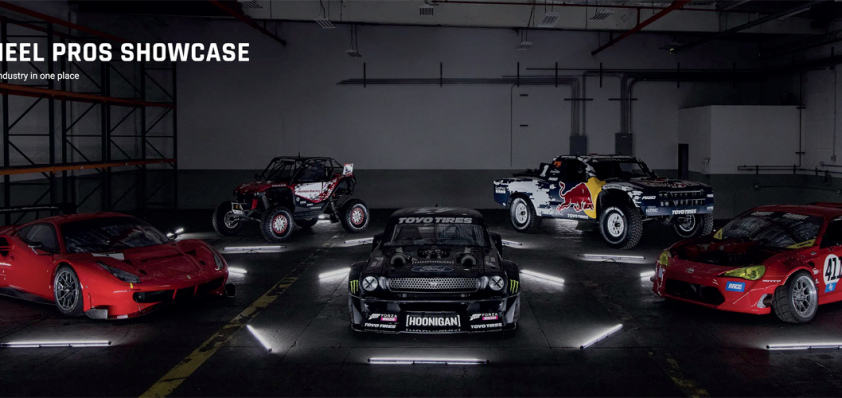 The wheel deal
Headquartered in the city of Greenwood Village, Colorado, Wheel Pros is an aftermarket wheel and vehicle product manufacturer and distributor, synonymous with superior customer service and product availability. Founded by Randy White and Jody Groce in 1994, within two years the company had opened its first two distribution centers, in Denver and Dallas, Texas. Come the early 2000s, the decision was taken to transition towards a proprietary brand strategy, creating in-house brands such as Helo, Motegi, and Moto Metal, and in the years following it would go on to acquire well-known names including KMC Wheels, XD Series, American Racing, Asanti, and American Force. It also established partnerships to facilitate the distribution and offering of various tire brands' products, most notably Pirelli and Nitto.
In recent years, the company embarked on a series of strategic acquisitions of vehicle product manufacturers such as Gorilla Automotive Products, Readylift, and MHT Alloys.

"Today, we operate a collection of 43 strategically located distribution points across the world (predominantly in the United States), while our network of more than 25,000 dealers in over 30 countries helps us to meet our primary goal, which is to deliver the products our customers require for their vehicles on a same or next day basis, wherever possible," explains John Danis, Wheel Pros' VP of Manufacturing.
Quality and service
Wheel Pros' success over the last 27 years – and counting – can also be attributed to a combination of a comprehensive product portfolio, differentiated product expertise, and trusted delivery, which when put together supports strong levels of customer satisfaction. "One of other things that I think sets us apart from other aftermarket companies is the fact that we are absolutely relentless when it comes to quality," John continues. "We never, ever take any shortcuts with our products, in fact we often overlap on quality validations, doubling down on things like performance and safety rating checks.
"We also benefit greatly from having a number of extremely talented and knowledgeable people under our employ. This means that when a customer comes to us detailing their ideas for how to improve their respective vehicle, our sales people and those based at our various distribution centers are on hand to help said customer achieve his or her desired look and/or results. It is important to remember as well that a good number of our customers are also what you probably refer to as vehicle enthusiasts with a pretty good idea of what they want. Our folks are there to help to steer them towards the best fit for their vehicle, while also delivering the right mix of looks, customization, and safety."
When it comes to the company's manufacturing capabilities, it was in 2018 that Wheel Pros took a major leap into this area through the purchase of an existing 220,000-square foot manufacturing facility, formerly owned by American Eagle Wheel Corp. in York County, South Carolina. The company subsequently relocated its American Force facility from Miami, Florida, to its new South Carolina hub in order to provide the brand with a larger geographic footprint and great opportunities for aggressive growth.
Manufacturing advances

Subsequently, Wheel Pros acquired the assets of the Borbet manufacturing facility in Auburn, Alabama, which was announced in August 2020. The facility previously produced wheels for OEM customers, but is now being converted into an aftermarket wheel manufacturing facility, with the goal of being able to produce a substantial amount of cast wheels to support Wheel Pros' supply chain.
Wheel Pros' advances in the manufacturing sphere have coincided with its own acquisition by the private equity group Clearlake Capital Group (Clearlake) in 2018. In the three-plus years since, the group has displayed on multiple occasions its commitment to supporting Wheel Pros' strategic growth initiatives, the most recent of which came in March 2021. It was then that Wheel Pros received further strategic investment from Clearlake dedicated to funding its future growth. In announcing the move, Clearlake revealed that this step would broaden the company's investor base, and provide new and follow-on capital at significantly larger scale to support its next chapter of growth.
Optimizing manufacturing
Said next chapter comes on the back of a year in 2020 where, despite the challenges of Covid-19, supply chain disruptions and so forth, the company exceeded its expectations, and this is a trend that has continued throughout the first half of 2021. "The first six months of this year have been phenomenally busy for us, and we want to carry this momentum forward into the rest of 2021, and beyond," John exclaims. "We have a number of new technologies that we are currently working on which are very unique, and we will be channelling a lot of effort towards optimizing our manufacturing activities through things like Lean manufacturing principles. We have the Auburn plant beginning to run at a solid level, so the task now is to install a pattern of continuous improvement that will allow our facilities to be even more agile and quick to react to changing market demands."
John has confidence that by having a strong source of supply within the United States, the ability to react to market trends will help Wheel Pros outperform the competition in its sector. "Typically, when ordering products from somewhere like China, they can take up to a few months to produce and then a further several weeks to be shipped on the sea, meaning that the best lead time you are likely to achieve is around 60-to-90 days, so long as everything goes smoothly.
"By having our own US supply of manufactured products, it increases our speed of response hugely, meaning that if a particular product suddenly takes off in demand we can get building right away. Similarly, if a product line decreases in interest, we can redirect our manufacturing efforts elsewhere and optimize our inventory levels accordingly. To be able to react to seasonal or market demand quickly by getting products out to our customers in as little as three weeks sets us apart from the competition. It goes without saying, therefore, that this development has the potential to be a true game changer for Wheel Pros, and one that we believe will make an incredibly positive difference to the future of the company!"
Wheel Pros, LLC
www.wheelpros.com
Products: Wheel, tire and suspension products