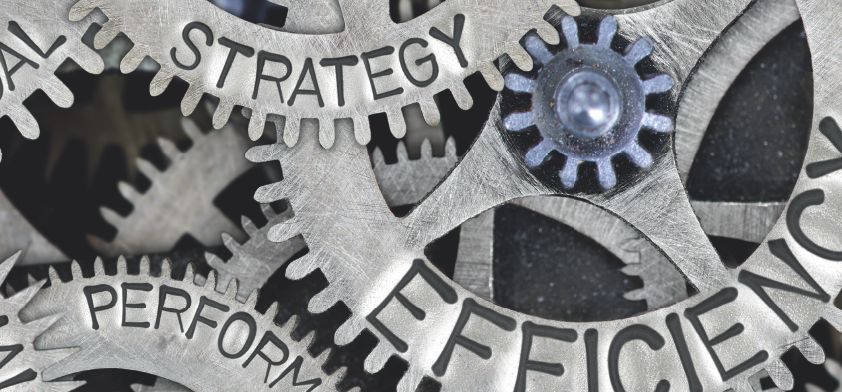 Astute operations executives are constantly considering their efficiency strategy in the face of changing technology and consumer requirements. Using a holistic approach, rooted in real business need, will ensure your strategy does not just receive the right focus, but consistently deliver success for both you and your business.
Industry is facing some real and critical challenges at the moment, with the impact of Covid-19 on life and production as we know it. While for many businesses it is about survival, this will soon be replaced by recovery and re-alignment, with renewed attention on business continuity and growth. For manufacturing leaders, efficiency strategies will once again be back on the agenda.
Production lines are not always performing the way they should, whether in terms of output or flexibility, which can have a real business impact. Pressure from the market or internally therefore creates important strategic opportunities to improve efficiency and gain a competitive edge.
On top of this, digitalisation and the related technology benefits are being aggressively marketed and debated. Any modern operations executive will need to give the potential efficiency benefits of a digital strategy careful consideration.
When there is a decision to drive an efficiency strategy, this is often linked to a series of initiatives that take time, funding and resource. Whether the strategy is process improvement focused or investment driven, businesses don't just expect a quick impact, they want sustainable advantage.
Unfortunately, many businesses do not get the benefits from these plans and investments. To help, below are five important areas to consider before choosing the right efficiency strategy for your business.
1. Integrated requirement – efficiency improvements should not be done in isolation. Your strategy should target an opportunity identified through a future-focused integrated planning process. It is very easy for operational executives to show that a specific program can address OEE, improve cost per unit or total output. But if the related benefit does not address an identified gap in the commercial plans of the business, the value will be limited, and often enforce or enhance existing silos.
2. Future ready – when deciding on an efficiency strategy, the business must consider its future customers, and not just current demand or products. Locking into a design or configuration that is only based on a current requirement, with limited flexibility to change, is often a very risky strategy. At Oliver Wight we have seen many organisations over-invest in a solution based on existing portfolio or design, but with the inability to adapt as consumer needs change. The expected benefits from the initiative are then written into performance contracts of staff, making it even more entrenched.
Consumers continue to make more and more ethical choices. If your strategy is leveraging process, material design and cost levers that might be challenged by future-focused consumers, then you could be at risk. Imagine what the customer five years from now might require – not only in terms of product, but process.
3. Business maturity – efficiency strategies require organisational maturity, both in terms of technical and process capability, and plan stability. Many businesses invest in solutions that are completely out of sync with their own demonstrated process maturity – whether it be technology, tools or process design. In considering your strategy, be unbiased and honest about your business and the requirement the strategy will place on it. If you are investing in technology that requires a stable plan (no firefighting), or reliable upstream supply or operator process discipline that you are not currently demonstrating, then the impact of the strategy could be limited, and potentially disruptive. People, before process, before tools is a mantra we use at Oliver Wight, and this is just as relevant here.
4. Sustainable – this is linked to point 3, the strategy must be sustainable, and you must be prepared to invest in not only the delivery of the initiative, but post-initiative support. Projects by their nature are focused on a demonstrated hand-over, but what happens after this? Do you have a clear understanding of the business impact beyond the project phase?
Many initiatives fail because the investment in technology, time and skill during implementation, disappears or is reduced once the project goes live, often because leadership see the strategy as delivered. Especially in manufacturing, improvements that are delivered by design engineers and highly skilled technical operators during implementation, cannot be sustained when it is handed over to the business. This is a risk that must be addressed and requires an investment appetite beyond the initial project.
5. End-to-end – finally, and often most importantly, the modern supply chain is end-to-end, designed to deliver to customers and consumers what we believe they require and are willing to pay. In considering manufacturing efficiency, you must consider the end-to-end impact. Two key considerations here are the ability to deliver the benefit into the market, and the ability to leverage the supply chain once the efficiency is in place.
From a market delivery perspective, many businesses implement efficiency strategies that cannot be sold once they are delivered, because the market case for the outcome was simply assumed, or not seen as part of the investment. Your efficiency business case should have a clear go-to-market rationale, that not only describes the impact, but becomes a fundamental and fully funded part of your benefit case and project plan.
When it comes to supply chain leverage, the improvement rationale should be fully deliverable through your end-to-end supply chain. Ensure your material supply model, your logistic operations, and your internal manufacturing processes can absorb the impact of your targeted efficiency strategy. There are many examples where siloed efficiency improvements have simply passed inefficiency or cost, up or down the supply chain.
As an operations / manufacturing executive you are always looking for improvements. In considering where to place your focus, a total business perspective is the best way to ensure sustainable success.
Monte Maritz
Monte Maritz is Partner at Oliver Wight EAME, a global business transformation specialist with over 50 years of experience helping some of the world's best-known organisations react and sustain excellent business performance. As pioneers of sales and operations planning and originators of the fundamentals behind supply chain planning, Oliver Wight professionals are the acknowledged industry thought leaders for Integrated Business Planning.
www.oliverwight-eame.com