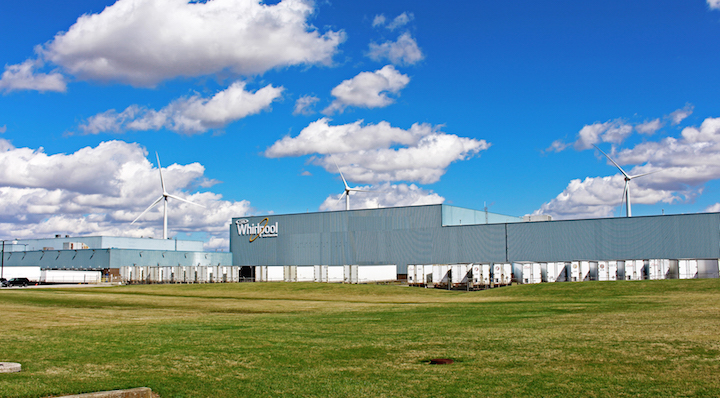 In the world of home appliances, few companies are as well established as the Whirlpool Corporation. Based in Benton Charter Township, Mich., Whirlpool Corporation is a leading American multinational manufacturer and marketer of home appliances. Founded in 1911, the company has annual revenue of approximately $21 billion, 97,000 employees, and more than 70 manufacturing and technology research centers around the world.
Today, the company's brands include Whirlpool, Maytag, KitchenAid, Jenn-Air, Amana, Gladiator GarageWorks, Inglis, Estate, Brastemp, Bauknecht, Indesit, Hotpoint and Consul. In the U.S., Whirlpool has manufacturing facilities located in Iowa, Oklahoma, Tennessee and Ohio.
"We do about $11 billion in annual sales in the North American region, and we have an integrated supply chain at Whirlpool," Vice President of Integrated Supply Chain and Quality James Keppler says. "My organization has responsibility for all inbound and outbound logistics, quality control, order intake and continuous improvement. We also have two call centers where all of our orders come in from various retail and contract customers."
Growth Spurt
Over the last four years, Whirlpool has been in an expansion cycle. It has added some plants, and it has expanded others.
"Recently, we completed an expansion in Greenville, Ohio that doubled the size of the plant," Keppler says. "We also announced an expansion of our Findlay, Ohio plant as well as opening a distribution center in Chicago last fall. There are additional changes that we will be announcing, and all of these moves have come about in response to growth in customer demand."
One of its new facilities is based in Cleveland, Tenn. It was designed to replace a campus that had older facilities and multiple buildings.
"When we built the new facility, we started with a clean sheet and worked on optimal flow to create a state-of-the-art facility that meets environmental criteria," Keppler says. "When we moved equipment, we focused on cultural change, training our people on best practices. We even had a ceremony where we wrote down old habits we wanted to move away from and buried them in the concrete. That was a symbolic way to start fresh."
Throughout its footprint, Whirlpool has been focusing on driving employee involvement in decision making, Moving away from a hierarchical shop floor supervision environment, Whirlpool now favors more self directed and autonomous work teams. This is helping the company to improve employee satisfaction.
"In total, we employ about 23,000 people in North America," Keppler says. "As we've been in our expansion cycle, we've seen an improved economy and lower unemployment rates. To attract people to us, we go through screenings and expose them to the work they will be doing and the environments they will be working in. This helps them develop the skills they need and get comfortable with our processes."
What helps differentiate the company is its product selection. The company believes in producing products that provide the best quality and value for its consumers. Keppler's team interfaces early on with design engineers during product development to make sure products are manufactured well and have a high level of craftsmanship built into the design up front.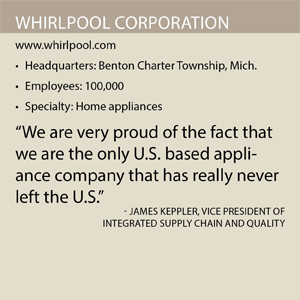 "We also look at the product attributes that are important to the consumer, such as noise level, wash performance and energy efficiency," Keppler says. "We look at those important attributes and identify the key process parameters at a floor shop level that can influence the product attributes. Our goal is to make sure our process parameters are well controlled and influence the outcomes we want."
Optimizing its network is also critically important. The company's internal network engineering team looks at how its retail customers are changing to make sure the distribution network is set up properly.
"For example, the new distribution center we opened we brought on in Chicago was brought on because of those efforts," Keppler says. "Our distribution is mostly done with 3PLs, and we work with various partners on warehousing, transportation and distribution. We also have a common load control center for the U.S. and Mexico, which looks at all inbound materials and makes sure we optimize our routes and are using the right modes of transportation on a regional basis."
Best Foot Forward
Of course, there are challenges. Skilled labor remains important, which is why a blend of external recruiting and in-house training and apprentice programs will help Whirlpool overcome any labor shortages. It also knows it must continue to partner with customers to provide them with what they need in terms of product selection and delivery expectations.
"We've looked at our distribution network and made logistical enhancements to our systems to allow us to meet expectations of our customers," Keppler says. "Our mantra is to deliver the promise. When we make a promise, we expect to live up to it."
Whirlpool knows it is in a competitive marketplace. Many of its products are big ticket, low volume items. Consumers want value and innovation at a great price. The company believes that is what it offers, and it believes its dedication to its communities will continue to serve it well in the future.
In fact, Whirlpool strives to become a big part of its local and global communities. The company's employees volunteer their time and dollars to charitable causes. The company awards scholarships to graduating seniors in its communities. It has partnerships with organizations such as Habitat for Humanity, United Way and the Boys and Girls Club of America. It has also made investments into wind turbines at its Findlay, Marion and Ottawa facilities in Ohio. But perhaps most importantly, Whirlpool never abandoned America in favor of short-term gains.
"We are very proud of the fact that we are the only U.S. based appliance company that has really never left the U.S.," Keppler says. "More than 80 percent of what we sell here is made here. U.S. manufacturing is important to our company and our economy, we believe that it is important to produce where you sell around the globe."