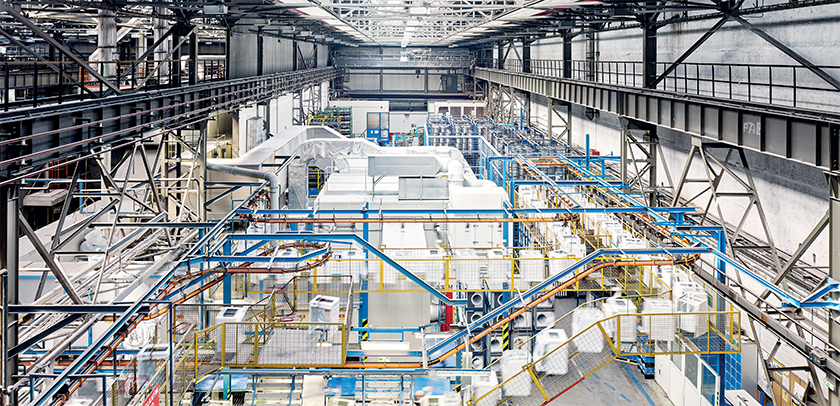 A positive spin
With a strong focus on products, people and the planet, Whirlpool puts a positive spin on purpose-driven manufacturing. Lena Henry, Managing Director, UK and Ireland, showcases the company's UK operations and sustainability achievements
Improving life at home has been at the heart of Whirlpool's business operations for over 110 years. A comfortable, nurturing home is essential for everyone; a sentiment echoed by Lena, who came onboard in March 2022, keen to join an organization focused on adding value to the everyday lives of its customers.
Whirlpool UK Appliances Limited (Whirlpool) – the business she now leads – forms part of the Europe, Middle East and Africa division of the Whirlpool Corporation. The division employs approximately 19,000 people and operates from 11 manufacturing and technology research centres in five countries. With over 2500 employees in the UK, Whirlpool leverages its broad scale and established reputation to tailor its services to the needs of the UK market.
Whirlpool manufactures domestic appliances; the labor-saving white goods that help to ease the pressure of everyday living and enhance home life. With a rich history in the British marketplace, Whirlpool's portfolio includes the heritage brand, Hotpoint, alongside its well-known and respected value offering, Indesit. At the higher end of the market, the business boasts its namesake range of appliances. Perhaps less-known, it also lays claim to KitchenAid, the premium brand that achieves professional results. As Lena explains, "it's a real strength to have a set of brands that includes a strong value contender, like Indesit, alongside higher-end household names It's a good thing to be able to flex across the market in terms of price point."
The domestic appliance market is a large and exciting one. Although competitive, there is plenty of potential. "Interestingly, there are some product categories yet to be exploited by the UK market. For example, less than one in two households owns a dishwasher," expounds Lena. "The statistics are similar for tumble dryer ownership and as such, there is plenty of room for growth.
"Our UK operation has the edge over many other Whirlpool markets. Beyond the global brand reputation, our consumer-facing infrastructure helps to set us apart. We interact with our customers a lot. A large proportion of our appliances are delivered and installed in customers' homes by our own employees. With over 1000 service engineers, covering the UK and Ireland, we also directly repair our products. Both of these operations together mean we visit around seven percent of UK households every year." Through its UK-based call centre, Whirlpool is proud to be the only appliance manufacturer that communicates directly to its customers at every step of their experience. This consumer-facing approach is a successful model that many markets are trying to replicate.
Playing the long game
Indeed, Whirlpool prioritizes the experience of its customers; continually improving its products and services to meet customer requirements. An integral element of this process is customer feedback. The organization systematically asks for feedback to help shape improvements to its processes. As Lena elaborates, "we want to be able to shout about our great service. We don't just sell a machine. If a customer purchases an appliance and is unhappy with the way it's been installed or is disappointed in the aftersales service, we've lost them. We are proud to play the long game."
Whirlpool endeavours to embed customer service across all operations. Lena highlights how communication has evolved over the last three years. "We have moved on from the straightforward phone call. We now use email and WhatsApp. We're also working on our chatbot. Some people may not be keen on this type of contact, but we're working to improve the service to answer more queries, more accurately and much more quickly."
Customer service is key at each point of contact. The company prioritizes training and encourages its engineers and delivery drivers to deliver the same level of service as its call handlers. "Training is key to what Whirlpool calls its first-time completion rate," emphasizes Lena. "This means a customer reaches out and we aim to visit them within two and a half days; the goal being that any issue is resolved accurately, first time."
This correlates hugely with the Trust Pilot rating awarded and the organization is rightly proud of its impressive track record. "Training is essential to ensure that the visiting engineer is armed with a deep understanding of the customer's issue and is appropriately prepared to resolve the problem," Lena elaborates. "With a vast product range, comprehensive training is essential. Our emphasis on quality control is why our engineers are on the payroll.
"It's important to have your own people. Every single one of them represents your organization. It's taken a shift in culture to reinforce the fact that our people are the face of the company. Every time a home visit takes place, the customer is asked to review the individual's service delivery. This helps us to establish best practice and shape what we do."
Lena divulges that recruitment and retention in some areas of the business can be challenging. "There are not enough engineers in this country. As such, we're developing programs to upskill our engineers and provide the opportunity for accreditation. This challenge extends to our call centre staff. Retention is a key competitive lever. On the flip side however, we recently congratulated two employees on their 50 years of service."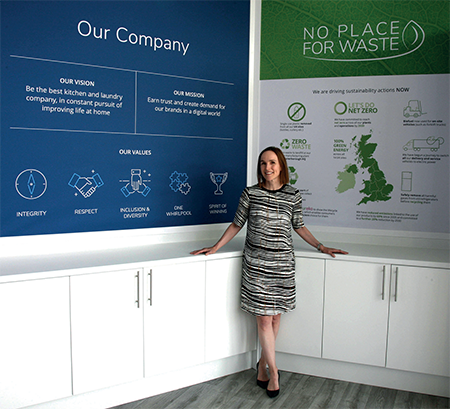 The company managed to maintain its strong customer-facing function throughout the pandemic. During this unsettling time, home became a haven. It became increasingly important to have a safe, reliable and comfortable space in which to live and work. Appliance maintenance was an essential service for many people and the team at Whirlpool delivered. While the organization encourages flexible working, in line with the current climate, as a predominantly consumer-facing operation, it isn't always possible.
Commitment to sustainability
Lena is based at Whirlpool UK's headquarters in Peterborough. The organization's national call centre, consumer service functions and spare parts distribution centre all operate from this facility. There are also numerous satellite depots across the country that enable swift product supply to meet demand. In terms of UK fabrication, Whirlpool's Bristol-based plant in Yate specializes in the manufacture of tumble dryers for UK consumers. While not the largest facility, production capacity is around half a million units each year. As the market size is currently nudging over the million-mark, Whirlpool's share boasts a significant proportion.
Lena goes on, "interestingly, our Peterborough site is instrumental in our efforts towards achieving a circular economy. We have been working consistently to ensure that everything we do is committed to a more sustainable life at home and at work. From recycling packaging and old products, right through to how we run our offices, distribution centres and manufacturing sites, we are part of a global commitment to reach net zero emissions in our plants and operations by 2030.
"In the UK, we are leading by example. None of the waste we generate ends up in landfill, and all of our sites use renewable energy. We've also started to use biofuel for some of our on-site vehicles. To help both our customers and the planet, we remove and recycle packaging, free of charge, when we deliver a new product to our customers' homes. Removing the hassle of recycling from the customer while providing the reassurance that the packaging will be reused has proven consistently popular and appreciated.
"When I joined, I was positively surprised by the level of commitment to sustainability. I think the company has been ahead of the curve for some time and has an appetite to go beyond what is merely mandated.
"The Peterborough site is already carbon neutral and boasts a reworks facility. Appliances can be fixed for resale, or scrapped and recycled into spare parts. Additionally, our recent EcoVadis gold-rating status has validated the quality of Whirlpool's sustainability management system. Moving forward, we're on a journey towards converting 50% of our fleet to electric vehicles by 2025."
World-class manufacturing
As part of a global operation, Whirlpool has been able to adapt and operate with resilience. Lena highlights, "the beauty of being a global organization is that we can rely on a worldwide supply of products." Despite constrained supply chains, pandemic-related challenges and supplier disruption, the organization continues to execute strategic agility to source, manufacture, warehouse and deliver products to trade customers and consumers.
Lena elaborates, "we operate world-class manufacturing; a comprehensive methodology for improving productivity and quality, as well as reducing losses in production systems. The implementation of real-time data and analytics, along with artificial intelligence and connectivity among equipment continues to make our manufacturing and distribution network stronger, delivering best-in-class operational excellence. While we are a strong believer that robots can't do it all, they can do some things better."
Looking to the future, being part of a global organization has further advantages. The expertise and insight of research and development teams can be relied upon for product innovation. Lena continues, "with energy costs rising, there is a window of opportunity surrounding enhanced efficiencies. Consumers are looking for reliable, straightforward solutions; machines offering greater capacity and efficiency but requiring less energy. If an appliance provides a longer lifespan, a step-up in price point is often an acceptable trade-off. In terms of washing machines and dishwashers, this may be an area of focus."
Whirlpool is committed to making products with purposeful innovation, without leaving a negative footprint, while focusing on the people who keep the business running as well as those in the communities it serves.
Whirlpool
www.whirlpoolworld.co.uk
Services: Manufacturer of home appliances