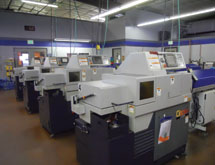 Becoming a successful precision manufacturer requires everything from first-class capabilities, experienced personnel and a high level of customer service to competitive pricing, rapid deliveries and flawless quality. Utah's White Rock Inc. has demonstrated that it can provide the service, reliability and quality products that its customers need.
"Our defining mission is to make as many excellent parts as we can on time for our customers," President David Luman says. "We are a service organization. We have a great work environment, and our facilities are top class."
White Rock's focus is on precision manufacturing, CNC machining, lean manufacturing, CNC prototyping and rapid prototyping. It specializes in precision small parts manufacturing, and takes advantage of the latest technology machinery, programming and cutting tools.
Based in North Logan, Utah, the company operates out of two state-of-the-art buildings totaling 21,500 square feet. Its portfolio includes an array of Swiss-type lathes and vertical machining centers, as well as an array of support and inspection equipment.
"The Swiss-type lathes are particularly important for us because they can make all kinds of parts," Luman says. "We're now up to 25 of those machines."
Its machining capabilities include an array of metals and plastics, and it offers in-house heat treatment and passivation. When needed, White Rock can leverage relationships with outside contractors if customers need other services such as anodizing and coatings.
Additionally, White Rock is committed to running a sustainable operation. It has incorporated green processes into its functions such as 100 percent Blaser vegetable oil cutting fluid and chip and oil reclaim processes for recycling.
White Rock is also committed to quality. An ISO 9001:2008-registered company, it has developed and implemented a quality system focused on ensuring that products, standards and services meet or exceed customer requirements. As part of this system, White Rock works to understand its customers' needs so it can provide the highest possible product and service quality.
The company's customer base spans  the country and around the world. It has worked on projects focused on everything from high-end electrical connectors and medical components to fiberglass tubing and automotive products. As for its geographic reach, only about 10 percent of the company's revenue comes from within Utah. The rest comes from customers located all over the United States, as well as overseas in countries such as France and New Zealand.
"Providing the kind of service our customers' need while being perceptive and adding capacity when necessary is key," Luman says. "We work closely with customers to ensure we can meet short lead times, and we don't go after the large-volume work. We focus more on the 1,000 to 10,000 quantity runs."
Luman says the company's reputation has been built by past performance and word of mouth. The company has been able to take advantage of this, as it often acquires new customers as people it has worked with move on to new companies and recommend White Rock to their new employers.
"We don't have to aggressively attend trade shows or cold-call," Luman says. "We are fortunate to have as much work as we can handle given the size of our facility. We recently added four new machines and replaced some older ones, and our plan is to add machines based on client requirements."
Updating equipment is important to White Rock. For its Swiss-type lathes, the company exclusively uses Marubeni Citzen-Cincom equipment. It has an aggressive preventive maintenance program to ensure reliability and longevity.
"Our two original machines have 6 million cycles on them and they are still making parts and holding tight tolerances," Luman says. "We keep things clean, and we periodically take a machine offline for a complete cleaning of every bit of it. A clean machine runs better."
White Rock has been able to build a strong team of employees that Luman says is like a family. Recruitment and retention have not been problematic, as it engages in everything from hiring people recommended by current employees and hiring multiple members of the same family to operating its own training programs and paying for 100 percent of its employees' health insurance. These efforts have been key in its human resources strategy.
Moving Forward
White Rock is actively paving the way for a successful future. The company is in the midst of building a new 15,000-square-foot building to add to its two existing facilities, and it is focusing on growing its heavy sheet metal, CNC laser and press brake-based business. To prepare for growth, it tries to keep a few trainees on the floor at all times so its workforce is ready to jump onto new machines when White Rock expands.
"Some of the projects we work on are easy, and some are hard," Luman says. "We can start new people on easy jobs with fewer dimensions and then move them up the chain. We are also implementing a new shop floor management system that is an all-encompassing manufacturing software system."
With a strong legacy and favorable conditions for growth, White Rock will focus on continual recruitment, retention and training to make sure it has the human capital it needs to succeed. The company will also continue to demonstrate to its customers that it can provide high-quality parts and service in a cost-effective fashion.
"We are interested in establishing long-term relationships with clients," Luman says. "They are instrumental in our success, and vice versa. We try to nurture strong partnerships with all of our customers."