Ideas to inspire
One of the most respected upholstery manufacturers in Britain, Whitemeadow's tailored furniture follows the exacting standards set out by its blue chip multi-store and independent retail partners
Looking back, there are probably few financial advisors or speculators that would have recommended a management buyout of a large-scale business back in December 2007. After all, it was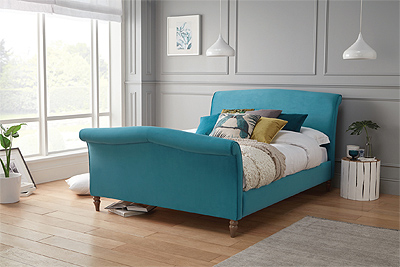 only a matter of months after the beginning of the end was signalled by Northern Rock, the bank which collapsed into nationalisation and effectively gave way to the much-discussed financial crisis of 2008. Nevertheless, this was precisely the path taken by the four key shareholders of Nottinghamshire-based upholstery manufacturer Whitemeadow, and it turned out to be an incredibly successful move.
"The business itself started out in 1994, from a small site we still manufacture from today" begins Managing Director, Ian Oscroft. "As a privately-owned British manufacturer with a real entrepreneurial spirit, key to our success over the years has been our focus on two core areas, our people and our product. We have a truly great group of motivated people here, including a design and development team that I believe are some of the best designers working anywhere in the industry." Together with management, this group has helped take a business that recorded an annual turnover of approximately £16 million at the time of the management buyout to one that finished the last financial year with results totalling just under £50 million.
"Today we remain, what is essentially, a non-branded business supplying the vast majority of the major high street and online retailers, and virtually every key independent in the country with sofas, chairs and bed frames," Ian continues. "Our own product range consists of some 150 different designs of upholstery and around 65 different designs of bed frames, while our ability to provide what are basically exclusive lines for specific retailers has made us a strong, well-respected and trusted partner, and a key supply source."
One thing that has remained true of Whitemeadow throughout its history is the pride it places in its British manufacturing heritage. "My own track record in this industry dates back some 30 years, back to a time in the 1980s when almost all of the upholstery purchased in the UK was also manufactured here," Ian explains. "The landscape then changed quite dramatically during the 1990s and early 2000s, when manufacturers in the Far East and Eastern Europe came into play, resulting in lots of retailers seeking their products offshore and British manufacturers disappearing.
"In the last ten years, however, those of us who battled through this challenging period have fought back by emphasising the quality of British-made products and the fact that our lead times of around three-to-six weeks from order to delivery are hugely superior to those of, say, the Far East where this can be anything up to ten-to-twelve weeks. As a result of these efforts, we have curbed the UK growth of foreign competition to become strong, thriving businesses that are able to trade on the reputation that the tag 'Made in Britain' retains."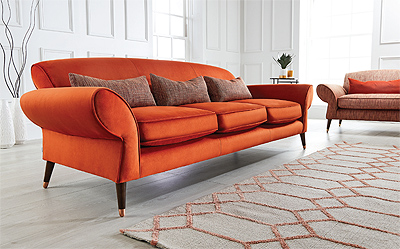 The manufacturing techniques and expertise that Ian is justifiably proud of today emanate from six manufacturing units, all located within a two-mile radius, which total 177,000 square feet of space. "There are three key areas of activity that make up upholstery manufacturing, these being cutting, sewing and upholstering," Ian states. "During the cutting phase, which is carried out automatically, we utilise three fully automated Lectra cutting machines, which are supported by a small team of hand cutting staff for work on very complex, bespoke products. The sewing stage, meanwhile, involves around 70 highly-skilled machinists, while the final stage requires the efforts of another 70 or so upholsterers. These latter stages require skilled, well-trained sewing machinists, a role which has become increasingly hard to fill in recent years with British talent. In response to this, and as a means of bridging the skills gap that has emerged, we provide continuous training and will shortly be establishing our own internal sewing school where we will invest in those looking to train to become upholstery sewing machinists – a highly skilled and well-paid role."
As a business that operates according to a 'just-in-time' model and also embraces the concept of Lean Manufacturing, Whitemeadow is constantly making moves to improve its operational efficiency. Recent efforts have included an investment of almost £1 million in the upgrading of its transportation fleet over the last three years, a move designed to ensure the safety of its products during transit to its customers, and an ongoing £700,000 investment towards the installation of a new, state-of-the-art biomass facility that, at the time of writing, was due to commence operations in May 2018. Through this facility, production waste created by the company, sawdust and timber offcuts for instance, will be converted into pellets and burnt to heat its various facilities, a process that will not only save Whitemeadow money in the long-term, but will also make for a greener business.
"As a result of the rapid growth that we have experienced, especially in the last five-to-six years, Whitemeadow has gone on to become the largest privately-owned upholstery manufacturer left in the UK, and this has positioned us at the forefront of our industry," Ian adds. "Now, moving forward, our primary goal is to maintain this status, and one of the ways we are looking to do this is through the expansion and evolution of our design and development department. When it comes to sofas and chairs, it is all about wowing the consumer with a finished product that they want to buy, and as a result of the construction of a new, £600,000 facility, we will soon have a 25-strong team dedicated to these efforts. It will be their job to continue to wow the market with fantastic products for years to come, and with that I have no doubt that we will continue to grow in the future."
Whitemeadow
Products: Upholstered sofas, bed frames and chairs