Fit for the future
Under the direction of a new CEO, Whittan Group is in the midst of an exciting period of evolution that will strengthen its position as the largest steel storage product manufacturer in the UK
Almost a year ago to the day, Whittan Group, the largest manufacturer of steel storage products in the UK, formally announced the appointment of Jonathan Templeman as its new CEO.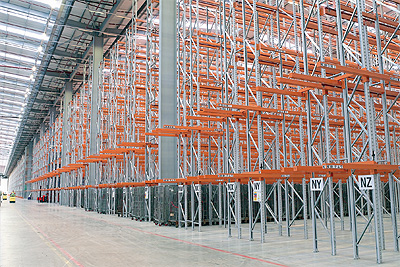 Bringing with him many years of experience when it comes to running similar steel related manufacturing businesses, it was Jonathan who was tasked with re-aligning the group and spearheading ambitious growth plans.
A leading supplier of storage systems across the UK and continental Europe, Whittan Group has worked with a veritable who's who of names in retail, manufacturing, transport, property, construction, local and national government, and professional services. Employing more than 1000 men and women, the group's factories produce a combined total of over 1000 tonnes of steel each week.
"I think the first, most obvious thing that attracted me to Whittan Group was the fact that it is firmly established as the market leader in its field in the UK, and in certain areas the only significant manufacturer present," Jonathan begins. "Furthermore, with the group's owners, funds advised by Bregal Capital, having a strong desire to create a more robust business going forward, they are very willing to invest in the business as it looks to capitalise on the strong demand in the UK arising from the growth of ecommerce and in Europe, where the rate of overall growth is expected to be strong. This makes for a very exciting and attractive opportunity in itself."
So how have the first 12 months in the job been for Jonathan, and indeed the group as a whole? "The performance of the group over the past year needs to be viewed in the context of what is happening in the retailing and storage markets in general," he explains. "Supply chains are changing rapidly, mostly due to an increasing level of digitisation and the way in which purchases are made, which is having a marked effect on traditional bricks and mortar retailing, multi-channel retailers and ecommerce specialists. This, in turn, is helping to bring about major changes in the way companies are looking to maximise the use of storage systems and drive efficiency when it comes to their use of space.
"The result has been the widespread adoption of better warehouse management systems, the embracing of new technology such as innovative automated solutions, and the reconfiguring of warehouse space to incorporate narrow or very narrow aisle layouts. This has provided Whittan Group with the opportunity to provide its customers with a range of new racking systems, services, parts and support as they look to rapidly improve their respective internal activities. So, in essence, the last 12 months has been about Whittan Group realigning itself with these major market changes."
The rise of ecommerce giants such as Amazon has had an indelible impact on the way retailers go about their work, forcing them to become ever-more efficient, and this has created what Jonathan refers to as a 'polarised' marketplace. "Different segments of the retail world are adopting different approaches, with local retailers and discounters typically looking to reduce costs by making better use of basic pallet racking, storage models and warehouse space," he states. "Meanwhile, we see the big players becoming ever-more sophisticated as they focus on the importance of the 'last mile' when goods reach the end user, utilising automated and semi-automated tools and software to deliver improved fulfillment methods. Against the backdrop of all this change, Whittan Group's ability to provide bespoke solutions and to predict change has meant that our solutions sales business is thriving, with demand expected to remain high for many years to come."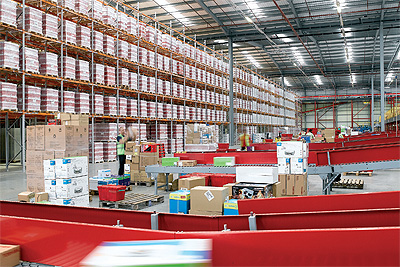 Whittan Group itself was created through the combination of three legacy businesses, however one of the first things that Jonathan identified when taking up his new role as CEO was the fact while there are areas in which the three businesses and their product lines overlap, there has been minimal integration between them over the years. Jonathan's solution was to instigate a two-year rationalisation of some of the group's product ranges in order to maximise interchangeable versatility. This is expected to result in the streamlining of product ranges such as pallet racking, lockers and shelving, and the standardisation of manufacturing processes over the next 24 months or so.
Another area of the business that Jonathan is keen to address is the level of investment made in Whittan Group's facilities and factories, and, as he goes on to detail, there are a number of projects afoot to create improvements across the board. "One of the projects we are currently embarking on is the replacement of our 25-year-old water-based paint plant at Brierley Hill, near Birmingham, with a brand new, state-of-the-art powder paint plant," he says. "Meanwhile, in Milton Keynes, we are upgrading a lot of our critical infrastructure, including software controls, preventative maintenance solutions and the way that we carry out extraction activities. These and other cosmetic changes are occurring right the way across the group and will continue for some time."
Upgrading its facilities is one of the big focus areas for Whittan Group as we head towards 2019, as is the development of its solutions business. "Demand for our expertise and products is definitely there, we just need to ensure that we have the internal resources to deliver on that," Jonathan adds. "We have an exciting new product development programme that we aim to leverage to allow us to supply products directly into the automated and semi-automated supply chains, and to target growing areas of interest, for example the use of mobile pallet racking, shuttle systems, narrow aisle solutions and automated picking solutions. All of this forms part of our overall goal, which is to take what is a sound business and turn it into a robust, sustainable one fit for the future and well positioned to take advantage of the immense growth opportunities out there."
Whittan Group
Products: Steel storage products