Investing in success
Steel storage product manufacturer Whittan Group today finds itself in the midst of a major investment and upgrade programme that looks set to drive business both in the UK and on the international stage
When Manufacturing Today Europe last spoke with Jonathan Templeman, CEO of Whittan Group, the largest manufacturer of steel storage products in the UK, in the final few months of 2018, he found himself approximately 12 months into his new role and leading the business on a path towards achieving its ambitious growth targets. Now, in late 2019, Jonathan is able to reflect upon what he admits has been a "mixed bag" of a year, albeit one in which Whittan Group has been able to accentuate the positives to be had in the storage market.
"I think when we look at the market over the course of 2019, it is hard to ignore the fact that there has been a fair amount of disruption and delay caused by the continued uncertainty surrounding Brexit, particularly when it comes to some of the larger customer projects we would have expected to have seen take shape," Jonathan begins. "Having said that, on the positive side, the solutions and automation side of Whittan Group's business has continued to grow strongly, and we also continue to attract business from ecommerce retailers and other disruptive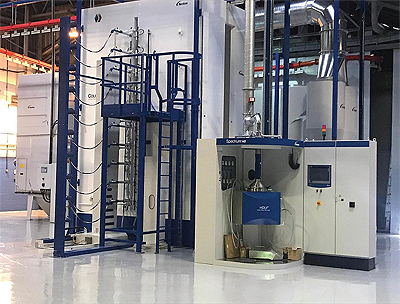 players that are gaining ground at a time when more traditional retailers are scaling back."
In the case of Whittan Group's solutions business, and its related major projects business, Jonathan expects demand for its services to increase as more and more of its customers work to achieve greater cost savings and become more efficient in the way they store their goods. "For example," he details, "we have seen an increasing trend towards storage going higher – so better utilising warehouse space in this manner – and a lot more customers are beginning to look at how to introduce semi-automatic elements to their facilities, such as conveyors or shuttle systems. There are also one or two of the larger players looking at the possibility of adopting full-end-to-end automation solutions."
During our previous conversation with Jonathan, one of the topics he was keen to discuss was the ambitious three-year upgrade and investment programme that the group was, at the time, preparing to embark upon. As he goes on to reveal, much has been achieved in the time since. "The investment itself covers multiple elements of Whittan Group, and includes our European operations where we have put capital into our rolling lines and other tooling at our Spanish factory in Durango, however I think it would be fair to say that the bulk thus far has been directed towards the pallet racking side of the business.
"Since we last spoke, we have completed the installation of a new paint plant at our shelving factory at Brierley Hill, and we have carried out work on our critical rolling machines at our Milton Keynes (MK) facility, including upgrading a sophisticated line on which we can punch, form and paint steel. We have also continued to invest in our 3D design tool, Design 360, and successfully introduced SAP across the MK facility. Looking ahead, we have plans to upgrade our paint plants and rolling mills in Milton Keynes, will be spending more on upgrading our IT infrastructure both in the UK and in Europe, and we are even now doing feasibility studies in regards to the future use of robotic welding solutions and other ways to automate some of our material handling processes."
Automation is very much a recurring theme when speaking about Whittan Group's outlook for the coming years, and with good reason. When it comes to new product development, much of it is being driven by its customers looking increasingly towards the use of shuttles and cranes in storage, rather than the more traditional driver racking. Meanwhile, the benefits of adopting automated solutions are becoming clearer for both Whittan Group and its customers.
"For ourselves, as a manufacturing entity, automation helps to address two key issues," Jonathan states. "The first is the availability, or lack thereof, of skilled labour – which the ability to automate some aspects of our operations can address – and the second revolves around consistency and quality. When it comes to welding, in particular, if one can ensure that the machine is set up properly and that material is fed into it in a controlled manner, then the result can be a faster, more consistent, high quality weld.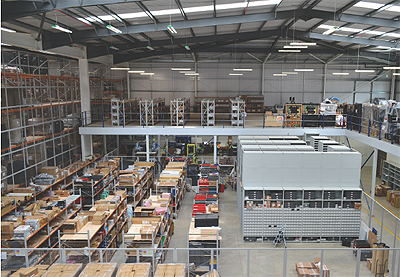 "For our customers, meanwhile, the challenges are fairly similar. From a labour perspective, automation has the ability to answer the question that more and more companies have about how they will be able to recruit people to operate things like forklift trucks in the future. It is the potential efficiency gains, however, that I believe you will find will be the bigger draw for customers and will be a big motivating factor in their changing of the ways they store goods."
With a General Election due to be held before the end of the year, much about 2020 still hung in the balance at the time of our conversation with Jonathan. Nevertheless, with multi-million-pound contracts in place with some of the major players in the worlds of fast fashion and ecommerce, and with a service and maintenance offering (one which best supports those customers with large estates of warehouses or 'back-of-store' storage) that is also starting to pick up strong traction, there is much to both he and the wider Whittan Group to be optimistic about.
"I have every confidence that the UK market will remain a good one to operate in, and I think there are parts of Europe that will grow also, which is why we plan to expand our technical support base on the continent in the near future," Jonathan adds. "Due to the way the supply chain in general is changing to meet the needs of consumers that want things 'next day', there are a lot of positive underlying forces at work that make the next five years or so look very good indeed. For us, it will be about procuring the investment needed to execute our own ambitious growth plans, and based on past evidence we definitely have the credibility to achieve this."
Whittan Group
Products: Steel storage products