Fun and education
Wicksteed Playground creates bespoke playground units using unique manufacturing technologies that make the Kettering-based company one of a kind in the UK
The legend says that Charles Wicksteed founded the business of manufacturing playing equipment in the UK, in 1918, when he set up several swings in his estate for children to celebrate the end of World War I.This estate is now Wicksteed Park – a Wicksteed Trust-owned property, which has gone down in history as the UK's first commercial playground.The engineering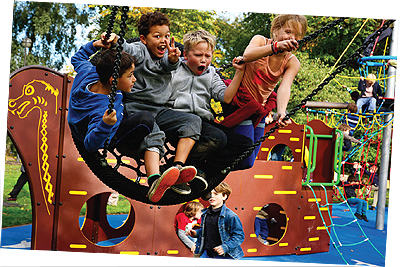 company that started as a result of Mr.Wicksteed's enterprise – Wicksteed Playground, is celebrating its centenary in 2018, having established itself as a leading name in the industry, both on home and European soil.
"We were the forerunners in the play sector, so when the first European standards were introduced in the late 1950s, the Wicksteed equipment was used as the basis for forming those standards," Sales Director, Stuart Wetherell reveals. "In fact, we still have our say in setting the standards, as one of our employees who has been with us for over 30 years, is on the European Committee for reviewing and determining standards as and when that is needed."
While the principles of child play have, by and large, remained the same over the years, and swings, slides, and roundabouts are still favourite go-to facilities, technological progress has made it possible for manufacturing companies to be bolder in their concepts and to incorporate more innovative elements to a playpark. Stuart discusses the developments the industry has seen: "The manufacturing techniques have inevitably modernised. We now have CNC machining and automated paint plants, for example, which was impossible to even conceive years ago.
"One of our USPs (unique selling points) lies in our application of a thermal zinc spraying process during undercoating. It is a raying technique, in which a zinc coil is arced via a UV light and is hand-sprayed onto all of the components. This gives us a slightly rougher finish, which allows us to achieve a greater durability when the powder coating process follows and the powder coating keys into the undercoat," Stuart explains, adding that the process guarantees that the paint will not be damaged for a period of seven years. "We used to run a galvanised process, but we noticed that the paint started to flake away when chipped, because the keying was not that strong. In contrast, the thermal zinc spray allows the paint to stay localised, if somebody tries to chip it off."
Taking advantage of new technology,Wicksteed has also begun to utilise CNC-routering of play panels."It is a fairly common procedure in the industry, but we are the only company who does it in-house," Stuart remarks."This allows us to create bespoke play panels to individual customer's needs. If we are working with disability groups, we can design a panel with sign language on it, for example, which tends to make the product unique for the end user," he continues.
For Wicksteed, the introduction of an electronic element to its products has been a significant milestone that has ignited the creation of various interactive systems, chiefly for the education sector."We can apply electronics to the aforementioned play panels, which can be either battery-powered or solar-powered, which enables interaction between the user and the system. For example, we have a product called LearningACTIV – an e-wall that can be installed either indoors or in the playground.We have designed an app to complement it that allows teachers to write questions on any subject and transfer that into some physical activity. Put simply, a Maths teacher can ask the question 'What is 2+2?' and give five answers.These are lit up in different colours on the e-wall and the child has a certain amount of time to get to the correct electronic panel and hit the right answer. It is an incredibly helpful tool in the learning curriculum," Stuart maintains.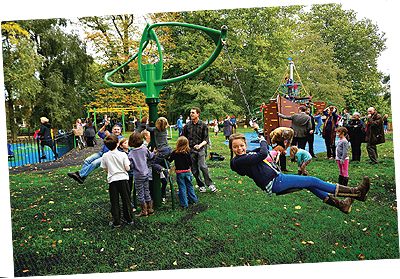 "It is essential to clarify that this app can be used on any educational level, because you can easily put video clips or images to the questions asked, so it can be used even by university students as an interactive method of learning," he points out. Clearly,the integration of smart technology with play equipment is showing untapped potential at the moment and it is hardly surprising that Wicksteed has continued to expand its offering in the area."We have matched our recently launched outdoor gym equipment with an easy to use mobile app for users to record their fitness programme and share it with their friends and followers on social media," Stuart introduces another innovative range the manufacturer has developed.
He draws our attention to one of the latest playparks Wicksteed installed – at Wilton Lodge Park in Hawick, Scotland, to epitomise the current trends in the play industry and the company's competence in addressing them."Our research has consistently shown that the customers are looking for something unique in their area. Because the way we design our products is fully modular, we are capable of creating fully bespoke units to meet clients' demands."
A large timber castle featuring turrets, slides, climbing nets and monkey bars occupies a central place at Wilton Lodge Park.Around the castle, Wicksteed has installed colourful wetpour surface designs with tunnelled grass mounds, swings, roundabouts, balance boards, and a trampoline. Furthermore,the play area has been devised to be disabled-accessible, therefore a wheelchair-accessible sensory garden, a wheelchair-friendly roundabout, and a basket swing have been included to the park, too.
Over the last couple of years,Wicksteed has decided to modify its manufacturing process, in order to stay at the forefront of the play industry. As a result, the company adopted what it calls a 'fit and forget' approach, a prominent example of which can be seen in the welded tower of the castle at Wilton Lodge Park."We have moved to welding our towers in one solid piece, unlike our competitors, and it has worked really well for us. Naturally, we had to invest in new equipment, in order to be able to do that, so we brought a new paint oven in, worth £75,000. Other investments involved the addition of a routing panel, which cost us over £200,000, as well as two new 3D printing machines," Stuart discloses.
Wicksteed had a solid 2017, even recording a slight growth, compared with 2016, and 2018 is also looking positive.Stuart outlines the company's plans for the future:"Obviously, we aim to expand by winning more business within the UK, but there is also a drive to create a greater export market. We already export and we have recently installed a play area at the base of Burj Khalifa in Dubai, which we consider a quite prestigious job.We are starting to sell to China, too," he concludes optimistically.
Wicksteed Playgrounds
Services: Design, manufacture, and supply of playground equipment