Time to play
Wicksteed's heritage in manufacturing playground equipment has attracted new customers, as the company continues to achieve its vision for overseas growth
An in-depth knowledge of the playground manufacturing market, built over decades of experience, has helped Wicksteed to develop a strong intuition for the nature of upcoming customer requirements. In a world where the search for individuality is almost an imperative, it is no surprise that a bespoke offering stands out and grabs the attention.
Having realised that, Wicksteed has been wise in focusing on the creation of unique designs for its play areas and the strength of this approach was proven yet again in 2018 when the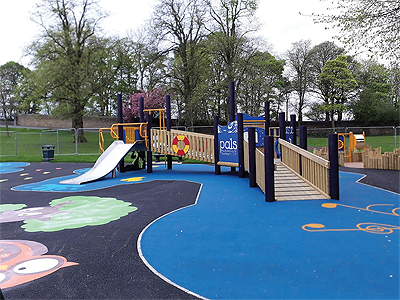 manufacturer secured a number of large contracts, both in the UK and abroad. One of the most prestigious developments the company got involved in, was the installation of Scotland's first all-inclusive play park that was opened in June by none other than the First Minister, Nicola Sturgeon.
Wicksteed's Sales Director, Stuart Wetherell discusses the project: "The scheme was designed and executed in conjunction with the Play As One Scotland (pa1s) charity to enable children with or without physical or learning disabilities to play together and enjoy the facilities unrestrictedly. The site is located within Pittencrieff Park in Dunfermline and took four months to complete. It features a music and sensory garden, as well as an array of fully inclusive accessible equipment such as swings, roundabouts, and electronic games."
Playing to its strengths over the course of the project, as inclusivity is considered one of its core specialisms, Wicksteed decided to use vibrant and stimulating colours with nature-themed surface graphics and equipment that features sound, touch, vision, and electronics, to provide something for everyone within the area.
Much closer to the border with England, Wicksteed also worked on a new play park in Hawick where it built a large wooden castle inspired by the history of the area. "It is another bespoke-designed playground that is accessible to visitors with disabilities, featuring a range of inclusive elements," Stuart notes.
Aside from the new playgrounds it has manufactured, Wicksteed has also introduced a range of complementary items to its existing playparks. "We have developed new roundabouts, surfing simulators and skateboard simulators to enhance our portfolio further and these additions have been created to the 'fit and forget' model we have adopted, in which a unit is welded in one solid piece."
The last time we spoke to him, Stuart shared his ambition of seeing Wicksteed grow its export activities. Now, almost a year later, he is satisfied with the progress the company has made in this field. "We have always been quite strong in the Middle East, but since last year, we have managed to open up the market in Dubai, which gives us excellent prospects as we move forward. We have also gained a foothold in India where we partner with Airhant.
"It is India's largest play environment company that has completed numerous projects across more than 50 countries around the world," he reveals. "They approached us for the roll-out of several developments in India's largest cities, inspired by our brand, the history, and the heritage of Wicksteed. We are associated with the manufacturing of products of outstanding quality and this is definitely contributing to our international expansion."
Speaking of the ways in which customer requirements differ in various parts of the world, he claims that Wicksteed had to adapt its products to the weather conditions in the Middle East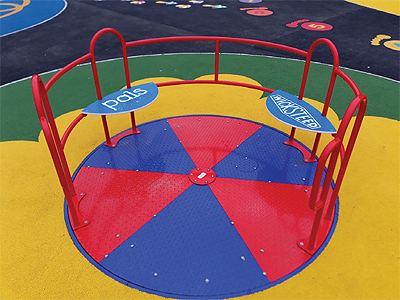 and India. "Owing to the hot climate in these places, we tend to supply mainly plastic slides as requested by our clients, as opposed to the usual stainless steel slides we manufacture."
Against the backdrop of its commercial success, Wicksteed has continued the tradition of constantly tweaking its manufacturing capabilities by investing in a new paint oven to optimise the powder-coating process. Stuart explains: "Because the gauge varies – from 1.5mm up to 10mm, you have to heat the sheet to the right temperature, so that it can bake properly. The oven allows us to control the temperatures and adjust them in accordance with the material that needs to be heated.
"We have stayed true to our heritage by maintaining the quality and gauge of steel on all our products, which has bucked the recent trend within the industry for value engineering," he adds. "We have seen numerous examples within the market of downscaling steel quality and gauge, in an attempt to drive cost down in the current market situation. Our name and the values we stand for do not allow us to do that. We want what people buy from us to last, so we have maintained the highest quality of the materials we use."
As 2019 is picking up pace, Wicksteed is looking to grow its export market again, whilst retaining its position as the UK's leading playground manufacturer. "In addition," Stuart concludes, "we launched a new R&D programme in January, so we are placing serious investment in expanding our range, following the exhaustive market research we did last year to identify the particular route we would like to follow when developing new products."
Wicksteed
Products: Playground equipment