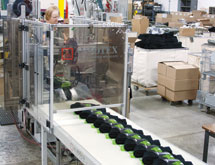 For more than a century, Wigwam Mills has produced American-made socks using American sourced  yarns spun with wool and  manmade fibers. Founded as Hand Knit Hosiery Co., it started as a manufacturer of Wigwam-branded wool socks for lumbermen. In 1957, the company changed its name to Wigwam Mills to take advantage of the brand's popularity. Today, it produces lines of outdoor, sport, snow sport, work and health socks.
"We don't import anything," says President Robert Chesebro Jr.
Comfortable Fit
Herbert Chesebro, Robert Ehany and Lawrence Bentz founded the company in 1905. Thirty-one years later, the Chesebro family gained control under the leadership of Robert Chesebro Sr. Throughout its history, the company has  utilized  many different fibers – including nylon, Orlon acrylic, polypropylene,  spandex and polyester – as part of a commitment to innovation. Wigwam was one of the first companies to make stretch socks utilizing DuPont nylon.
Today, the company sells socks to approximately 4,000 sporting accounts throughout the United States and Canada. Major clients include Dick's Sporting Goods, Sports Authority and Dunham's Sports. Wigwam Mills has a significant presence in the outdoor market through outlets such as REI, Cabela's, Gander Mountain and Bass Pro Shops. The company also sponsors the annual Ironman  triathlon in Kona, Hawaii and is a licensee of the World Triathlon Corporation. In addition, a number of  extreme athletes wear and endorse its products.
"We also sell to independent running stores," Chesebro says. "Our competition consists of those companies that make their own branded socks,  major shoe brands and apparel brands that accessorize their lines with  socks. We are much more varied in terms of the fibers we use and the types of performance socks we offer."
Right now, Wigwam Mills is in the middle of a new branding strategy that began in 2008. In the 1990s, Wigwam Mills developed the patented Ultimax and INgenius brands, which were designed for effective moisture management. These brands were sold in addition to the Wigwam-branded product. Now, all of the company's products are sold under the Wigwam brand umbrella.
Packaging was updated to indicate that the Ultimax label stands for socks that contain patented Wigwam technology. Socks once under the Ultimax brand are identified by "Ultimax" on the package and "Pro" as part of the product name, while the INgenius brand now has "Ultimax" on the package and "Fusion" as part of the product name.
"We consolidated our branding under the Wigwam name and introduced new packaging at the start of this year," Chesebro says.
Improving Operations
Wigwam Mills continuously reinvests in its operations. One area of investment is in new knitting and packaging equipment to ensure it has the latest technology and its manufacturing is as efficient as possible. Today's machines are highly automated via computer programming and utilize pneumatics,  compressed air and vacuum air. IT is another area of ongoing investment, with the goal of allowing the company to manage its diverse product lines and yarns.
People another resource the company invests in. Wigwam Mills employs an independent designer to help create its product lines, and a history of continuity in its employee base means it has a great deal of in-house experience. The company's trained knitting technicians help the company produce a product that is more than just a commodity.
"Unlike many competing companies that make products that are commodities, we have many more experienced technicians because of a focus on training our own people," Chesebro says.
Even with a mature product such as socks, there continue to be opportunities for growth and Chesebro says the key to maintaining and improving Wigwam Mills' position is through gaining marketshare. Overseas opportunities exist, too, as the company sells a modest amount in the United Kingdom and has distributors in Australia, New Zealand, Honk Kong, Singapore, Korea, Japan and South America.
"We also only do private-label sales to companies we won't compete against," Chesebro says. "There are some retailers that we sell product to under their name, but we won't sell to marketing companies  who have their own  product lines that would compete with us."
Additionally, Wigwam Mills is expanding its online presence. Next year, the company plans to launch a new website with an e-commerce capability to it so that it can sell its complete product line directly to consumers. That will extend its online sales presence beyond current e-commerce sales channels.
"Our products are available through online retailers like Amazon and Zappos, and they are available on other retail websites, such as REI and Dick's Sporting Goods," Chesebro says. "The marketplace has moved toward selling more products on the web, and our new website will help because no single retailer covers our entire product line."
As the company continues to evolve, it plans to maintain its family run status; Chesebro has a daughter and a son involved in running the company. Wigwam Mills will also retain its commitment to American-made products. Wigwam Mills understands the symbiotic relationships among the economy, jobs and American manufacturing, and Chesebro believes that its American-made identity is a differentiating factor for the company and its products.
"Sheboygan County is home to many manufacturers," Chesebro says. "I am in favor of manufacturing in the U.S. because it contributes to the strength of our economy through job creation and maintenance." mt