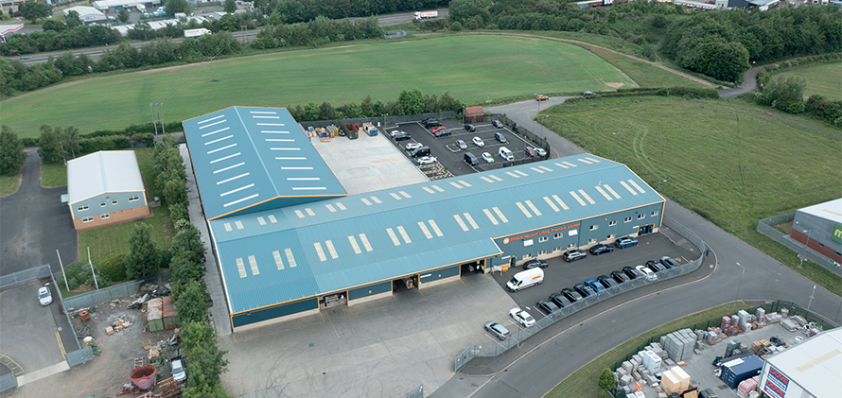 Experts in the offshore
Celebrating its 130th year of operation this year, William Hackett is setting new standards in the design and manufacture of equipment for offshore marine environments
"It felt like a very difficult year," admits William Hackett Sales & Business Development Director Ben Burgess, as he reflects upon the last 12 months. On the surface, you wouldn't know it. One of the world's most respected designers and manufacturers of hoisting, lifting and rigging equipment, William Hackett has been a success story of the pandemic, combining steady domestic performance with phenomenal export growth of more than 45 percent in the years 2021-2022.
"Typically, when you deliver one of your best years commercially, you're enjoying it as it goes through," Ben says. "But every day there were huge challenges. A year ago, we were deep in the midst of Covid-19. There was still a lot of uncertainty in the world, and a lot of logistical challenges remained post-Brexit. Even now, the commercial world is still faced with significant challenges."
As it celebrates its 130th anniversary this year, William Hackett continues to be indebted to its founding principles. "There's an alignment between the original owners, the current owners and the staff in terms of cultural values," Ben explains. "Yes, we set ourselves goals and budgets for each financial year, but primarily we're looking to take decisions that work for our customers, our company and our colleagues. That might entail investing in the workspace to ensure job satisfaction, efficiency and safety, investing in welfare facilities, or in giving our employees the ability to grow and develop within the business. It's a long term, continuity perspective."
More recently, the secret to William Hackett's success has been a willingness to tackle the challenges of the pandemic head-on. "When the market encounters turbulence, you can either reduce exposure, or you can capitalize on an opportunity for market gain," Ben says. "That's exactly what we've done. We took the key decision to double the warehousing and manufacturing capacity at our Lifting Centre of Excellence in Northumberland. That gave us a bigger buffer of product and raw material, and meant we could ensure continuity of supply to our customers. In addition, we also invested 20 percent of our overall budget into additional quality management systems for the testing of tensile attributes, hardness, and other features relating to safety and procedures, which allowed us to scale further."
In the execution of this strategy, William Hackett benefited from a highly agile business structure. "Quicker than our competitors, we were able to anticipate our customers' requirements and maneuver around emerging market trends," Ben states. "That comes down to our systems and balance sheet as a family-owned business, and the fact that we could afford to make those investments in additional stock at a time when the market was facing uncertainty."
One such investment is William Hackett's real-time asset management and delivery capabilities. "It's something that our competitors don't have," Ben tells us. "When I speak with the major oil companies and manufacturers, I can demonstrate that if they're looking on our system enquiring about a certain widget, I can make a commitment to them because I know the precise stock levels. Likewise, if someone pre-orders or pre-allocates that widget out of stock, I could revise that immediately."
By providing its customers with accuracy and consistency of delivery, William Hackett is setting higher expectations within the market. "These are features that we've come to see as normal in the personal retail marketplace," he continues. "If you order something from Amazon, you know exactly where your delivery driver is and when your order is arriving. We've been able to introduce that to the B2B environment."
Amid the ongoing disruption of Covid-19, William Hackett's success is even more remarkable. "There are certain tasks within our business that require a physical presence in Alnwick," Ben indicates. "If you're manufacturing hoists and other lifting products, there's not an option of working remotely, and so the challenge for us has been looking at the working procedures to ensure we're taking the appropriate measures to ensure social distancing and reduce the likelihood of infection.
"On the other hand, we've digitized a lot of the sales collateral and systems," he goes on. "As we engage with new customers in Asia, Australia, Indonesia and the Middle East, rather than conduct those meetings face-to-face as we might have previously, we've now transitioned to video-conferencing software, making use of YouTube and other social media channels to extend the physical experience online via the use of technology."
Design expertise
The company has put this technology to good use, consolidating its distribution relationships across Australia, Brazil, the Caribbean, the Middle East, Hong Kong and beyond. "Previously, if we wanted to open up a distributor abroad, I would've researched who those distributors were, written to them, arranged a visit, and flown over to spend a couple of days visiting their premises," Ben notes. "All this is now happening electronically in a new, smarter and more environmentally-friendly way of working. We still haven't met face-to-face with some of the new distributors we've opened in the last year. At some point, I hope to do so, and I'll invite them to the UK as needs dictate."
For the fulfilment of William Hackett's product and delivery, the importance of these distributors cannot be understated. "Our distributors are the local point of interface for our end-users," Ben believes. "They're the ones who will supply our products, deal with the commercials, and satisfy any lifting and rigging requirements that go beyond our remit. We have a number of strong relationships in Aberdeen with regional-focused companiesas well as global distribution partners who operate across locations including Australia, Indonesia, Singapore and the Middle East."
The bedrock of William Hackett's reputation lies in its expertise in the design and manufacture of solutions for offshore marine environments. "Conventionally, when a product complies with onshore standards and regulations, there's an assumption that it's appropriate for use offshore," Ben comments. "We believe that's not the case, and it's not best-practice. We've composed several white papers addressing that issue, and because we're agile and boutique compared to some of our bigger competitors, we're able to develop products and bring them to market specifically for that niche marine requirement."
To that end, the company has launched a number of products within the last year specifically targeted to marine application. "The first is a very simple product: a lifting chain," Ben outlines. "Typically, when steel-based lifting solutions go offshore, they corrode, with which comes a risk of hydrogen embrittlement, and the potential for the asset to fail. If you can minimize the onset of corrosion, then you're dealing with those risks in the best possible way. With our lifting chain, we implemented developments across the steel, heat treatment and finish of the product, and it's now certified as suitable for marine environments by DNV, a specialist marine verification organization.
"We've also designed, launched and now delivered into the market successfully an offshore suitable hoist ring," Ben proceeds. "If we take an old-fashioned eye-bolt, it's only designed to lift in a single plane – it's not equipped to rotate or move from horizontal to vertical, as is often required in marine environments. Onshore products also use typically hard bolts, which are vulnerable to corrosion when they go offshore, and have been the subject of various safety alerts from operators and contractors around the world. Our hoist ring is corrosion protected, with a specially-designed load-bearing bolt component, known as an L7 marine specification. In all, it's been very well received."
In a shifting environment, the company is also eyeing up new applications for its products outside of its traditional sectors. "The historic offshore oil and gas sector and the onshore manufacturing and construction sectors are, in a way, merging to deliver the burgeoning offshore wind farms," Ben argues. "We're seeing the products we've developed for oil and gas and marine applications adopted by the likes of Siemens for their offshore installations. Moving forward, we're expecting to see two of those sectors in terms of energy provision – traditional and new – operating alongside each other, which is very promising."
As it moves into these new sectors, William Hackett is supported by a set of longstanding and trusted suppliers. "We have four or five strategic suppliers for about 95 percent of our products, all of whom we've been dealing with for over 20 years," Ben reveals. "In the same way that we have long-term customer and employee relationships, that also transpires to our supply chain.
"For instance, we work closely with South Africa's McKinnon Chain for the manufacture of our master links and offshore marine-grade chain," Ben remarks. "They have an expertise in terms of access to raw materials, and they're globally competitive within steel-based manufacturing, but what they lack is product development and feedback from end-users. In effect, we're their sales and marketing partner: we have a global distribution agreement for some of their products, and we have a responsibility to suggest product innovations that will keep us ahead of our competitors. Their responsibility is to develop industry-leading products at the most competitive price."
As it looks to build upon the success of the last two years, the company is hoping to accelerate its online product delivery. "The new generation of users expect to go on their phone or computer to design and purchase our products, and to get them delivered," Ben maintains. "The challenge for us to align with that experience, and to vertically integrate our partners within our ecosystems, working to ensure that our product availability and information provision is seamless across online and through our distributors. We've already made a start with the launch of our customer portals, which offer access to our systems, media, documentation and traceability information. It's a trend we very much expect to continue."
William Hackett
www.williamhackett.co.uk
Products: Hoisting, lifting and rigging solutions