Williams Advanced Engineering
Energy efficient performance
Operating as the technology and engineering services business for the world-famous Williams Group, Williams Advanced Engineering supplies first-class innovation in technology across several diverse industry sectors
While the Williams Group is arguably best known for its rich heritage as one of the world's leading Formula One teams, the company is increasingly establishing itself as an efficient engineering powerhouse within an eclectic range of industry sectors. The Williams name has been synonymous with top-level motorsport since the 1960s, however the roots of the modern
Williams Formula One team date back to establishment of Williams Grand Prix Engineering by Sir Frank Williams and British engineer Sir Patrick Head in 1977. During its history Williams has since won 16 FIA Formula One World Championship titles, nine of which were for constructors with the remaining seven going to the team's drivers. This has made Williams the third most successful team on the grid, demonstrating both the skill of its drivers and the comprehensive innovation and technical know-how of its engineers.
"Williams has established a proven Formula One business and we want to explore how we can export our engineering technology to other areas. We have a strap line of 'energy efficient performance' and a lot of the focus of the F1 series is about energy efficiency, looking at areas including fuel management, aerodynamics, weight management and control optimisation," explains Technical Director, Paul McNamara. "At the heart of F1 is a culture of problem solving and providing solutions quickly in a shifting environment with competing teams. What we are trying to do here at Williams Advanced Engineering is to apply that expertise as well as our facilities for design, testing, manufacture and aerodynamic computation to areas outside the field of Formula One."
Williams Advanced Engineering was founded in 2010 and has since provided specialist engineering solutions to clients within the renewable energy, motorsport,automotive, aerospace, transport, defence, civil aerospace,sports science, marine and agriculture sectors. The company combines cutting edge technology and the automotive industry's best engineers, with the know-how and speed to market operational mindset derived from four decades of success in the ultra competitive environment of Formula One. Its engineering capabilities include aerodynamics and thermodynamics; high performance hybrid and EV systems; lightweight structures; specialist low volume product delivery; dynamics; and operational performance consulting. These have enabled Williams Advanced Engineering to undertake a number of high-profile projects in collaboration with distinguished clients within the automotive industry.
During 2010 Williams Advanced Engineering partnered with Jaguar to create the revolutionary C-X75 hybrid supercar, which was developed and launch in just 18 months. The C-X75 represents a revolutionary design that produces CO2 emissions of less than 99g/ km, while being able to achieve a speed in excess of 200mph. The car can be driven for 50km under its electric power alone, yet is able to sprint from a stationary position to 60mph in under three seconds. Commenting on the collaboration with Jaguar Sir Frank Williams, Team Principal of Williams said: "Our new association with Jaguar Land Rover provides us with an exciting opportunity to work with one of the motoring world's most famous and iconic brands. Williams has always considered itself an engineering company and so this project will allow us to combine our technical expertise to create something truly exceptional."
The expertise of Williams Advanced Engineering was applied in the development of the vehicle's aerodynamics, carbon composite manufacture and hybrid technologies. Once premiered the C-X75 was also seen on the silver screen, when Williams Advanced Engineering again partnered with Jaguar to produce several new stunt C-X75 variants forthe 24th James Bond film, Spectre. During theyears following the development of the C-X75, Williams Advanced Engineering has continued to introduce new technologies for the motor racing and automotive industries. "While motor racing was obviously the first logical step for the business, the second step for us was into the automotive sector. Today the automotive industry is our biggest sector, where we work with well-known clients such as Nissan and Aston Martin, helping to develop technologies including high-performance variants, where we can look to improve aerodynamics, handling dynamics and enhancing the power train. This gives us a niche vehicle to develop specific solutions," Pauls explains. "We are probably best known for our battery technology and the application of this in bespoke projects relating to electric sports cars that use a Williams designed battery, controller and integrated gear box."
During June 2013 Williams Advanced Engineering announced that it will partner withSpark Racing Technology to design and assemblea battery system for the 42 cars that compete in the FIA Formula E Championship. Spark Racing Technology was created in 2012 and is focused on the manufacture of the cars that compete in the FIA Formula E Championship, the world's first fully electric racing series that began hosting races in 2014. Williams Advanced Engineering has signed an exclusive agreement with Spark Racing Technology and is the sole supplier of battery technology to the FormulaE series. Later in 2015 it was announced that Williams Advanced Engineering would again work alongside Jaguar with its return to racing in the third Formula E series, building on the pair's previous collaboration in developing the C-X75. In a press release issued at the time of the announcement, Craig Wilson, Managing Director of Williams Advanced Engineering, said: "Thereis a saying that racing improves the breed and Jaguar's entry into Formula E will be a powerful way of honing a new generation of electric vehicle (EV) technologies for its products. We are delighted that they have chosen Williams Advanced Engineering as their technical partner in this new and high profile chapter in Jaguar's racing history. Williams has extensive knowledge of EV technology, racing car design and the logistics of running a successful racing team so we are well set to support Jaguar in what promises to be an exciting new challenge for both parties."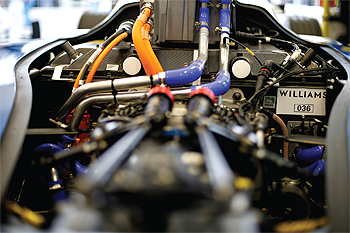 In addition to its revolutionary activities within the motor racing and automotive sectors, Williams Advanced Engineering is increasingly making its presence felt through the delivery of innovative projects across several new markets. Within the food retail sector for example, Williams Advanced Engineering has collaborated with UK start-up Aerofoil Energy to develop a new aerodynamic device that can significantly reduce the energy consumed by refrigerators in supermarkets and convenience stores. AerofoilEnergy and Williams are working together to develop a aerofoil system that can be retrofittedto attach onto refrigerator shelves to keep more cold air inside the refrigerator cabinet. Energy consumption makes up a significant percentage of a supermarket's operational costs, with energy hungry refrigerators that keep the produce cool the largest consumer of power. Further to the excessive energy consumption of traditional open fronted, multi deck refrigerators lining supermarket aisles, the escape of cold air from the units can also result in 'cold aisle syndrome', which can be unpleasant for both employees and shoppers.
By working together to apply four decades of Formula One racing experience to the supermarket environment, Williams Advanced Engineering and Aerofoil Energy are able to apply computational fluid dynamics to model and simulate new designs before testing them at the Williams factory in Oxfordshire. The result of this is a solution that offers both significant cost-saving benefits as well as an improved environment for shoppers and store workers.A number of supermarkets are evaluating the aerofoil technology with promising results, with the Sainsbury's supermarket chain trialling the technology at a number of its stores. "In tests that we have undertaken around this new aerofoil technology we have observed an increase in energy efficiently of around 23-30 per cent," Paul says. "We are trying to push the business out into new markets that share our mantra of problem solving and energy saving and as we continue to move forward in the motor sports and commercial aspects of our business, energy applications will remain as an important focus."
Williams Advanced Engineering is also becoming increasingly active within the domestic market through a collaboration with the European consortium, NETfficient to develop energy storage solutions for homes. During June 2016 the companies announced that they would work in partnership to design, develop, integrate and validate stationary energy storage in buildings on the island of Borkum, Germany. With an increasing demand for smart energy storage and efficient management, the project builds on work undertaken by Williams Advanced Engineering and Nissan Europe to demonstrate how electric vehicle battery storage technology from its cars can be repurposed to help power buildings in combination with solar photovoltaic (PV) energy. NETfficient, which is co-funded by the EU Horizon 2020 research and innovation programme, is addressing the main challenge faced by the energy industry today of being able to utilise solar, wind and tidal power in a reliable and cost effective way. With a rich heritage in the development of energy storage systems for Formula One racing and subsequently for other motorsport, automotive and energy applications, Williams has been able to use its experience and expertise to help demonstrate this application in a real world environment with NETfficient.
During the coming years Williams AdvancedEngineering will continue to expand its presence in new markets outside of its traditional motor racing background, while retaining its heritage and pole position within the racing circuit.With in excess of 40 years of design innovationbehind it, Williams Advanced Engineering is a relatively small business that provides revolutionary designs that offer huge results in both sporting and commercial applications. "As an F1 team we are vertically integrated and all aspects of the car except for the power train is built here, including the gear box. We have several facilities on site, including a large production shop, prototyping machines, carbon fibre facility, hydraulics, testing facilities and wind tunnels. We have the ability to do more or less everything in-house and we want to take that manufacturing capability and move it to other projects," Paul concludes. "During the next three years we expect a continued diversification of the company, while keeping the business to a size that it is still linked to the F1 team, which is a key part of what we do here."
Williams Advanced Engineering
Products: World–class engineering and problem solvers