Williams Industrial Services (WIS Group)
Knowledge, partnership & innovation
As one of the UK's largest providers of process control, automation, instrumentation and environmental engineering solutions, WIS has a wealth of experience, manpower and skills
As Gareth Caves, Group Business Development Director began by explaining, the business was formed in 1983 as an industrial instrumentation business, but has developed its product and service offering over the years into control panel manufacture, electrical and mechanical installation, calibration and technician hire. "WIS Limited procured TOT Technical (NI) Limited in
2008 to form WIS Group, enhancing its mechanical fabrication capability," he added. "It is still privately owned and has enjoyed significant growth, now employing over 150 people in three main business areas: Environmental Engineering, Renewable Energy and Industrial Automation, Aerospace and Composites."
On the Environmental Engineering side WIS Group embarked on joint ventures with civil and mechanical partners to deliver turnkey water treatment and wastewater treatment projects, mainly for NI Water, through the late 1990's and 2000's. "With an excellent track record of delivering high value and exceptional quality on projects of this type, the company expanded its base of utilities customers throughout the UK and Ireland," explained Gareth. In Municipal Water WIS Group is now a renowned specialist in the design, operation and maintenance of water and wastewater treatment works. Often working in collaboration with civil engineering contractors, its unrivalled team of highly skilled designers, project managers, project engineers and operatives offer a range of turn-key packages for all kinds of applications. The depth and breadth of its expertise means the business can deliver a complete service that includes concept and feasibility right through to design, implementation, operations, maintenance and support.
WIS Group also designs and builds industrial effluent treatment plant, which is an important factor in any industrial operation. Managing the process correctly can provide significant cost savings when environmental consent limits are not breached. WIS' specialist teams have strong sectoral experience and are therefore uniquely positioned to advise and develop the best solution for clients.
Subsequent to its work in Environmental Engineering, in recent years WIS Group has diversified into the Renewable Energy sector, in particular the turn-key design and build of Anaerobic Digestion (AD) plants. "This was not a difficult transition to make as it was supported by many years of experience in delivering wastewater treatment plants. WIS now also has a proven track record of producing high performing AD plants with a significant number installed in Northern Ireland and a growing installed base in the Republic of Ireland, Scotland and England. As well as running combined heat and power (CHP) engines from the biogas, the company's experience also extends to biogas upgrading for gas to grid and virtual pipeline projects," highlighted Gareth.
The third segment where WIS offers services is Industrial Automation, Aerospace & Composites (IAAC), and it provides products and services across all industrial market sectors including manufacturing, food & beverage, pharmaceuticals, chemical, natural gas and power generation. Within this area WIS Group's customers really benefit from its long-term relationships with the world's leading players in instrumentation, process control, factory automation and robotics, representing companies such as Omron, Eurotherm by Schnieder and Emerson Process Management. As sole representatives of these companies within Northern Ireland, WIS has exclusive access to pioneering research and world-class product design. The quality of the Group's product portfolio combined with its in-house engineering expertise means it can integrate these products into tailored processes and systems for customers operating in any sector. These include process design, installation, project management, support and training as well as machine automation and refurbishment.
"Due to the presence of Short Brothers (Bombardier) in Northern Ireland for many years, WIS has built up a strong offering for the aerospace and composites industry, progressing from instrumentation calibration and machine refurbishment to design, build and installation of automated machines and systems. This includes hot drape vacuum forming machines for carbon fibre parts, spray booths, reticulation machines and vacuum drop-test equipment," added Gareth. With this state-of-the-art technology working in combination with the elite skills and experience of its engineering teams, WIS Group can provide a full range of tailored machines, systems and processes to meet the exacting standards demanded by the aerospace and composites industries. In this fast moving environment, it has the necessary flexibility and capability to give customers a competitive edge.
The company also prides itself on its continuous investment in research and development (R&D) – it has successfully patented innovations in production machinery, such as its hot drape former hood and vacuum membrane motion control system and quick release membrane clamping and dispensing system. Together with its integral post-cure cooling system and high capacity vacuum pump, the machine can deliver rapid membrane changeover, tensioning and faster cycle times. A multi-zoned infrared heating system guarantees temperature uniformity, even with complex shapes. These scalable machines feature 'best in class' instrumentation and equipment for data acquisition, precision motion and temperature control.
But staying at the forefront of the market doesn't just mean developing new products – it also requires analysis to discern what might be coming over the horizon, and as Gareth explained, WIS Group keeps a close eye on the trends that are approaching and how the organisation can best place itself in order to be ready for new demands. "Looking at the increasing use of composite material in the aerospace and automotive industries, WIS Group has appointed a Sales and Marketing Executive and a North American representative to market its range of automated machinery and systems to manufacturers particularly in the UK, Ireland, USA, Canada and UAE," he said.
The IAAC department also recently enjoyed a successful trip to the West Coast of America, which was designed to help highlight WIS Group's capabilities to a new audience. The team visited the CAMX Composites Show in Anaheim Los Angeles where it met with new prospects for WIS Group's range of automated machinery for composite forming (AccuformTM), spraying (EvacoteTM), reticulation (HexbondTM) and vacuum drop testing (VerivacTM). Composite materials, especially carbon fibre, are being used increasingly in aircraft manufacture and in highend cars and there was a high level of interest in what WIS Group can offer from some of the giants of the industry including Meggit, Orbital ATK and Applied Composites.
The team also visited the Californian site of Alliance Space Systems before moving on to Seattle to visit Blue Origin and Boeing, where the team highlighted WIS Group's excellent track record in providing innovative machinery designed to reduce the cost of production of parts whilst improving their quality.
During the trip the WIS Group representatives became members of the Pacific North-West British American Business Council (PNW BABC) and attended one of their large networking events hosted by Boeing at the Museum of Flight. This event allowed the group to make contact, not only with influential Boeing personnel on both sides of the Atlantic, but also with UK companies already exporting to the region. The directors also engaged with many of the Department of International Trade employees based in the US, including their aerospace specialist, who will assist WIS Group to become established in North America.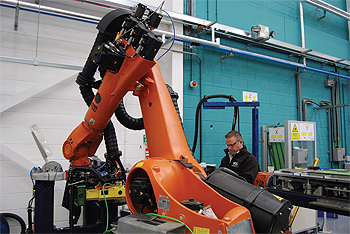 As WIS Group heads into 2017 it is clear that there is an exciting time ahead for the IAAC department, but as Gareth elaborated, one of the company's strengths is its ability to work as a whole, sharing skills, information and technology. "WIS Group is not reliant on any one sector, and because of this wide engineering background, it can pool resources and apply technologies from other sectors to solve difficult problems," he said. "Pooling resources across the divisions such as control panel manufacture, electrical and mechanical design, software engineering and administration keeps the business very competitive."
The skills available across the divisions are also hugely beneficial. "The ability of the organisation's talented workforce to apply their knowledge, to work in partnership with customers, sub-contractors and suppliers and to innovate in their day to day activities, results in high-performing turn-key projects for customers," added Gareth. "Another key differentiator is the flexibility and speed of reaction that WIS Group can draw upon. As a privately owned company, it is able to make decisions quickly allowing it to adapt to changing market conditions. This flexibility comes from continually putting customer's needs at the centre of our thinking. Aligning those needs with core competences, allows WIS to diversify to deliver more to help customers."
As a result of the company's growth and evolution, it has now delivered over £500m worth of engineering projects, and is showing no signs of slowing down. "With the company pushing forward on all fronts within the sectors in which it operates, WIS has enjoyed significant growth in turnover from £26m in 2014-15 to £40m in 2015-16," Gareth highlighted. "2016- 17 promises to deliver further growth taking it close to £60m for the current financial year. This dramatic increase requires investment in high quality employment for new project managers, process engineers, technical staff and support staff, so the WIS Group is on track for an exciting New Year and beyond!"
As you might expect, its performance has not gone unrecognised by the media and industry bodies. The company has won a number of awards – most recently the UTV Business Eye Award for Fast Growth Business of the Year and a Deloitte Best Managed Companies award for the second year in succession.
Williams Industrial Services (WIS Group)
Products: Process control, automation, instrumentation and environmental engineering solutions