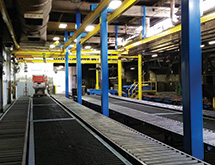 Willman Industries can trace its roots to 1899, when its Cedar Grove, Wis., foundry was established as Wisconsin Foundry & Steel Works. Over the years, the foundry went through many transformations, starting out manufacturing kitchen ranges, wagons, auto jacks and other products. When it was known as State Foundry in the 1940s, it was the first foundry in Wisconsin to produce ductile iron.
Sold to Medalist Industries and renamed Medalist State Foundry, Clay Willman was hired to run the foundry in 1971. Willman turned the company into a profitable foundry, eventually purchasing it in 1987 and renaming it Willman Industries.
Today, Willman Industries has a reputation for producing world-class quality gray and ductile iron castings. It produces all grades of gray and ductile iron, including austempered ductile iron and high silicon moly iron in a wide range of castings ranging and from prototype to medium quantities. In addition to traditional grades, Willman Industries recently developed a second generation of ductile iron that exhibits higher strengths and elongations than the original grades without the section sensitivity or need for heat treatment. It also has a higher yield-to-tensile strength ratio and improved machinability over the original grades.
The company has 200 active customers with 4,000 active patterns. It serves a number of industries, including chiller and A/C, earth moving and construction equipment, large diesel engines, gas turbine engine power generation, oil rig equipment, engines, mining-crushing, mining-screening, railroads, recycling, bearings, transmissions, paper processing equipment, pole line hardware, municipal valves, refrigeration and emergency fire vehicle. While many competitors have gone out of business, Willman industries has tripled in size and sales since the 1980s.
"We make our living as a safe-haven foundry, providing highly engineered, high-quality castings with high levels of service," President Todd Willman says. "Most of our business has come to us because our competition could not make the quality or because our competition simply went out of business. Since Clay Willman bought the foundry in 1987, we have been profitable every year because we make our decisions based on what is best for the foundry for the next 40 years."
The Right Moves
Willman Industries is constantly striving to improve deliveries and responsiveness to customer needs, finding creative ways to meet the delivery and service needs of customers. It is also working to expand its reach, updating and improving its website and tweaking its search engine optimization. It has been revitalizing sales and marketing efforts, and it added an additional engineer to its sales department.
"We are now quoting a near record amount of business and are partnering with new customers," Willman says. "Every year, regardless of the economy, we put profits back into our business because we act for the long-term."
In addition to the investments in sales and marketing, Willman Industries has made several investments in the foundry in the last six months. It just completed the first phase of its pin lift improvement and expansion, which has improved mold handling, improves quality and increases the number of molds per shift.
"We have invested in additional improvements to our pin lifts, BMM and shake-out, which improve our casting quality as well as our casting finish quality," Willman says. "Additional smaller investments have also been made throughout the foundry in the last six months."
Working to develop the next generation of foundry professionals is another focus. In the next several years, many experienced, knowledgeable foundry professionals will retire from the industry without a large pipeline of people directly behind them.
"We are acting proactively to develop people to fill the void that is sure to exist within our industry," Willman says. "We have hired two new engineers, including a metallurgist, in the last six months. We are also in the process of partnering with a local high school that has one of the best metals programs in the country. Willman Industries provides yearly scholarship opportunities to children of employees as well as local high school students pursuing degrees in engineering. We also plan to hire foundry professionals each year for at least five more years."
Currently sitting on 15 acres in rural Cedar Grove with about 250,000 square feet of manufacturing space under roof on nine of the acres, Willman Industries has six acres that are currently undeveloped and available for future expansions. Plans for growth include short-term, mid-term and long-term plans to expand and improve its no-bake facilities.
Another area the company is investing in is 3-D printing. Still in the earliest stages of development, 3-D printing is revolutionizing its industry. Now economical to print some cores and molds on a prototype basis, Willman Industries is currently experimenting with 3-D printing and will expand those printing capabilities over the next several years.
Safe and Sound
The number one priority for Willman Industries always is safety. Its incident rate is half of the industry rate, and it also aims to protect the safety of the environment. It continues to find new ways to recycle, such as reusing sand internally until it is spent. Rather than taking spent sand and hauling it away for disposal, its new beneficial reuse system allows spent sand to be used for projects such as road construction.
Willman Industries will continue to seek growth as a profitable, safe-haven foundry by producing the highest quality castings. It has strong relationships with many vendors, such as Kenrich Industrial, a leading provider of industrial tools, cranes, hoists, and electric motors. Ultimately, the company knows that foundries must find ways to survive the down cycles while also staying on top of changes in government regulation, the industry's coming personnel shortage and rapidly changing technology.
"Willman Industries has been, and remains, on the cutting edge of jobbing foundry technology," Willman says. "We are a safe, solid and growing foundry."