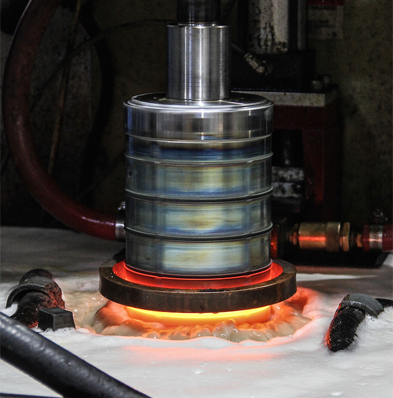 When it comes to meeting the needs of the flexographic printing industry, Wilson Manufacturing Co. stands alone.
"We're a supplier who takes on the jobs no one else will touch," says Chris Wilson, Vice President for the St. Louis-based company. "Our people and technology allow us to produce the tooling that lets our customers perform extremely difficult jobs."
Founded in 1979 as manufacturer of custom-built punching equipment, Wilson Manufacturing has greatly expanded its offerings to include rotary cutting dies, print cylinders, flexible dies, anvil rolls and other equipment.
The company in 1999 produced the first machine-sharpened rotary cutting dies. To this day, it remains the leader in the industry offering machine-sharpened and fully hardened dies, both of which provide users better performance and longer life. "Our research and development team continuously develops proprietary tooling and production techniques that are truly unique," Wilson adds.
Wilson Manufacturing's products are used in a variety of applications including specialty printing on foams, tapes and folding cartons, as well as in medical device production.
"I'm proud of our salesforce's ability to adapt to our customers' needs," CEO Matt Wilson says. "Our customers keep coming back to us because there is no challenge we haven't risen to, and our technology is second to none."
Customized Quality
All of Wilson Manufacturing's products are custom-designed and custom-manufactured. The company's 90,000-square-foot facility in St. Louis includes a number of production processes. "Each piece we produce is made from scratch starting with round bars of alloy and tool steels," Chris Wilson says. "Parts are cut and centered before going through a turning process. Some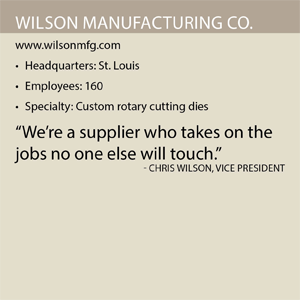 parts also get patterned holes drilled through the length of the body using a deep hole drilling process in a gun drill."
From there, cylinders are engraved in CNC vertical milling centers before going through a hardening process. "Alloy metals are sent through a custom hardening process, and our tool steel parts are run through our furnaces," he adds. "All parts are then cylindrically ground to finish diameters and then go through our proprietary sharpening processes."
In addition to turning, milling and heat heating, Wilson Manufacturing also offers custom machining operations including wire electrical discharge machining (EDM), honing, surface grinding, CNC tool grinding, photo chemical etching and chrome and electroless nickel plating.
The majority of Wilson Manufacturing's products can be produced in 24 to 72 hours. "Most of our equipment is set up for a specific process, but with each part being unique in size and finish, our operators treat each job as one-of-a-kind," Chris Wilson says. "Our part generally takes anywhere from 15 minutes to run in turning and grinding processes and 30 minutes in engraving to as much as 4 hours in turning and grinding and 16 hours in engraving."
After machining, products then go through a five-stage quality control process. Products are also passed through a coordinate-measuring machine to ensure proper finish sizes.
"Our minimum quality standards are very strict, and as a company we constantly strive to produce a higher quality part," he adds. "After each operator works on a part, they are to always double check their work and the work the previous operator did to that product. Our customers order products with a short lead time – they can't afford the part to come in and not work properly, because their customer is relying on them to deliver quality products."
Constant Investment
Wilson Manufacturing developed most of its production processes in-house. The company's staff also wrote the software used by its CNC machining center. "We have the industry's best innovators and forward thinkers, which is what allowed us to become the company we are today," Chris Wilson says.
Expansion and investment are high priorities for the company. Wilson Manufacturing is adding 12,000 square feet to its production floor in St. Louis, and two years ago opened a facility in Toronto serving the Canadian market.
"We continue to invest millions of dollars in the latest automation technology to assure that we remain on the leading edge of guaranteed accuracy and consistency," he adds. "We are constantly improving processes on the production side, and our sales staff is always looking for industries that could benefit from our products where they may not have been exposed to us before."
Last year alone, the company added nine new pieces of equipment. "We invest in new equipment to be more competitive and have an edge over our competition," Chris Wilson says.