Rolling out
With such an extraordinary heritage beneath it, Wilton Carpets continues to be a superb ambassador for British manufacturing around the world
Based in Wiltshire, weaving has taken place on Wilton Carpets' site as far back as the early seventeenth century. Located between three rivers, early looms were powered by mills running through the mills making it the ideal place to grow a thriving carpet industry. Today, the business in its newest form has been under the guidance of three motivated entrepreneurs since
1996 and has seen Wilton Carpets become a premium brand used in some of the world's most prestigious buildings. Designing and weaving Axminster, tufted and Wilton carpets, Wilton Carpets can be found in hospitality and leisure venues across the UK, Europe, the Middle East and North America.
"The business itself is a traditional one based on a very long history," explains CEO, James Sprint. "However, what we are doing is combining this with the latest state-of-the-art technology and contemporary design. Our strategy predominantly focuses on the high end of the market, and we actively seek out smaller projects where we can produce extremely creative and surprisingly delightful designs custom-made to create unique environments in iconic buildings throughout the world."
It's a strategy that last year afforded Wilton Carpets with ten per cent sales growth to hit £16 million in revenue courtesy of the 110 people currently employed. However, nurturing a strategy to bear such fruit is the result of a robust international reputation for reliable quality and service delivery. "The business has always delivered on time and to the correct quality," James continues. "If we say it's going to be delivered in six weeks, it will be delivered in six weeks; if we say it will be 1200 grams it will be 1200 grams. This has allowed us to compete in this top segment of the market against foreign imports that cannot give the same surety."
Beyond its reputation for quality and service, Wilton Carpets is also defined by its strength of design. Whilst providing a range of standard products, it is its bespoke service that allows it to stand out. James highlights that very often clients have an idea of what kind of thing they want, but that this is usually limited by them not understanding the full range of options that are available to them, or are possible with the company's expertise. "We have a team of designers who always come up with a number of options which we can put forward to the client to give them the widest selection to make a favourite choice from," he says. "More often than not they will go for something that we've come up with rather than what they originally had in mind."
Active in multiple markets around the world, Wilton Carpets benefits from balanced conditions, whereby periods of downturn in some markets are offset by booms in others. North America is presently performing well, with a number of major refurbishments and iconic developments taking place. Highlighting the company's penchant for unique design, it has recently completed a contract for the conversion of a large religious building into a hotel. "They sent us some photographs of the architecture in the roof structure and based on the shapes and designs we saw in the roof we created a range of options that reflected this," James outlines. Another recent prestigious project completed by the manufacturer was for the major Cheltenham Racecourse redevelopment. Two carpets for the project were delivered, both conjuring an equestrian-inspired theme with horseshoe and Cheltenham Gold Cup motifs patterning the floors.
"As we operate at the top end of any market and never compete purely on price we need to be active in the apex of as many markets as possible," explains James as he talks about the company's growth opportunities. "We therefore have a plan for expansion and will drive up exports in a number of markets from the USA and Europe to the Middle East and South East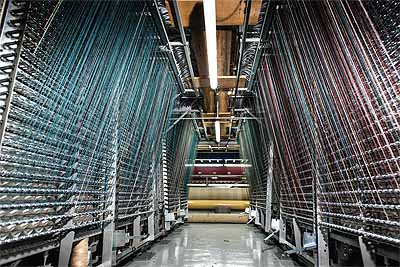 Asia."
Helping to facilitate this growth, and in line with increasing productivity, Wilton Carpets has recently implemented £1.5 million investment into the UK's first high speed Axminster weaving loom. Using robotics and high-speed technology, the new loom requires only the exact amount of yarn necessary, can weave three-times faster than a traditional machine and has much a higher accuracy tolerance. "We're able to reduce waste, dilute labour costs by a third and manufacture carpets with a much higher degree of accuracy when it comes to tuft length," James explains. "One saving is going to reduce waste by about 100kg per week, at £6 per kilogram, so quite significant."
Keen to continue the benefits of such an investment, Wilton Carpets is set to acquire a second high-speed loom in the coming months, with a potential third for the longer term, although James does point out that this may be part of opening a satellite site beyond the confines of its presently water-locked facility. With favourable interest rates, the company is keen to invest wherever it can to improve its long-term profitability, and has also been looking at once again harnessing the power of its passing rivers with hydro-power generation systems. Ultimately, however, continuing to produce high quality and striking, bespoke carpets and knocking on the doors of lucrative export markets will remain core to Wilton Carpets as it moves forward.
Wilton Carpets
Products: Design and weave Axminster, tufted and Wilton carpets