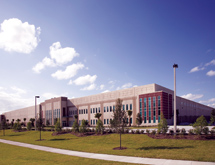 Window and door manufacturer WinDoor Inc. has thrived by concentrating on a niche to produce coastal storm-resistant products.
The company understands the needs of coastal storm and wind protection conditions.
"We are a window and door manufacturer," co-owner and VP Russell Traficante says. "Our product is high-design-load, high-performance products for hurricane zones, though we also sell the same products in non-hurricane impact zones."
Some of its products are also tested and certified to meet the U.S. Department of Defense and U.S. General Services Administration requirements for high performance bomb blast protection. The products have even been used for safety conditions in American embassies overseas that could be bomb targets.
The largest market for WinDoor products is hurricane alley in Florida, along the Gulf of Mexico, in the Caribbean and along the upper Eastern Seaboard.
Valued Clients
The products are installed in five-star resorts and luxury high-rise condominiums along the coastline, the company says. It has installed its products in notable locations such as celebrity mansions. In these, it operates under strict confidential agreements and cannot release its celebrity client names.
Other customers include Ritz Carlton, Walt Disney World Resorts and Marriott International Inc., among others.
Time Line
Founded in 2001, manufacturer WinDoor started with just two sliding glass door and two fixed window product lines. It now has 32 product lines that are produced using Aluminum, Thermally Broken Aluminum and Vinyl extrusions. It produces the products in its 320,000-square-foot Orlando factory. It takes pride in producing the product in America unlike competitors that manufacture overseas.
In its 13 years, WinDoor has endured several peaks and valleys of the American economy. When the new housing market dried up in 2007, it changed its focus from new construction to replacement projects specifically the high rise condominium market.
"In the last 12 months, new construction has picked back up again," Traficante says.
Tested Tough
Its products are always independently tested to meet the highest protocols before release to the marketplace. WinDoor is certified by the American Architectural Manufacturers Association, the American Society for Testing and Materials, the National Fenestration Rating Council, Miami-Dade County, the State of Florida and the Texas Department of Insurance. These certifications ensure that products meet building codes for all structural, wind and water conditions.
WinDoor products have held up perfectly during hurricanes, Traficante says, particularly during the 2004 season, which had four major storms. WinDoor is also expanding market share into the Northeast, which is now requiring higher-quality stormproof materials following Superstorm Sandy.
The Wow Factor
WinDoor Marketing Manager George Hanus notes the market for new higher-end homes in Florida and throughout the country has also continued to rise from the past years. "We offer things others don't," Hanus says, explaining that its products have unlimited color finishes, two tone offerings, and all products can be produced big.
Its bypass 90 and 135 degree sliding glass doors can be as large as 12 feet tall with five feet wide panels.
"We like to take our product line to the next level and we have accomplished that over our many years in business," Hanus says. Another big bonus for customers is the windows and doors' energy efficiency and sound-proofing benefits. WinDoors products incorporate energy-efficiency capabilities to meet the U.S. Department of Energy's standards, outstanding STC/Acoustical Sound Ratings. WinDoor is "absolutely the best at what we do," Hanus says. It offers customers peace of mind, because if a devastating storm is coming, the last thing people should have to worry about are boarding up their windows and doors. Yet, with impact glass, protection is there 24/7, the company says.
WinDoor was the winner Window & Door Magazine's Crystal Achievement Award reflecting the strength and resilience of its products.
The prize was awarded for WinDoor's exceptional energy efficiency, durability and design options. There were nearly 100 nominations received.
Manufacturing Magnificence
WinDoor follows a made-to-order manufacturing process, explains Jerry Decker, general manager of production. Each product is custom fabricated and assembled. This level of customization requires an especially highly skilled workforce capable of "changes on the fly," Decker stresses, and not low-skilled workers who are performing automated functions and found in some other factories.
The company maintains a tight shipping schedule with 32 product models. As it supplies so many different options including different colors, it carries a slightly larger inventory than others might in line with future demand, he says.
WinDoor has doubled its workforce this year entailing significant challenges but allowing for good training opportunities. The training focuses on quality control throughout the manufacturing process, Decker explains, and it puts safety at the forefront. It has just celebrated 1,000 days without a time lost accident which is quite an achievement when dealing with dangerous fabricated metal and glass.
How was WinDoor able to do this? "It comes back to our training programs," Decker says. "We have a very in-depth safety program. It includes refreshers, too. It is not just something we do when they first come in. Mentally, it is something we bring to the whole operating group."