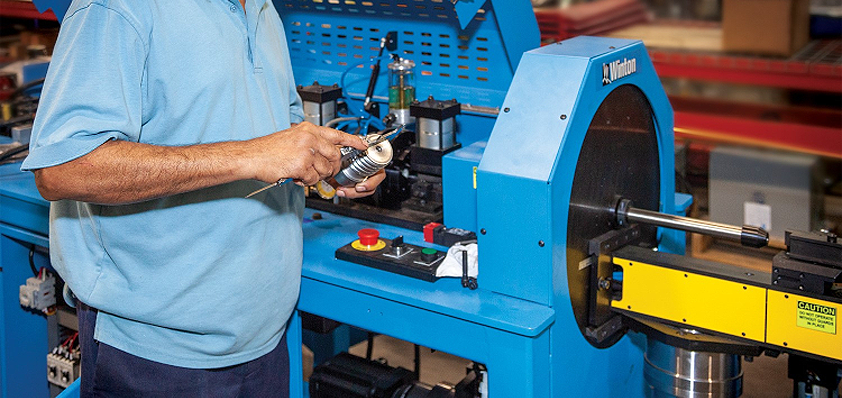 Some manufacturers build the same products for years at a time. Not Winton Machine of Suwanee, Ga.
Every six months, Winton Machine improves its tube fabrication and coax fabrication machinery. "It is all customer-driven," says George Winton, who along with co-owner and wife Lisa Winton, started Winton Machine in 1997 in the basement of their suburban Atlanta home. "We are constantly making incremental improvements to our products such as improving the cutting process involving our copper cutoff machines. We are also continuously buttoning down our manufacturing software to help us further improve our documentation control."
Constantly Improve is a core value for Winton Machine, which designs and builds NC and CNC tube benders, CNC tube cut-off machines and a full line of semi-rigid coax fabrication machinery. Its tube fabrication products also include CNC orbital tube benders, high-speed tube fabrication systems, tube end formers and expanders, serpentine tube benders, vertical compression tube benders, CNC roll benders, tube straighteners, digital protractors for measure tubes and CNC coax cutters. Winton builds a full line of standardized equipment as well as engineers modifications to their existing designs in order to meet their customer's specific manufacturing needs. They also design and build customized tube fabrication solutions.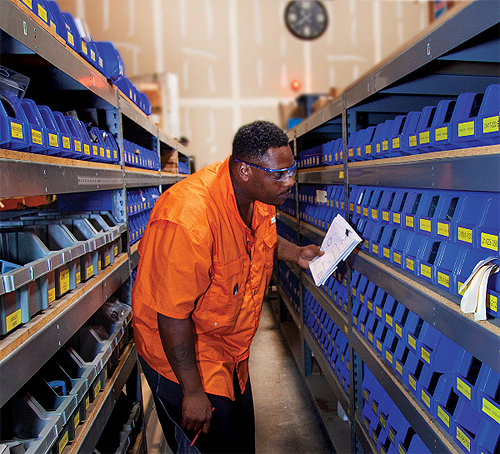 Last December, for example, a customer put down a deposit on six machines. By January, however, the customers' production needs had changed and the customer requested two of the six machines to be mandrel benders. Winton Machine started the design and by this November anticipates completing the two mandrel benders – a machine the company has never manufactured before.
"It starts with listening to customers and finding their pain points and what they need to make their production process better," Lisa Winton says.
More than half of Winton Machine's tube fabrication customers manufacture HVAC and refrigeration equipment for residences, commercial operations, trucks and commercial kitchens. Winton Machine clients also manufacture farm gates, school chairs, metal buildings, lawn and garden equipment, golf carts, boats, school buses, pool ladders, lawn chairs and "anything that has small-diameter tubing," Lisa Winton says. One of their machines was used to produce parts for the original NASA Mars Exploration Rover and another machine was purchased to make tubular parts for the 2020 Mars Rover.
In addition to tube fabrication machines, Winton Machine manufactures machines to manipulate coax cable. Those are frequently purchased by manufacturers of electronics, satellites and ship-to-ship communication systems. One client is building coaxial assemblies for the Israeli Iron Dome Missile Defense System. The coax cable machines are also in demand internationally.
Although there is competition, Winton focuses on providing their customers with cost effective solutions to be sure that their customer gets no more and no less than they need to achieve their manufacturing goals. They offer a wide variety of options that is continuously growing and improving. "We offer the machines to cut, straighten, bend and flair tube ends," Lisa Winton says. "We can add drilling and punching and other things you need, all with one manufacturer."
Basement to White House
The father of George Winton operated a machine shop in Columbia, N.J. George learned about machining as a teenager and later worked in a manufacturing environment as a machinist before becoming an engineer, enabling him to better understand machine design. Lisa worked in retail, where she handled management, financial planning and buying.
One day in the 1990s, after reading a technical article that George had written, a customer asked if George could produce some hand benders for his operation. George figured it out and decided to start his own company. In 1997, George left his manufacturing position and started Winton Machine in the basement of the couple's suburban Atlanta home. Then, after the company Lisa worked for closed, she joined Winton Machine full-time in 1999.
In 2002, Winton Machine gained a Small Business Administration loan to invest in equipment and a larger facility. Since then, Winton Machine has expanded to new plant locations four times. The company was a pioneer in its industry when it came to digital promotion, having launched their first website – for which George wrote the code – in 2001, and even added photos and video.
The product line has evolved to more than 100 different machines with two new ones coming out this year. One is a crimping machine that pre-swages ferrules onto small tubular lines, reducing overall build time which adds value to the customers' bottom line. "I was out in California and saw a need for it," George Winton says. "We took several months to design and build it. The customer tested it and bought two. We've sold additional ones since then."
One of the biggest challenges facing most manufacturers and Winton Machine is finding skilled labor. The company is managing their labor shortage by having a multigenerational workforce, offering internships and apprenticeships and actively supporting technical education and workforce development in Georgia. Lisa serves on the Partnership Gwinnett Executive Council as Chair of Talent Development/Workforce Development initiatives and as an advisor for the STEM program at Collins Hill High School and is a board member of the Gwinnett County Chamber of Commerce. In May, Governor Brian Kemp appointed her to the state board of the Technical College System of Georgia. "There is no one single solution to finding skilled labor," Lisa Winton says. "Internships and apprenticeships have long been important to offering a person the chance for hands-on experience. Education and business leaders must work collaboratively. Of course, you place advertisements and ask for referrals from people at the company."
Winton Machine is becoming better known within the manufacturing community.
The company advocates for small manufacturers at a federal level with the assistance of the National Association of Manufacturers. In July 2018, Winton Machine was invited to show off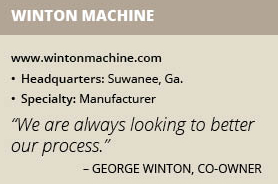 their products at the Made in America Product Showcase at the White House. A photo of them may be found at www.whitehouse.gov.
Earlier this year, Lisa Winton attended a roundtable on the USMCA (U.S. -Mexico-Canada) Trade Agreement attended by Vice President Mike Pence.
Core Values
Winton Machine's customers need a high-quality product and expert technical support. "They want their machines running and producing parts all the time," Lisa Winton says. "If a machine is down it costs the customers money. They want to pick up the phone and reach somebody for immediate support."
To accommodate its clientele, Winton Machine offers online training videos, video-conferencing, visiting trainers, a phone call or "whatever it takes," Lisa Winton says.
Winton Machine has four core values: always be honest, constantly improve, proudly made and help others. Those values are more than just words to George and Lisa Winton.
Take helping others. The company recently engaged a chaplain that offers one on one counseling for all employees and their families. One of the manufacturing engineers leads a short fitness workout at 10 every morning for employees who are interested. They clean roads, ring the bell for the Salvation Army, provide student scholarships and support several non-profit organizations in the community. "Community involvement is weaved into the fiber of who we are as a company," Lisa Winton says.
Or, take proudly made. The company believes in providing its customers with quality machines. Its CNC Cutoff machines are built to provide a quality cut and to have precise consistency.
Business has been growing these last few years, Lisa Winton says. So much so the company is considering moving into a new and larger facility.
"We build elegant and engineered solutions in a cost-effective manner for our customers," George Winton adds. "We are always looking to better our products and process."