With a drive to tackle aggressive growth, Acterra Group's leaders are making some internal changes
For 65 years, Acterra Group has been a family-owned business, since Herman Cooper brought it to life. "My father, Bernie Cooper, joined in the early 60s as a partner, and my brothers and I all jumped onboard in the early 90s," shares Tad Cooper, the current President. Tad refers to himself as 'son of the boss'. Considering his father was the owner of the company, it made sense that Tad would take over. "I started just over 30 years ago. I became the president in 2018, and then moved to CEO."
Our conversation with Tad is joined by Bryan Kohler, Vice President and General Manager, who started with the company in 2011. "I began as a sales rep, moved to Project Manager, then left and went to work for an electrical contractor for a couple of years. I rejoined in 2017 to run the government side of things for Acterra Group. I was welcomed back because Tad stayed in touch, and he reached out to me. We agreed that I would come back to work as Vice President of the company, and I've been working alongside Tad ever since," Bryan shares.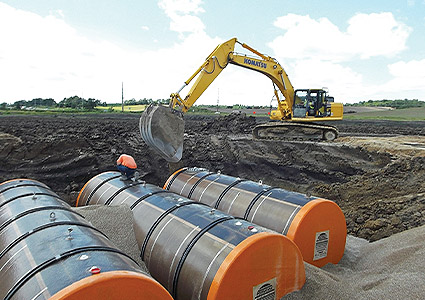 Acterra Group is a fuel-related equipment company and tank manufacturer. "This journey has seen us grow from one person in a truck, working on equipment, to being in manufacturing, electrical and fuel contracting, and doing work across the US," explains Tad.
The most recent development for the business was the sale to a private equity firm, which happened on March 17th, 2023. "Although I am still an owner, Bryan will become a partial owner." This venture is designed to encourage growth for the company, and Tad looks forward to seeing the opportunities the acquisition will bring.
Bryan then offers an insight into the day-to-day running of the business, and how it is contributing to the overall industry. "We build anything from 500-gallon to 50,000-gallon fuel tanks, and they are all multi-purpose. We are also in the fuel equipment business, which includes anything to do with pumping or dispensing fuel, whether it is at the pump on the street, a convenience store, or a local business. We also support federal, state, and city government and their fleets, generators that use fuel, anything that has to do with moving or dispensing fuel, and we sell and install the necessary equipment.
"We currently have contracts with the US federal government contractors. Typically, we repair and maintain the fueling systems at military bases throughout the country, which can involve anything from doing concrete work at the facilities, to dealing with a 20-inch valve on one of their pipelines. It also means we maintain the systems on the flight lines for the airplanes at air force bases, as well as the offload, and receiving fuel from the tanker trucks."
Collaborative culture
Coupled with the business' leading service, Acterra Group boasts an excellent team of experts. Subsequently, the leadership group works hard to encourage a supportive and united atmosphere. "There are about eight of us on the committee. We might have a night out at the local hockey arena for the minor league team we have, or attend a minor league baseball game. On the 4th of July, we have a company picnic at our offices, and everyone gets together to have a good time," shares Bryan.
Above that, Tad shares that the business is experimenting with the use of additional incentives in areas like recruitment, in order to get everyone involved in the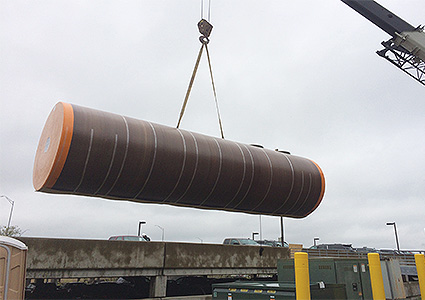 company's growth. "I am really pushing my whole team to start thinking about what they do every day, and if the operation isn't working, we want them to feel empowered to find out how to improve it so it makes it better for the whole company. We are really pushing hard to give them the freedom to make changes to our business and be a partner instead of being here for eight hours and then going home with no sense of fulfillment. If they are more invested, I believe it will help us in the end and increase the value of our culture," he says.
Continued growth
The future for the business looks promising as the two leaders share that targets include a 30 percent growth. "We have been very lucky these last two years," shares Tad. "The backlog is significantly higher than it has ever been. As a business owner, I love to see the backlog. However, we're experiencing the trouble of hiring people, even in our different regions, which limits how much business we can complete. We hired a recruiter in house, and she is doing phenomenally. Typically, every manager is tasked to handle hiring themselves, but by spending a bit of money on a new person who focuses on recruitment, we are really starting to see the applications go up, the interviews increase and the process go down, which has been fantastic," he says, and Bryan agrees.
"The recruiter has taken a lot off the managers' plates because trying to get people hired has slowed down work. From my perspective, the company's growth plan is to double the size of our business in the next two years, and then if we can, triple in five years. Those are what we're discussing with our equity partners, and it is a growth plan that they would like to see," Bryan says.
Over the last six decades, Acterra has evolved from a gas station equipment and service enterprise to a multi-faceted organization with exceptional sales, service and installation capabilities, and under the Cooper name, there is no doubt the business will continue to thrive for many more generations.