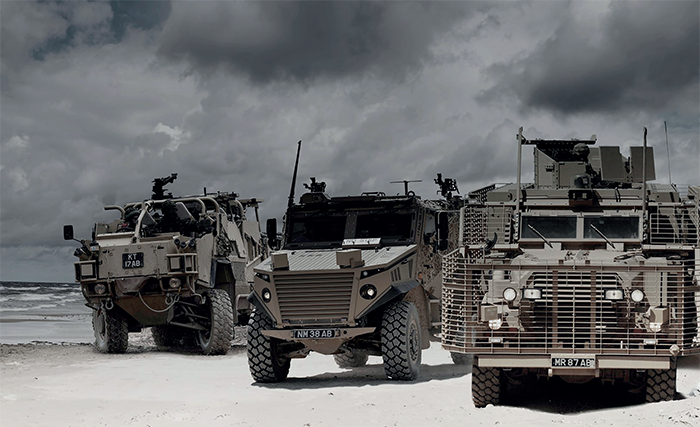 With approaching 100 years' experience, NP Aerospace continues to develop protective products, and support those in conflict
The war in Ukraine flared up incredibly quickly, but at the time we had available stock, due to a number of other programs that we were about to embark on. Through hard work and negotiations with various internal and external stakeholders, we came to an agreement on how we could repurpose the raw materials we had on-hand, to manufacture personal armor for the Ukrainian soldiers," James Kempston, Chief Executive Officer, opens. "A lot of the necessary facilities have been in place in our UK business since the conflicts in the Middle East. They ramped up in a similar manner, so we were fully prepared to replicate what we did twenty years ago."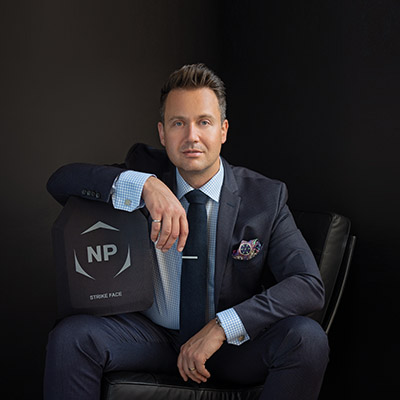 David Petheram, Chief Operating Officer, interjects: "Our inherent capabilities have been essential in the delivery of these contracts. Taking what we have in our arsenal, combined with our ability to react quickly, have both been crucial to NP Aerospace (NP). Technically we are an SME, but the agility this grants us as an organization is one of our unique selling points."
"We have continued to receive new orders for Ukraine," James adds. "Right now, we have 17,000 sets of body armour to be delivered in the first quarter of this year, however they won't be the last, as the conflict continues and more munitions and explosives need to be cleared, requests for further bomb suits and armour keep on coming. Closer to home, our work on the Ministry of Defense's (MOD) Protected Mobility Engineering and Technical Support (PMETS) contract has been extended to 2026 and we have multiple programmes for vehicle armour with three different original equipment manufacturers around the world. A particularly exciting development on the PMETS side is the 30-ton Mastiff and Ridgback vehicles which now have off-road capabilities, and we continue to look at future innovations such the electrification of military vehicles and autonomous driving. We just keep on growing."
Sustainable production solutions
Given the geopolitical issues we have seen over the last 12 months, it's no surprise that the likes of NP have seen tremendous growth throughout the period. However, doubling the business' forecasted £30 million turnover last year is not just due to situational circumstance. As a company that has been in existence since 1926, its past spans early involvement with the adoption of carbon fiber in the 1950s, experience of working with bomb disposal units since the 1980s, 40 plus years of expertise in producing amour and helmets, and over twenty years' designing military grade vehicles. NP also possesses an engineering technical services business, which performs upgrades to vehicle platforms, and a commercial side more attuned to general medical, energy and transport innovations. Ultimately, protection is the key word, whether for humans or means of transportation.
"Currently we have three facilities," James explains. "Two of which are fully focused on manufacturing, whilst the third manages the vehicle integration side; in total, we have around 130,000 square feet of production space. In our site 1 facility in Coventry, UK, we do the majority of our heavy production work, where you would find all of the necessary presses, autoclaves and CNC cutting equipment. Site 2 in Coventry is where we are more geared towards heavy integrations on vehicle systems, up to around 30 tons, and the final location in Canada is a composite manufacturing and assembly plant that is getting built up for vehicle armor manufacturing; it's been carrying out personal armor production for years."
In terms of managing its impact on the environment, NP believes in starting from the ground up. This year the business managed to recycle over 90 percent of its water, through its onsite system, which is significant considering the requisite heating and cooling associated with the composites industry. Over 75 percent of all its waste materials are recycled, in lieu of being sent to landfill, and it also works with suppliers to lower the carbon footprint of its products.
Delivering diversification
As James details: "We work closely with DSM Dyneema, which was recently bought by Avient, and we are involved in their circulari program, which helps you to buy materials that are more bio-friendly and educates companies on how to recycle other substances properly. Historically, proper recycling was very difficult, so we have shifted to using bio-fibers that are mostly developed from seaweed type products, to reduce the dependency on oil-based plastics. We have also moved to recycling our air-made-materials waste, from products like body armor, which can be used in tires and suchlike. Two of our prototypes for hybrid vehicles are currently being trialed by the MOD as well, contributing to the UK's net zero by 2050 ambition.
"We are forecasting further growth, between now and 2025," he concludes. "This year was exceptional, to some extent on account of the ongoing conflict, but we were expecting to grow during 2022 regardless. We're anticipating a boom in the diversification of our sales and revenue, across a number of countries and through a range of new products that we have been working on over the last couple of years. So, you'll be seeing us in the news again soon I'm sure, and I'm confident it will be focused on winning contracts and delivering results, as we always do."
www.npaerospace.com