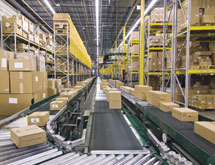 WIX Filters is a pioneer in the automotive filter industry that continues to innovate more than 70 years after its founding. Customers who opt for WIX are getting a quality product that is built to last from a company that manufactures more than 200 million innovative and durable filters around the world.
"Our products are in the premium category, so our customers expect premium performance," says David McColley, vice president of marketing and product management for WIX Filters. "Our product fills that need without any trouble.
"It fits properly and performs up to expectations," he adds, noting that WIX produces more than 30,000 types of high-performing filters globally. "The last thing anyone wants is to come back and service a vehicle and hear our product didn't perform as it should. There is a high level of expectation for the performance, fit and function of our product, and our product line consistently lives up to that expectation."
John Doane "Jack" Wicks and Paul G. Crawshaw founded WIX Accessories Corp. in 1939 in Gastonia, N.C., out of an old cotton mill. Keith Wilson, president of WIX Filtration, says this part of the country made it an ideal location for the simplification of the oil filter because of the abundance of scrap cotton available from the textile industry that supported this region.
From these origins, WIX Filters soon turned the industry upside down with a number of innovations to its oil filters. In the 1940s, the company added a handle to launch the WIX brand, offering an easier way to handle dirty filters. In the '50s, the company invented filters that could easily twist on and off, simplifying the changing process. In 1992, WIX developed the first conical air filter, and in 2006, it launched its Cabin Air Nasties product, which cleans air for the interior of automobiles. In 2011, it introduced a heavy-duty oil filter that more than doubles the oil's life.
Along the way, WIX Filters has been supported by a number of key partners and mergers that have kept the company innovating and excelling in filtration for more than 70 years. In 1966, the company became the first private-label manufacture for NAPA Auto Parts, a relationship that continues today. The company made its first acquisition in 1983 when it acquired Air Refiner to enter the heavy duty industrial segment. In 1988, it acquired a plant in Venezuela from Sivensa that remains in operation today.
WIX Filters formed a joint venture with Helsa Functional Coating, a manufacturer that brought WIX into the cabin air filtration market, in 1996. Two acquisitions in 1997 – Detroit-based Flexon and Olen Commercial Services – brought WIX into the automotive fuel filters market. The following year saw WIX acquire a Southampton, U.K., facility formerly used for General Motors' European operations, and consolidated its own European operations with headquarters in Poland.
WIX Filters itself was owned and operated by Dana Corp., a vehicle parts supplier based in Toledo, Ohio, from 1979 to December 2004. The company now operates as part of Affinia Group. WIX Filters boasts 11 manufacturing operations throughout the world, with 40 percent of its business stemming from customers outside the United States.
Vast Product Line
McColley says approximately 50 percent of WIX Filters' sales are to the heavy-duty segment. "That's not a big surprise since these clients change oil more frequently and service their air filters more often," he says. "That generates quite a few replacements on air filters."
For this market, the company offers oil filters including: WIX XD (extended drain), WIX XE (extra efficiency) and WIX ecoLAST brands – as well as air filters, fuel filters, cabin air filters, hydraulic filters, coolant filters and transmission filters.
"Our history has deep roots in heavy-duty filtration," says Keith Wilson, president of WIX Filters. "We understand what keeps maintenance managers up at night and we know how filtration can significantly impact the long-term profitability of an entire fleet.
"WIX premium filters enable the lowering of long-term costs by lengthening maintenance intervals while continuing to protect vital engine parts as well as or better than traditional filters changed at shorter intervals," Wilson adds. "Our experienced engineers, who are responsible for more than 30 U.S. patents, ensure WIX stays ahead of every technological change in the industry."
The rest of WIX Filters' sales stem from automotive and Light Truck applications, according to McColley, as well as niche products like WIX Racing Filters, and Aqua Chek water removal filters. In terms of geographic reach, about 30 to 40 percent of sales come from overseas, with the largest portion originating from Europe, including Poland, Ukraine and Russia, where WIX has facilities. The company sells product in Venezuela, as well, where it has a manufacturing facility, with smaller operations in Brazil and Mexico. The company also recently built a new facility in China.
The Value of WIX
No matter what the industry, filter category or region of the world, McColley says customers benefit most from what he calls the "WIX value proposition." This proposition consists of seven core elements that are critically important to its customers:
Order fill – McColley says WIX customers count on it to deliver a high rate of order fill with historic shipping performance at 95 percent or better. Despite the volume of orders, the company can get an order turned around within 48 hours without any forward-looking forecasts from customers, according to McColley.
"We're extremely flexible here and we have a lot of diversity of products on our lines," said Steve Renfrow, plant manager of the company's Allen Plant. "Our production assembly lines run many different sizes and shapes of products, so we have to be able to make changeovers very quickly."
Renfrow says the Gastonia plants review every production line each day to determine what's on backorder and potential backorder, and creates daily schedules to determine what to run each week. This daily schedule allows the manufacturing operations to set up specific runs for much-needed product, with lines changing over as much as eight to 10 times a shift.
High-quality products – "Our customers and their customers and professional installers trust our brand," McColley says. "OE quality or better is an expectation, and customers know they can count on WIX quality, backed up by our WIX warranty."
Expert sales team – The sales force consists of more than 150 employees who assist customers in pulling product though a given supply chain. The salespeople are well-versed enough to visit any given installer's bay, fleet or mine and advise customers on a variety of issues ranging from technical assistance, to stocking recommendations to inventory investment.
WIX Filters annually sends about a third of its sales force through its own WIX Institute, a three-day course taught by employees from the technical service and engineering departments to give salespeople and customers an exhaustive rundown on the products they sell. The course also includes a tour of all of WIX plants in Gastonia.
Along with the WIX Institute, WIX Filters also provides WIX e-Learning, which are modules and courses available for all levels of employees and customers throughout the world. McColley says this training method offers flexibility for even the busiest people because these modules can be stopped, saved and returned to later for completion.
Technologically enabled – As its clients grow and become more sophisticated in the use of data and technology like electronic cataloging, WIX Filters has kept pace with them every step of the way. Since this is now considered the industry standard for suppliers in the automotive aftermarket segment, WIX gives its clients total access to its product data including product images, product attributes, installation instructions, and more so associates at all levels can speak intelligently about its products. Customers also can use an online order tool, Affinia On Line, to place orders, check order status, or inventory.
"These are tools that work 24/7, 365 days a year so customers can access data or place orders with us when it's convenient for them," McColley says.
Through its technological savvy, WIX Filters also can advance the performance of its products. This is how it developed its ecoLAST line of filters. This filter's extended drain technology sequesters harmful acids that are a natural byproduct of combustion. McColley says WIX currently is the only company that offers this type of product.
Superior sales growth and margins – McColley says for most of the company's retail clients, filtration offerings typically represent a sizeable percent of their overall business volume. "If they're going to grow and be profitable, we want to be the locomotive that drives that business and also use filtration to open the doors to sales of other products," he says.
According to Renfrow, WIX Filters manufacturing teams work with engineering and product development at the product planning stages to best determine what is needed for a new product. Sometimes, that involves creation of a new production line, and other times it calls for a slight tweaking of an existing product or process.
"If the volume justifies a style of filter we've never run before, we'll introduce the new process and get involved early on to complete it within a six-month window," Renfrow states. "That's mostly for lead time to order the required tooling and equipment we need."
Greg Dillman, vice president of engineering, says WIX Filters is involved with the OEMs for major platforms and those designs make take several years before they are seen in the aftermarket. "Those design advances in Original Equipment certainly impact the aftermarket and influence the how WIX meets those demands," he says.
Product coverage – As manufacturer for several major distributors, WIX offers unparalleled product coverage. WIX Filters offers this breadth of items to ensure its customers can count on them to provide 100 percent of their filtration requirements.  Time to market is another key consideration when it comes to coverage. Our customers service late model vehicles and demand timely new additions and WIX delivers.
Customer service – Although McColley joined WIX Filters in the late 1990s, he says it is evident that exceptional customer service was a pillar of stability for the company long before his arrival. This is evident in the relationships the company maintains with automotive manufacturers like GM and Ford, both of which have relied on WIX filters for more than 50 years. While NAPA, CARQUEST and O'Reilly have distributed WIX products each for more than 20 years.
"We have longstanding relationships because we embrace customers and have positive histories of working together," Wilson added.
Hot Topic
With oil prices as volatile as ever, end-users want to extend the life of the oil in the fleets for as long as possible. However, engines also are operating at higher temperatures than the past – engines can sometimes exceed 250 degrees F in a given application. These issues have forced WIX Filters to revisit the materials it has used in the past.
"The life of the oil is being challenged in some of these really extended drain intervals," McColley says. "This can be a taxing load on oil filters as the oil breaks down."
In air filtration, WIX Filters has seen a transition toward panel-style filters, including those made of injection-molded plastic with nonwoven synthetic material as the media. "We have a whole team of people looking at different types of media," McColley adds. "They're trying to address many of the same issues with temperature and material capability."
As for fuel filters, WIX has seen a trend with many auto manufacturers opting to place the fuel filter in the fuel tank, thus rendering the filter non-serviceable without dropping the whole fuel tank from the vehicle. This change has resulted in two challenges: The in-tank filters must last the life of the vehicle, and sales of traditional fuel filters have dropped as a result. Looking forward, WIX now sees manufacturers of vehicles using diesel and gas engines with common rail fuel systems operating at high pressures requiring finer filtration.
Along with growing in the industrial filtration sector, WIX Filters aims to expand to more international markets in the future. Wilson says the company is targeting the BRIC nations – Brazil, Russia, India and China – for new and continued expansion.
"We already have a small footprint in Brazil, but it is a great market where we would like to have a better foothold," Wilson says. "We're already in Russia, and India also is a great growth opportunity, so it's another market I would like WIX to be in some day."
According to Bob Ferguson, vice president of global sourcing, about 90 percent of WIX Filters' products are sold to traditional aftermarket customers. These customers do not provide WIX a forecast of their needs but expect it to know their order patterns and have the product they need available in distribution centers to ship within 24 hours of placing an order. In order to accomplish this, WIX must forecast its customers' needs and have products scheduled and produced in its plants on time.  The remaining 10 percent of products are made to order for either a co-manufacturer, OEM or any type of client who may need private labeling.
WIX uses an ERP system to create the work orders and get lines scheduled throughout its plants to replace product that is about to run out. Ferguson says all lead times are built into the forecast and master schedule so raw materials can be purchased accordingly, as well.
About five years ago, WIX Filters updated its procurement process by installing software that can forecast the needs for every part – which involves thousands of SKUs – based on algorithms, history and product type. This independent forecasting by SKU optimizes inventory costs and availability, according to Dillman.
"It really optimizes the inventory along with cost of changeovers in the plant and balances those two based on our need at our distribution centers and demand of the plant," Dillman says. "This process creates a work order for finished goods and the system then drives demand for raw materials so that they arrive just as we need them."
Product Longevity
With approximately 12,000 different constructions of filters, a family of products can remain intact for decades. For instance, numerous filters required for open road vehicles haven't changed in the last 50 years, although there are new applications calling for new products every year.
"I would say part of our strategy is speed to market as far as new applications coming along," Ferguson says. "We measure ourselves on our ability to have new product available to our customers within a certain time criteria of when that product will be needed on that particular vehicle."
Ferguson boasts that WIX Filters can have a replacement filter available approximately four months after a vehicle hits the market. Dillman adds that since a vast majority of the company's business is in serving the aftermarket sector, unless WIX Filters introduced the filter to the OEM directly, the company has to rush to get a product to market as soon as possible.
"We have to scramble to get a part designed or manufactured because we don't get a lot of advanced warning," he adds. Ferguson says the company cuts down on lead times for such products by relying on WIX Filters' existing product line and tweaking accordingly.
"Oftentimes, this calls for a new spin-on design that is constructed differently, using existing components in a different arrangement," Ferguson says. "Whenever a new family of product comes through, that requires the building of a complete new manufacturing process to accommodate that."
Every few years, these new families require an investment in new tooling and equipment. However, most often, the company relies on taking advantage of existing components and processes to create new products without having to retool its machinery.
"It's fair to say when we're looking at a new family and thinking about a new manufacturing process for that particular family, we would definitely try to make that process flexible enough to produce a large variety of filters in that family," Ferguson says. "That's one of our strategies. We make sure the assembly process does have that flexibility."
Quality Control
To ensure its products are constructed with the utmost quality, WIX Filters requires that its suppliers are ISO certified, with some expected to have TS1649, as well.
"Engineering supplies specifications that we expect, and we have pretty high standards for process ability along those lines," Ferguson says. "Along those lines, when working with suppliers, we're going to select the one that gives us the best value not just on piece price, but the quality, workmanship, delivery and performance, as well. We could get a product at a cheaper price, but when we run it, it might generate more scrap, and take longer to process."
WIX Filters also brings certain key suppliers into the R&D process to help with the functionality of the product itself. This helps WIX ensure it is introducing the most advanced filtration applications available.
"This helps us introduce new products that are better for the marketplace, whether they are more robust against adverse driving conditions, oil temperature and pressures," Dillman says. "The WIX engineering team has technical meetings with our key suppliers on a regular basis to review our project list. This ensures that we continue to use the most technically advanced materials in our filtration products."
Ready for Growth
With such rigid standards for quality and the demands for quick turnaround times to serve the aftermarket sector, Wilson says WIX is set to grow domestically, and around the world. "In the simplest of terms, our philosophy says: build the bulk of the product you sell, in the market where you sell it. That means we intend to manufacture in the markets where we sell around the world, including the U.S. and North America," he said.