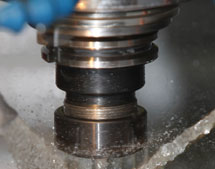 Wolverine Carbide and Tool
Since his father founded the company in 1965, Nicholas Stavropolous says Wolverine Carbide and Tool has been a leading manufacturer of precision tools and dies for the metal forming industry, and a number of recent additions have only added to the company's position. Even though the company faces some extremely tough competition from domestic and overseas suppliers, Stavropolous says Wolverine Carbide is poised for future success not only because of its recent moves, but also because of the strong foundation of quality people it always has had.
Originally known as Wolverine Carbide Die Co., the company specializes in the creation of tools and dies for hot, warm and cold metal forming applications in a variety of market sectors. Although the company primarily serves the automotive industry, its products also can be found in the aerospace, industrial, medical and power sectors. The company's services include prototyping, 3-D design and engineering, CNC grinding and milling, coating and machining services.
Wolverine Carbide recently made news when it merged with fellow Michigan-based manufacturer Direct Tool Inc. Stavropolous explains that Direct Tool originally only produced parts for its parent company, but with the impact of the recession it made sense to merge with Wolverine Carbide to prevent layoffs. Thanks to the addition of Direct Tool's advanced technology and operational efficiencies, Wolverine Carbide stands ready to deal with its competition. "It's turned what I think would have been a very difficult time for one company into a very good time for two," Stavropolous says.
More Elbow Room
Stavropolous says the merger is just one recent development that has strengthened Wolverine Carbide's position in the marketplace. The other is the company's recent move into a new 40,000-square-foot production facility in Troy, Mich. He says the new facility is a significant improvement over the company's previous 20,000-square-foot building in Roseville, Mich., if only because it gives the company more breathing room.
In the company's previous facility, Stavropolous explains, there wasn't enough square footage to keep parts moving smoothly through the production process because machines were too close together. As a result, components had to be put into storage. "Whenever you're moving things, you're putting them out of sight and they don't get the attention they need," he says.
Not only does the new facility give Wolverine Carbide more space, it also features new, upgraded equipment and a more favorable working environment. "It's clean, it's air-conditioned, it's well-ventilated and it's very well-lit for the people in the plant so they can see what they are doing," Stavropolous says.
Strong Relationships
Although Wolverine Carbide now has the added capabilities of Direct Tool and the added capacity of a new facility behind it, Stavropolous says the core of the company's success is and always will be its people and the relationships it has with its customers. He says no matter how advanced the technology is, a company will not succeed unless it treats its customers well.
"One of the things we strive to do is call them back on the same day," Stavropolous says.
Also essential to maintaining a strong relationship with customers is keeping them informed, he adds. Wolverine Carbide provides its customers with consistent updates on the status of their orders, even if there isn't any change in progress. Stavropolous says it is also extremely important for Wolverine Carbide to keep its word when dealing with customers. "We're very upfront with customers when we run into challenges," he says.
The company's employees bring a strong base of technical know-how to the table, but Stavropolous says there is some concern that Wolverine Carbide will have a difficult time maintaining that level of expertise. "One of the biggest trends we're seeing is a lack of qualified skilled help," he says.
Although Wolverine Carbide has a strong training program that it uses to bring new employees up to speed on the latest technology and processes, the company also is looking at ways it can work around the growing lack of technical knowledge in the labor pool. Stavropolous says these include doing more engineering work up front and utilizing more automation to take more of the heavy lifting out of employees' hands.
Stavropolous says he tries to complement the strong problem-solving abilities of Wolverine Carbide's current employees with an efficient leadership style that works to tackle problems head-on before they get out of hand. He says getting things done efficiently is one of Wolverine Carbide's primary goals, and giving those tasks to the right people is one of his.
Growing With Customers
Wolverine Carbide is in great shape, Stavropolous says, but success actually has brought out one of its biggest challenges right now. As the economy continues to recover, he says, many of Wolverine Carbide's customers are growing rapidly, putting pressure on the company to keep up with them. "We're doing our best to deal with that," he says. "It's a great problem to have."
The company is doing some growing of its own, adding new capabilities to help it break into new markets such as medical devices. With the recent improvements it has made, along with the growth of its customers, Stavropolous says it's conceivable that Wolverine Carbide could double its sales within the next five years.