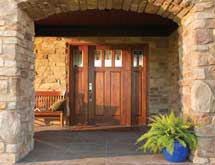 Woodharbor Doors & Cabinetry Inc.
Philosopher and poet Ralph Waldo Emerson originated the phrase "build a better mousetrap and the world will beat a path to your door." Businessman Jack Welch said, "An organization's ability to learn, and translate that learning into action rapidly, is the ultimate competitive advantage." Brothers Curtis, Dennis and Jon Lewerke may not have been studying up on Welch and Emerson when they started Woodharbor Doors & Cabinetry Inc. in 1993, but they were following their advice, nonetheless.
Woodharbor's origins date back to the 1970s, when the Lewerke brothers were custom homebuilders with standards that surpassed the quality of cabinetry available in the market at that time. They began producing their own line of high-quality cabinetry for the homes they built, and that business – Fieldstone Cabinetry Inc. – soon earned a reputation for "excellence in quality and design" throughout the U.S. kitchen and bath cabinetry market, the company says. The Lewerkes sold Fieldstone to Masco Corp. in 1985 and continued to work with the brand until 1993, when they launched Woodharbor.
"We provide our customers with complete customization," explains Kevin Lewerke, vice president and son of President Curtis Lewerke. "This is huge because customers want to personalize their purchase. We customize the products' dimension, characterization and inside accessories, and have total custom finish capabilities."
Providing customers with "the Woodharbor Home" was the impetus behind the new operation. According to the company, the Woodharbor Home comes complete with a line of interior millwork goods that complement and match each other in design, quality and finish.
Woodharbor manufactures its cabinetry and doors per the specs of each customer's order – it offers hundreds of wood, finish and design options – and it sells products directly to dealers and designers.
This is not standard practice in the industry – traditionally, interior doors and cabinetry are separate product lines and produced by different manufacturers. Doors are typically mass-produced and sold to distributors who sell them to lumberyards. Builders then buy the doors and hire a contractor to finish the doors and the rest of the millwork of a home.
"We are known for quality and excellence because we provide hand-craftsmanship and use state-of-the-art equipment in our facility," Lewerke says. "We have the knowledge and skill to create these products by hand, but use technology where it makes sense. With customization, a good share of the work still has to be done by hand, and our people have the skill to deliver high-quality products and designs."
The company offers hundreds of door designs and its cabinets are available via three lines: Woodharbor, a premium, custom line; Rockglen, which also is custom, but has fewer options and a lower price point; and CastPointe, which is custom, frameless cabinetry.
All of Woodharbor's products are available in a variety of wood species – oak, maple, cherry, hickory, birch, poplar, mahogany and knotty alder – and both lines of its cabinets have plywood sidewalls, 3/4-inch-thick dovetailed drawers, tandem under-mount drawer slides and a "catalyzed conversion varnish" finish system. Custom options include designer finishes, architectural details and various accessories.
A Critical Process
The Lewerke brothers may have been following the "build a better mousetrap" advice when they launched Woodharbor, but Jack Welch's thoughts on a competitive business describe how Woodharbor remained a strong player in the industry, even during a slow economy. The company learned that lean manufacturing principles were key to ensuring its business remained competitive.
Based in Mason City, Iowa, Woodharbor manufactures its three cabinetry lines at its 168,000-square-foot headquarters, and an 180,000-square-foot site in Northwood, Iowa, is where the company operates its mill and produces its interior doors.
"It is quite an orchestration with two facilities, but we have an ERP system to manage our productivity and inventory control, and the entire operation is very state-of-the-art," Director of Product Marketing Bill Alger says. "Our innovative system is automated and very high-tech."
In 2006, Woodharbor began im­proving its operation by implementing a number of lean manufacturing principles. The company began by mapping its operation and process flow, which has allowed it to minimize its production footprint, im­prove throughput and increase teamwork by helping each department to work more closely.
"With lean, the production process is simplified," Alger explains. "You know what tools you need and where they are, and everything is ready and able to go when necessary."
Additionally, Woodharbor has eliminated waste in its operation, reduced non-value-added processes and identified a number of best practices to help its operation going forward. Alger notes these improvements have been even more important in the current economy.
"Whenever you take waste out – whether it's material, process or manpower – it is helping you cut costs," he states. "Lean has been very good for our business generally, but it has been critical in helping us work through the downturn. The lean process never ends – we will always be working through different issues. It is a great tool to help us cut costs and improve."
Although it primarily has focused on the residential market in the past, Woodharbor recently began supplying cabinets and doors to the commercial market, and the company plans to grow its presence in this market going forward.
"It's been a tough couple of years dealing with the correction in the construction market and housing industry – new home construction in the last four years is down considerably," Lewerke says. "But we have been able to keep going by being as lean as possible, and now we're looking to grow again. We will grow in the commercial markets, grow within our current markets and we will grow by expanding product offering. As a result, we see a 20 to 25 percent growth potential over the next year."