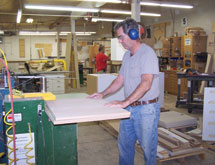 When people think of libraries, they usually get the image of environments where stern librarians demand absolute quiet. But that is changing, Worden President Ken Filippini says. "The library today is different than the library I grew up with 35 years ago," he declares.
Based in Holland, Mich., Worden manufactures seating and lounge products, tables and case goods, technical furniture and shelving for libraries, schools and offices. Worden started operations in 1949 and has since nurtured "a long history of producing great products," Filippini says.
Its history was so rich that it led him and a few partners to purchase the company last year. "We thought this could be a great opportunity," he says, noting that Worden strives to creatively support environments with custom and standard products.
"We're really trying to make sure we're not just building furniture, but we're building things that enhance people's learning experiences," he says. One example is Caravan, a portable media center that features a built-in power source and the ability to connect multiple computers for screen sharing.
Building for Groups
Public and university libraries comprise the majority of Worden's work, Filippini says. In recent years, libraries have become more oriented toward offering a broader spectrum of services and collaboration. "There are fewer stacks and more space for group meetings," he says.
During a recent research study at Grand Valley State University in Allendale, Mich., Worden learned that students were using the campus library in this exact way. "They observed that every night, students would come in to use that space and they would move furniture," Sales Manager Linda Visscher says.
"They would create the space that they needed," she continues. "In the morning, the staff would look at the space and try to incorporate what the students were trying to create. That's what we're trying to do."
This has driven Worden to develop larger tables for group work and furniture with power sources so users can plug in devices. "Power is critical, from phones to iPads to laptops," Filippini says. "We have been very creative and very generous in putting power [in our products].
"More of the things we manufacture have to be mobile," he adds. Worden provides lounge tables and chairs with wheels that enable users to push them around. "That's a reflection of people learning differently than in the past," he says. "Much of the furniture we manufacture has a variety of flexible elements to it."
Thinking Forward
Libraries also are requiring their staff members to work more out on the floors where their patrons are, Visscher says. "As they evolve, those big, monolithic desks are becoming more of a thing of the past," she says. "So we do furniture that allows staff to perform their job when they're [engaging] with the public."
The increase in library employees engaging with the public is partially due to the recession, Sales and Marketing Director Melissa Wikman notes. Many went to libraries during the downturn to use the Internet to find jobs. "If they have a question with a resume, they will ask a librarian," she says. "The range of services in that kind of setting is broadening at an amazing rate. We have to keep thinking forward as we help [our customers]."
Visscher agrees. "That challenge is to stay ahead of the evolution, putting products out there that libraries need as they evolve," she says. "We're constantly trying to be ahead of what library patrons expect."
The Right Balance
Manufacturing quality is an important focus for Worden. "It's one of the things that our customers really look to us for," Filippini says, noting that libraries are renovated only every 20 to 25 years. "They want it done well.
"We have been known as a company to be a higher-end producer in terms of functionality, durability and longevity," he says. But, Filippini admits, this role can be challenging with the issues of costs and lead-times.
"People are to the point where they expect things immediately," he says, but notes that high-end furniture cannot always be produced in tight schedules. "We want to do it right. We want to make sure it lasts 20 to 25 years."
To cope, Worden proposes the use of alternative materials and different technologies. "We're always trying to find a way to find a balance between price and value," he says. "There are cheaper ways to do things, but you give up something when you do that."
Making Impacts
Filippini, Visscher and Wikman are proud of Worden and its capabilities. "When I walk through the plant, and see product before it ships, I'm absolutely stunned by what we can do here," Wikman says.
Filippini agrees. "We have a tremendous team of people who are true craftsmen," he says. "They've been doing it for a long time, [making] products that they know are going to impact people for many years to come."
For the future, Worden plans to continue changing and specializing in serving libraries, Filippini says. "One of the things that we hear sometimes from people is that the library is dead," he says. "It's not dead. It's changing.
"There will always be a space for the library," he insists, noting that libraries will evolve further into the role of community centers. "I can guarantee you it will look different in the future than it looks today."