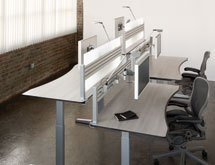 When it comes to the design, manufacture and distribution of height-adjustable workcenters and ergonomic office accessories, Workrite Ergonomics has grown into an industry leader. Founded in 1991, Workrite Ergonomics has become a go-to resource for many clients in need of ergonomic office solutions as well as ergonomic trends and data.
"The company was founded by an entrepreneurial team that invented a palm rest for keyboard trays, which is consistent with the entrepreneurial culture here in Silicon Valley," President Charles Lawrence says. "Since then, the company has become the preeminent authority for ergonomic office furniture and accessories."
Set Apart
Based in Petaluma, Calif., Workrite Ergonomics is headquartered in a 100,000-square-foot facility that houses its manufacturing and administration. The company also has a showroom at the Chicago Merchandise Mart. Its team of 130 includes 30 employee salespeople located across North America. Additionally, the company works with 30 independent contract sales agencies with strong customer relationships in target markets.
The company's ergonomic products are designed to increase employee productivity by improving an individual's alertness, health and comfort. This is a benefit not only to the employee, but also to the employer because more productive and healthy employees equal a more productive company.
Workrite Ergonomics offers dozens of products, including workcenters, task lighting, monitor arms and keyboard platforms. It also provides industry-leading support to customers and end users through a dedicated customer support team.
About half of the company's sales volume comes from everyday efforts of its sales team and dealer network. The other half comes from large projects for companies in the midst of remodeling or building facilities.
One thing that helps to set the company apart is its commitment to ergonomic design. Lawrence says many large office furniture companies dabble in the ergonomic space, but they do it as an afterthought. He says customers see Workrite Ergonomics as an expert in the category because the company's primary focus is ergonomics.
"We have a flat structure that allows us to be nimble and quick in customer service and product development," Lawrence adds. "We've been able to grow at 15 to 20 percent a year in a flat industry over the last four years."
Reaching the Market
The fact the company has seen significant growth in the past few years is impressive because there has been a downturn in the office furniture industry. This has been a reflection of the overall economic environment, as many companies have held off on building and remodeling projects and made staff cutbacks. Those factors have caused the office furniture industry to stagnate, but Lawrence says Workrite Ergonomics has been fortunate because of the company's focus on ergonomic solutions.
"We're in a segment of the industry that has been getting a lot of attention because of the issue of living a sedentary lifestyle," he says. "Ergonomic research has historically focused on the back and lifting in manufacturing environments in the past, but the last few years have seen an increased focus on the office environment."
As attention has been paid to everything from carpel tunnel syndrome to the dangers of sitting too much, Workrite Ergonomics has focused on product development initiatives that meet the changing needs of office settings. Lawrence says products like sit-to-stand desks with adjustable height are becoming more popular as people look to avoid being too sedentary.
"Our focus on product development has resulted in 40 percent of our revenue being generated from products that are less than 3 years old," he says. "We think staying on top of our product line and keeping it fresh is key. A lot of our products interact with technology, so we also have to stay in touch with what is happening with the shape, size, depth and weight of technology products."
One of the challenges in getting its products to market is the fact that items such as a sit-to-stand workcenter can be a little more expensive than a standard desk or workcenter. Workrite Ergonomics recognizes that it must create an attractive ROI for the customer and convince them that employees will actually use the products they purchase. One of the ways it plans to do this will be its January 2014 launch of a sit-to-stand workcenter with built-in intelligence.
Users will be able to control the workcenter via mobile devices and an app can provide reminders on when a user has been sitting or standing for too long. It can also track and report user activity over a day, week or month. This will allow employers to monitor how the table is used and help them teach employees how to use the table the right way and maximize the benefits they provide.
"Another benefit is security, which is extremely important in industries such as healthcare and finance." Lawrence says.
"When you arrive at your desk with your iPhone, the desk will recognize you and automatically activate the workcenter and any devices connected through the built in power center such as lamps or computer monitors," he adds. "If you walk away, it can be programmed to enter a sleep mode that will turn off the lamp and the computer monitor, making any work on the screen inaccessible to others. This kind of linkage between technology and our products is a big trend in the marketplace."
Workrite Ergonomics has very strong dealer relationships and, in an effort to bring its dealers as much business as possible, its salesforce focuses on identifying potential opportunities and contacting end-user organizations directly. The company's sales managers are a key component in fostering and building strong relationships with Fortune 500 companies and helping them to understand the value of ergonomic products in the workplace.
Another key piece of the puzzle for Workrite is developing relationships in the architect and design communities. Workrite focuses on keeping those communities informed about its offerings, and leverages their input in the company's product development initiatives.
"We will remain a flat organization so we can continue to respond quickly to trends and support an environment where our people are empowered to take action," Lawrence says. "We will also continue to invest in new products and leading the marketplace by making sure that we know what the next big thing is going to be."