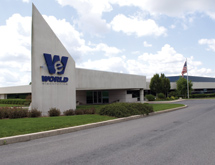 WORLD Electronics started out manufacturing only elevator control boards in 1986, but opened its manufacturing plant to additional industries in the years that followed to diversify its offerings and prevent a downfall if one industry suffered.
The addition of other industries was made possible when owner Joseph Rado purchased an automatic printing machine in 1987, its first surface mount line, for quicker component placement onto the circuit boards. Elevator circuit boards only took a small percentage of the machine's capacity, so the additional industries allowed the business to make complete use of the equipment.
Today, WORLD provides end-to-end solutions, including design and manufacturing services ranging from new product development to volume production. "People come to us with a design and we will build to their specifications without deviations," Project Manager Mike Duddy explains. "The products we make enhance your life and mine, but we would never hold it."
The company provides boards to the aerospace, telecomm, security and manufacturing industries and looks to increase its presence in the medical industry. "If one industry is lacking, one should be picking up and insulate us from any economic uncertainty," Duddy says. Although WORLD's circuit boards already are used for anesthesia and ultrasound machines for the medical industry, the company looks to provide its service for additional medical devices. "We want to increase our presence there because it seems to be a pretty stable field and demand will be consistent," Duddy explains.
Piecing it Together
A number of different components and requirements, such as temperature and humidity sensitivity, are involved in manufacturing printed circuit boards. In its 84,000-square-foot headquarters in Reading, Pa., WORLD has the capabilities to place 100,000 components per hour and bond five gold and aluminum wires per second with the finest pitch at 5.2 micron accuracy capability, which the company says is faster and more accurate than its competitors.
The time required to build a printed circuit board varies depending on its size, number of components and complexity, Duddy explains. To keep clients in the loop on when products will be completed, WORLD offers real-time tracking through integrated bar coding systems.
All raw components in the circuit boards are purchased in bulk form and inventoried. Manufacturing problems can occur when raw materials, which are used to make the components, are mined and there is instability in that industry. "If there is instability in a country where raw material is mined or problems extracting it from the earth, it has an adverse affect on making components, which then prevents us from making the circuit boards," Duddy explains. To prevent this from becoming an issue, WORLD uses a variety of inventory strategies to limit the impact on the company.
"Manufacturing the circuit board is unlike anything else," Duddy says. "There are many different procedures and operations necessary to get the product through the door and make sure we don't jeopardize any part." WORLD is ISO 9001:2008 certified and working towards ISO 13485 certification, which is an international standard for medical device manufacturers.
Building Its Future
Growth is always part of WORLD's equation. Duddy says the company has been fortunate in that its existing customers have prevailed in their respective industries, which has allowed WORLD to grow with them. The company is also looking for additional clients, especially in the medical industry because of its consistent demand. "We want to walk before we run; we don't want to ramp up too quickly and stumble and upset our existing and new customers," Duddy explains. "Before we engage in a relationship and invest in a company through tooling, employees, inventory and money, we go through an interview process. They interview us and we interview them on their strategy and business plan."
To keep up with its proposed growth and increase its output capacity, WORLD is looking to increase from 1.5 to two shifts in its manufacturing plant. However, its "biggest challenge is finding people who are skilled, a skilled labor force so we can match our growth with our employees," Duddy explains. "People aren't studying electronic manufacturing or theory as much anymore."
For employees who may be new to the industry or less experienced, WORLD offers in-house, CD-based training to take the employee through a number of different courses. The courses provide "how-to" explanations on printed circuit boards and soldering, and show what the product should look like in the end. Employee's increased knowledge base also helps the company's production process to be the latest and greatest, Duddy says. "That makes us a competitive regional contract manufacturer," he adds. "Time is money. If I can make a board in less time, that makes me more attractive."