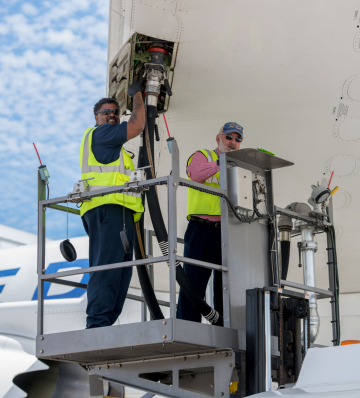 World Energy's fuel and fuel blends exceed industry standards.
When AltAir Paramount LLC became part of World Energy earlier this year, it added to a company with a legacy of more than two decades of industry leadership in biofuels. The firm, which is based in Boston, is one of the largest suppliers of biodiesel in America, with more than 200 million gallons of annual production.
"World Energy has been at the very forefront of establishing the biomass-based diesel industry every step of the way," the company says. "Biomass-based diesel now contributes nearly 2 billion gallons annually to the American fuel tank and nearly 8 billion gallons worldwide."
The company's roots stretch back to 1994, when Twin Rivers Technologies purchased a Procter & Gamble soap manufacturing facility and opened the first, stand-alone U.S. biodiesel business in Quincy, Mass. Four years later, the company spun off its biodiesel division and formed World Energy Alternatives LLC.
In 2000, the company became the country's largest seller of biodiesel and over the years, set up additional locations across the United States, as well as in Europe, South America and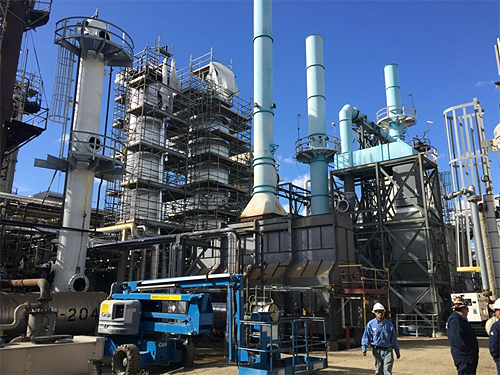 Malaysia. Today, "Our fuels and fuel blends exceed the industry's most demanding specifications and we offer certified BQ-9000 as well [as] Q-RIN verified products tailored to customer requirements," it says.
World Energy notes that it has been recognized by the U.S. Department of Energy and Platts as a leading force to bring biofuels into the mainstream of energy supply in the United States and across the world. "Now, more than ever, World Energy is putting that knowhow to work, delivering reliable supply and uniquely targeted services," it says.
"In production, distribution, trading, risk management, finance, operations, regulatory compliance, market analysis, systems integration, public advocacy and every other aspect of our industry, World Energy personnel are at the forefront," it says, noting that its partners are also innovators. "To us, collaboration and partnerships based on shared strengths are the central [tenets] of building enduring value."
Consistent Results
World Energy says it has built one of the largest and most dependable biofuel distribution systems in the United States. "World Energy's scale, quality and reliability translate to consistent results," it says.
For example, the company offers biodiesel and biodiesel blends from its production facilities in Georgia, Mississippi, Pennsylvania and Houston. These come from a variety of "feedstocks, tailored to meet customer needs with or without RINs, blended with or without diesel," it says.
World Energy also delivers blended diesel for fleet or industry use, and can supply blends ranging from B5 to B99 for spot sale or on long-term contract indexed to heating oil. "Usually less expensive, our biodiesel blended diesel is always cleaner than straight diesel," it says.
The company also offers Q-RIN verified Biomass Based Diesel (D4) RINs which it says are suitable for Advanced Biofuel (D5) RIN and Renewable Fuel (D6) compliance under the United States Renewable Fuel Standard. "We offer RINs attached to physical product or separately," World Energy adds. "And we contract with Weaver to insure we always remain in full compliance with all federal RIN requirements, so you will too."
World Energy also highlights its production technology. "In conjunction with our partner, Hydrodynamics, World Energy first developed and now offers the world's most efficient cavitation technology, the Shockwave Power Reactor," it says. "Causing near instant temperature change of 15 degrees F, the SPR uses the power of high intensity cavitation to reduce monoglycerides, lower catalyst utilization, cut operating costs and increase throughput capacity."
Creating Value
World Energy offers services that allow it to utilize its expertise. "Over two decades playing a leading role in establishing a new industry, we have learned a thing or two," it says. "Our partners have too.
"We now offer our expertise for collaborations at all stages of the biofuels business, from sourcing, distribution, engineering, design, build, retrofit, trade, finance and general management," it says. "We understand that bringing a new fuel to market is not easy. That's why we believe that teamwork is the best way to leverage our expertise, and yours, to create enduring value."
For example, the company has its management services. "Our partners are making important investments in biofuels," it says. "We are too. Together, we continue to build enduring value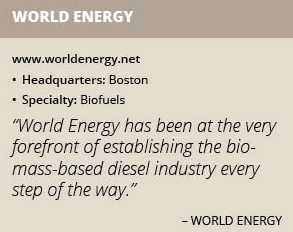 through collaboration and partnership based on shared strengths.
"This is at the heart of everything we do," the company says, noting that it offers its expertise on collaborations involving all in business management services, tolling and contract manufacturing agreements, sourcing services, and sales and trade services. It also can help with accounting and regulatory management services, industry specific regulatory compliance, and feasibility analysis and market analysis.
World Energy also can assist with sourcing, supply and logistics, finance support and risk management, and customized services. "Above all, we bring competency and sustained commitment with the knowledge that enduring value comes from collaboration," it says.
Driving Progress
World Energy has assembled an experienced leadership team. "Our team strives to drive biofuel progress, not just keep up with it," it says.
This includes founder, President and CEO Gene Gebolys. "He built a company that would play a leading role in building an industry," the company says, noting that he was the founding chairman of the National Biodiesel Political Action Committee and a founding commissioner of the National Biodiesel Accreditation Commission (BQ-9000).
Before starting the company, he was vice president for alternative fuels for Twin Rivers Technologies Inc. Additionally, "He previously served as a senior economic development official under former Massachusetts Governor William Weld and is a former urban planner," World Energy says.
COO Michael Laznik joined the company in 2007 and leads its finance, trading, risk and business development functions. "He has played a critical part in the company's expansion as a large-scale manufacturer in the United States, and continues to play lead roles in all aspects of the company's strategy, trading and supply functions," it says.
He also previously was the vice president of Mesirow Financial and director of corporate finance for FTI Consulting. "He was a senior consultant for many years, advising clients and their stakeholders on matters of strategy, finance, valuation and capital management," it says.
Vice President of Logistics and Operations Brendan Marusa joined World Energy in 2006 and manages its logistics operations on four continents. "He has emerged to lead World Energy's sourcing, logistics, distribution and operations as well as its co-product optimization activities," it says.
Before joining the company, he was an officer on oil and chemical tankers as a member of the American Maritime Officer Union. "[He] received a bachelor of science degree in marine transportation from The Massachusetts Maritime Academy and is a member of the Regiment of Cadets," World Energy adds.