World-renowned sailor Ken Read details finding the dream ride of a career 
In my early days of sailmaking, I'd wake up in the morning to go to work, but work was a hobby," begins Ken Read, President of North Sails. "Now, though, our business is the world's leading and largest sailmaker, producing sails that nobody else in the industry can replicate. It's a nice advantage to have. 
"Some of us are born to be doctors, lawyers, or diplomats. When I was born, however, my destiny was to figure out how to make boats go faster. It's not a path they teach you in school, but it's led to a hell of a career." 
Ken got into the sailmaking industry straight out of Boston University, where he was a three-time collegiate All-American. After a few years working, cutting his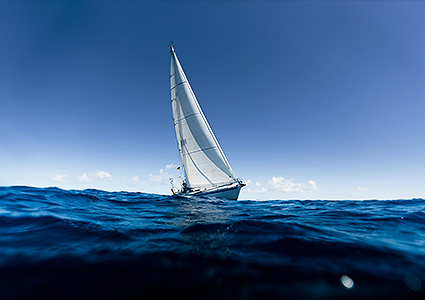 teeth with a small sailmaker called Shore Sails, he and a friend named Dan Neri purchased the flagship Shore franchise in Newport, RI. With little money but lots of energy and loads of ambition, the duo made a name for themselves and figured everything out on a shoestring budget. So much so that North Sails approached them in 1995 with an offer to buy the enterprise.
"North Sails came to us and essentially said, 'You guys are a big problem for us in the marketplace, so let's talk,'" he continues. "I've built this dream career by doing what I love, which is sailboat racing, and helping to run an organization that I'm truly passionate about – it's turned into a dream ride. My bosses have pushed me out the door from time to time to go skipper the America's Cup or Volvo Ocean Race syndicates. Obviously, this helps me build my own credibility, which in turn brings North Sails value in ways that few people could. Like I said – a dream ride that's far from over. 
"North Sails is a business built upon the idea that the best sailboat racers make great business leaders. Even as we entered our era of private equity ownership in 2016, our new partners fully understood that this is a sailors' company, run by sailors using data and science as our guide. What really makes us stand out is the way in which we've been able to apply our core business values to push the limits of all our products." 
The company was started in 1957 by American sailor and Olympic gold medalist Lowell North in San Diego, California. Lowell was driven by science and had felt that up until that point, sailmaking in general had been a touch-and-feel craft. Although there was very little applicable research available at the time, his theory was purely scientific and is something that has been carried forward with the business to the present day. 
"We like to refer to ourselves as the scientific sailmaker," Ken explains. "Our bespoke software and manufacturing processes have contributed to a wide array of industries. Today, North Sails sits alongside several other companies under the primary ownership group of Oakley Capital within the North Technology Group. These include marine businesses Southern Spars, Future Fibers, Rig Pro, North Action Sports, Hall Spars, and lifestyle brands North Actionsport and North Sails Apparel. The diverse North family covers everything from sails and masts to rigging and kiteboards to foul weather gear and casual wear. 
"North Sails is still the largest of the group and sort of keeps everything ticking along. There's a lot of highs and lows in the marine world. Our former CFO used to call it a lumpy business, but the sailmaking division is the most consistent. We've also become a better-run company working alongside Oakley Capital, but they still leave us completely to the creative side, which means our innovation hats are on 24 hours a day. That's what we're best known for, but that innovation isn't limited to high-performance and superyacht sails. We are proud of the fact that North Sails essentially covers the entire sail buying market. But with that said, when someone says North Sails, my guess is that most sailors immediately think science and speed; America's Cup, around-the-world record breakers. Incredible innovation that is constantly evolving."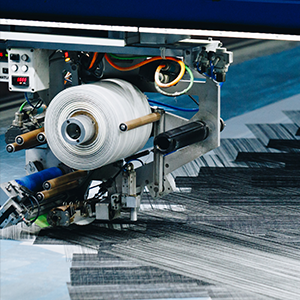 The business pioneered 3D sailmaking, a manufacturing process that's resulted in two of the business' key developments, its 3DL and 3Di sails. They have stood as such revolutionary innovations within the industry that it wasn't until the latter came along that the former had some real competition. 
"We designed 3DL laminated string sails, made up of two plastic films that sandwiched together the structural fibers that were built into the catenary of the sails," Ken elaborates. "This structure could be made of carbon fiber, Kevlar, or polyester bundles within a Mylar film. We were the first to utilize a three-dimensional mold to produce such an item and given that these were developed in the early 1990s, North Sails truly set the tone for the future of sail technology. 
"However, 3DL's use of Mylar film had its limitations, as it was prone to delamination. The lighter you made the sail, the weaker it became, and the more contact time it had with moisture or UV, the higher the chance of its components de-gluing. So, in the early 2000s, we worked with a new innovative group from Switzerland and developed 3Di using spread filament tapes laid over the 3D mold. These microfilaments create tapes that can be laid within catenary loads using robotics. This renders a composite structure which eliminates the Mylar film, which means exceptional lasting ability. By the time 2010 and 2011 came around, the 3Di sails were soaring, and within around five years, we ceased production of 3DL. 
"That's just how we operate," he concludes, "we're always looking at new opportunities. Oakley Capital is passionate about growing all the companies under the North Technology Group and maintaining their overall health. It's the adage, 'if you stop growing, you start dying.' We've got a real hunger to continue to get bigger and better and to watch our product line evolve. As an American, I like to use the baseball analogy that right now, we're hitting lots of singles each and every day, but we're always striving for those home runs to get things moving even faster."