For a company that's all about measurements, there's never really been a straightforward way for Wyatt Technology to measure success. The Santa Barbara, Calif.-based company, which specializes in producing light scattering instruments used to determine the absolute weights and sizes of macromolecules, is not governed by a regulatory agency or industry organization that collects data or compares instruments. Understanding Wyatt's products' acceptance by the market was always a bit of a mystery.
That is, until Clifford Wyatt, executive vice president and one of the founder's two sons, realized the company could get a sense of its impact by looking at how many peer-reviewed articles cited Wyatt Technology's instruments. After combing through the data, the company found that there were more than 13,000 peer-reviewed articles that have referenced Wyatt Technology since the company began in 1982. "By having so many papers published in peer-review [journals], we really do demonstrate the technical superiority and market adoption that stands behind each product," President Geofrey Wyatt says.
A clearer picture of its impact on chemical, industrial and commercial customers has helped Wyatt Technology better market its instruments. "The best way to sell something is word of mouth," Geofrey Wyatt states. "The second best way is to point to somebody who has measured the same thing you want to measure and show their published results."
Innovative Foundation
The company reached its status in the analytical instrument industry from a small beginning. More than 50 years ago, founder Dr. Philip Wyatt, Geofrey and Clifford's father, created Science Spectrum, the world's first company to incorporate a laser as well as a microprocessor into a scientific instrument. These early instruments were targeted to microbiologists and never achieved widespread market adoption.
When Science Spectrum shuttered in the early 1980s, Dr. Wyatt took his ideas and opened his namesake company with the backing of a $50,000 contract (which would become known as a Small Business Innovation Research contract). Using equipment that had been left over from the last days at Science Spectrum, Wyatt rented a 200-square-foot space in a manufacturing facility and set to work on proving the feasibility of using light scattering instruments in military, industrial, medical and commercial applications.
Wyatt Technology's start was modest but momentum began to build after a few months as potential customers discovered Wyatt's work. Shortly before Science Spectrum's dissolution, Wyatt had published an article that looked at the light scattering properties of soft drinks. The article drew the attention of the Coca-Cola Co. and the beverage giant engaged Wyatt to perform studies on the light scattering properties of its soft drinks.
Around the same time, Wyatt's oldest son, Geofrey, joined the company. A recent Yale graduate, Geoffrey had never intended to return to home Santa Barbara and work in high technology, but without a job or prospects for one, he needed a place to stay and the price of his old bedroom was right. In lieu of rent, Wyatt began to help out at his father's new company: performing janitorial duties and running experiments in the small laboratory.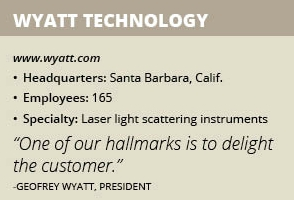 With the father-son team in place, Wyatt Technology was ready to make its first push. In early 1983, the company had received a request from the Johnson Wax Co. in Racine, Wis., a consumer chemicals manufacturer, to build a multi-angle light scattering detector. Such a device had not been made before, so Wyatt Technology enlisted some freelance engineers and designer friends and was able to deliver an instrument about eight months later.
Evolving Instruments
Johnson Wax's positive response encouraged Wyatt Technology to begin publishing press releases about the device to trade journals, and the company soon started receiving more inquiries from prospective customers. Meanwhile, Wyatt Technology was still trying to figure out exactly what kind of product it had made. "We really didn't know what the device did [for the customer]. We had no brochure. We didn't even have a second device," Geofrey Wyatt says.
Word of mouth spread, as did customer publications, and within a few years commercial sales were outpacing government contracts. Wyatt Technology made the decision to focus on commercial clients and slowly began to build up a workforce of designers and software engineers.
Growth was slow, but necessary for stability in those early years. "You do what you can to survive," Wyatt says. "Since we had no rich relatives or outside investors, we did whatever we could to stay in business and remain healthy and financially strong."
Wyatt Technology's first light scattering instruments were aimed at measuring the molecular weights, sizes and conformations of various molecules, useful information for polymer scientists trying to predict the end behaviors of products in development. However, by the late 1980s, companies had figured out that light scattering instruments could also be used to measure proteins, since they are biopolymers and can behave much klike synthetic polymers. That revelation opened the door for Wyatt Technology to sell into the biotechnology market. "That has really become the backbone of the company," Clifford Wyatt says.
Today, Wyatt Technology's instruments are used by biotech, pharmaceutical, chemical and petrochemical customers as well as university and government research labs in nearly 65 countries. The company's most popular product is the DAWN, a research-grade light scattering instrument with 18 or more angles of detection and the capability to use different laser wavelengths. "It can be used in a batch mode or flow-through mode and it can be used for molecules as small as a few hundred daltons up to billions of daltons," Geofrey  Wyatt says.
The DAWN remains the driving force of Wyatt Technology's product lineup; however, it has branched into some complementary technologies, such as a refractive index detector used to determine molecular concentration. The company's newest product is the DynaPro Plate Reader III, a dynamic light scattering instrument that measure the Brownian motion of particles Being able to measure the Brownian motion enables users to estimate the sizes of molecules present in the solution. "The plate reader makes measurements in an automated format so you can load the instrument with samples and walk away," Wyatt says, "and a few hours later everything is analyzed."
Delighting Customers
Despite its global presence, Wyatt Technology remains a smaller company, with only about 165 employees worldwide. Geofrey Wyatt says it functions better that way because it can respond more quickly to customer care and support needs without being bogged down by the weight of a large organization. "One of our hallmarks is to delight the customer," he says. "That really is our manta. It has embedded us within our customer base on a very deep level."
Delighting the customer begins with engineering great products and creating a strong employee-centric culture. The company strives to fill open positions from within and it offers a profit-sharing plan that motivates team members to work to ensure the company is successful every quarter. "This enables us to make people feel like they have skin in the game because if we're successful they're successful," Geofrey Wyatt says.
Wyatt Technology is able to build that employee environment because it's a family-owned business. Geoffrey says the goal is to keep it that way, pointing out that if Wyatt Technology were ever to be absorbed by a larger company it would likely compromise the culture and attentiveness that its customers want. "We can make decisions in favor of the customer based on our heart and not always what might be financially prudent in the short run," he explains, "and I think that's one of the beauties of the family business."
"The influence of people in our company to be empowered to do the right thing for the customer is a force to be reckoned with," he adds.