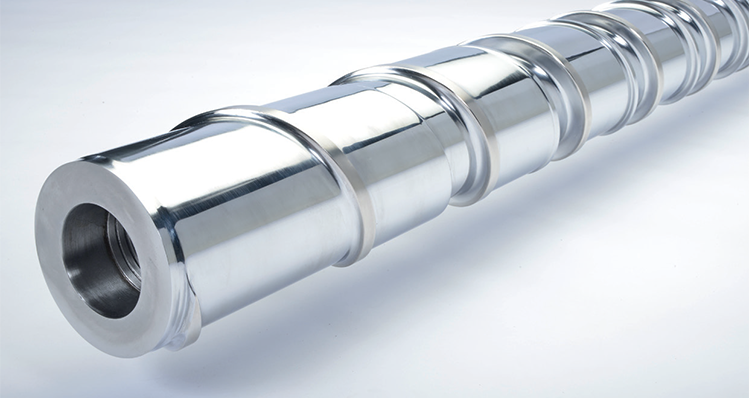 Giving Both Barrels
Since being founded in 1929, Xaloy has developed into a premium brand of bimetallic barrels and screws
As the inventor of bimetallic castings, Xaloy has worked for more than 90 years to offer superior workmanship, engineering experience and a strong, continuously growing, portfolio of patented and proprietary products to its customers. Its growth journey includes the acquisition of Spirex in 2009, and joining forces with Nordson Corp. in 2012. Nordson sold the company to Chicago-based private equity firm, Altair Investments, earlier this year.
Thanks to decades of experience in the industry and dedication to embracing innovation, Xaloy has perfected bimetallic casting technology.
Xaloy is a major contributor to the global supply chain of plastics equipment manufacturers and processors, according to Xaloy chief executive officer Kamal Tiwari
The company's product lines have three distinctive categories:
Bimetallic injection and extrusion barrels
Bimetallic and tool-steel injection and extrusion screws
Bimetallic and tungsten-clad extrusion twin barrels and injection-unit components, such as non-return valves, end caps, nozzles, and nozzle tips
"What truly sets us apart is our innovative, proprietary technologies that provide solutions for polymer-processing challenges, advanced-wear and corrosion performance coatings that improve product life," Tiwari emphasizes, adding that Xaloy is founded on innovation. "Our global commercial teams are actively engaged with customers to identify gaps in our product lines, or new processes, that require a different solution to the product development funnel."
To keep products personalized, Xaloy invites its customers to bring new polymer compounds they are working with or their processing problems to the company's innovation center. "There, we can simulate the problem in real time and test screw and or valve configurations that may solve the problem," explains Mark Colella, director of engineering at Xaloy. "At times, we may only simulate the problem, but the testing often shows the path to a solution utilizing Xaloy design technologies."
In addition, the company's global team of application engineers and experienced sales personnel provides onsite process solutions to customers. Xaloy's relationship with its client base works to ensure the best possible outcome for both parties, says Seeni Congivaram, Xaloy vice president of commercials. Take one of Xaloy's most recent projects, for example.
"We recently had a project with a customer utilizing our tungsten-cladded product that does finishing work post Xaloy-cladding. The part is utilized in the resin-compounding market space and requires very tight tolerances in its final state," describes Congivaram. "We worked together with this customer, sharing machining and measuring techniques and touring both facilities to fully understand each company's challenges. Through this collaborative effort, we created a path that should solve the problem and minimize process time for both companies."
Collaborative relationships
Xaloy's unique production and engineering capabilities are combined with a truly global supply chain. Keeping the company international is important, stresses Chris Shelton, vice president of global operations for Xaloy.
"Xaloy manufacturing sites are strategically placed to support our customers around the globe. The Austintown, Ohio, site manufactures primarily for the Americas region with additional support to EAME and Asia as needed," he says. "The facility in Chonburi, Thailand, manufactures for Asia and EAME primarily, with additional support to the Americas as needed. Both manufacturing facilities have very similar equipment with the best available machining technologies in key areas of our manufacturing process."
Maintaining global diversity also means that Xaloy can keep the best people. Most recently, it has been working to relocate its twin-barrel product line from Austintown to its Pulaski, Virginia, facility, which was on the verge of closure when Altair acquired it. It has relied on many longtime and former employees to make the shift.
"With the ability to bring back a knowledgeable and willing workforce already trained in barrel manufacturing, this has provided a huge advantage to the operation and our customers," Shelton notes, adding that the people behind Xaloy are fundamental to the company's success.
"Xaloy makes high-precision products using complex, state-of-the-art equipment that requires a high level of skill and training," Tiwari says. "Our people are our lifeline, and we are a very employee-focused company. We focus on frequent and transparent communication. We have quarterly town hall meetings to communicate performance to our operational, commercial and financial KPI's."
To safeguard the company's potential and invest in the future of manufacturing, Xaloy provides a path for direct-labor career growth. This system is regulated via a capabilities matrix that weights each process by degree of difficulty and proficiency level, according to Trudy Cheney, global human resources director at Xaloy.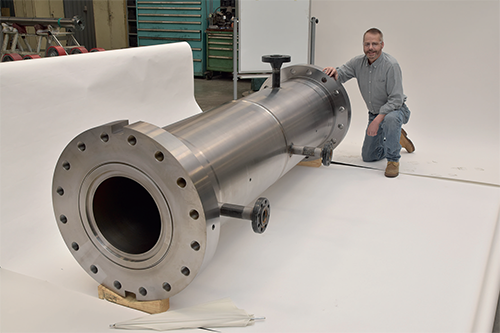 "The concept is that the more processes a person is trained to do and the more proficient they are in each, the more pay we offer," she explains.
This speaks to the synergistic and supportive nature of Xaloy's company culture.
"We strive for an open and collaborative relationship with our team members at all levels. It is important for each person to have a voice and for us to create an environment where they are comfortable sharing their input, so that we can continuously improve our business operations," she says. "We work diligently to recognize each person as an individual."
Future focus
Xaloy's relationships with its suppliers are just as integral, Tiwari says. These strategic alliances are focused on collaboration, and ensuring the supply base works together for each other's mutual benefit.
"It is important that collaboration exists in the partnership so the correct synergies are built and quality information flows between businesses," he says.
With great strides being made in both product innovation and collaboration, Xaloy is now focused on ensuring the sustainability of its success.
"Being in the plastics business today is tough, with the many articles on plastic pollution in the oceans, bans on plastic grocery bags and other products in various areas of the world," Tiwari acknowledges. However, he and his team are addressing these hurdles head-on.
"Our best 'green' strategy is to utilize our technologies to help those companies in the world that have a passion and vision for recycling plastic products to provide sustainability in our industry," he explains. "There are very large challenges in plastics recycling with product-wear performance and screw designs capable of achieving significant output. These demands play directly to who Xaloy is and our future focus on innovation."
Xaloy has remained pragmatic and intuitive in the face of a sustainability crisis and maintained its success even through the turbulence of Covid-19.
"A variety of emotions hit our workforce, from disbelief at first, to fear, realization and frustration," Tiwari notes. "Through all of that, we continued to communicate, put policies and procedures in place to protect our workforce and did what was necessary to maintain some normalcy in the workplace."
In navigating the pandemic, Xaloy's commercial teams also worked together to prioritize any orders to help manufacture critical medical products.
"Everyone in the company was aligned and driven to process these first," he explains adding that as the world continues to battle the pandemic, Xaloy continues its proactive approach.
"Looking into the future," says Altair partner Andrew Brickman, "we have plans for investing in new machines and capacity, reopening facilities and cross-training employees, so Xaloy can continue to seamlessly serve its customers, while ensuring the health and safety of its employees."
Xaloy is a company driven by a goal of developing product and process solutions that will reduce the environmental impact of the plastic sector whilst also meeting the needs of its clients on a global scale. It aims to be a world-class company in all respects.
"We see Xaloy not only as a profitable company," notes Brickman, "but one with strong leadership, and a stable workforce of good, high-quality, skilled, determined people who will continue to build the company's future."
Xaloy
www.xaloy.com
Products: Global manufacturer of barrels and screws