Putting people first
Working in collaboration with medical professionals all over the world, Leeds-based innovators Xiros has spent over three decades transforming ideas into finished products, designing and creating pioneering devices, from concept to creation
Running diagonally through the centre of the knee, the anterior cruciate ligament (ACL) exists to prevent the tibia from sliding out in front of the femur, as well as providing rotational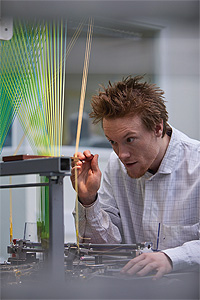 stability to the knee. An incredibly important, and often overlooked, part of the human anatomy, sadly the ACL is also one of the most common knee injuries, particularly for individuals participating in high demand sports and other activities. The severity of the injury can often result in surgery and a significant period of recovery.
It was with ACL-based injuries in mind that friends and colleagues Dr. Bahaa Seedhom and Dr. Kyosuke Fujikawa came together, in Leeds in 1981, to develop a textile-based implant and reconstruction technique that came to be known as the Leeds-Keio Ligament. With this innovation, the company Neoligaments was formed to specialise in the design, development, manufacture and supply of implantable textile-based scaffolds to treat a range of ligament, tendon and soft tissue injuries.
"In 2000, we changed our company name to Xiros in order to reflect our unique and diverse range of skills, which includes research, engineering and regulatory knowledge of medical implantable devices," explains Xiros' Production Direction, Alex Hogg. "Although we continue to design, manufacture and market our own product range under the brand name of Neoligaments, as Xiros we also specialise in the development and manufacture of products for some giant orthopaedic companies."
Through Neoligaments, the company sells directly to hospitals in the UK and through a series of distributions worldwide, predominantly in Europe, South Africa, Australia and the United States. Further to this, Xiros is increasingly engaged with large US-based orthopaedic companies who wish to benefit from its technical textiles expertise, as well as its ability to respond quickly and to remain flexible.
"In the early years, there was some reluctance from the global market to adopt the use of synthetic ligaments," Alex states. "More recently, however, the benefits of these synthetic products have become recognised and widely accepted, resulting in a big increase in interest in our technology and capabilities, especially from the large, US-based orthopaedic companies."
The sterile implantable scaffolds that the company has helped pioneer are manufactured in-house at its state-of-the-art factory premises under a strict quality management system that operates to a number of international standards, including ISO 9001 and EN 46001, which it achieved in 1993 and 1995 respectively. The latter allowed Xiros to become one of the first UK companies to become eligible to CE mark its products under the EU Medical Device Directive. In 2004, Xiros would also go on to gain accreditation to ISO 13485.
"Our core solutions are centred around technical textiles, predominantly weaving, which is how many of our products are manufactured," Alex continues. "Along with weaving, our technical textiles capabilities include, but are not limited to, knitting, embroidery and braiding. We also possess an in-house clean room for post-processing and packaging, a test lab where we carry out strength and fatigue testing of the product batches prior to release and on new products, a workshop where we conduct prototype work and new machinery manufacture, and a new materials lab where we develop new fibres for use in our products. Additionally, we utilise a wide mix of bespoke machinery, which is both designed and built in-house, and this allows us to create unique medical devices that cannot be replicated with standard equipment."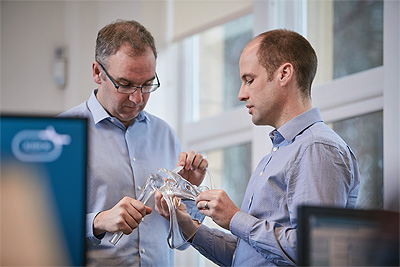 At the heart of Xiros' business strategy is the rapid development of innovative ideas into fully developed commercial products. To this end, it developed a rapid response service called FASTRAX. "This focused service was created to convert concepts into complete solutions through a rigorous project managed process, ensuring speed to market without compromising quality. FASTRAX can be tailored to suit individual requirements, from completion of certain portions of work over the development process to full design and creation, including obtaining regulatory approvals."
To ensure that it is at the cutting edge of medical textiles, Xiros is always looking to expand its capabilities to be able to devise new and innovative products. Its textiles designers are constantly pushing the boundaries of what is considered possible with existing equipment, while its team of engineers is responsible for the developing of new machinery that supports the creation of its novel designs.
An example of the company's existing equipment and its forward-thinking approach coming into sync can be found in its development of various products, not least of all the Rota-Lok, a product designed to deliver the reconstruction of chronic, massive, full thickness rotator cuff tears. The result of a collaboration with Mr. A. Nada, Consultant Orthopaedic Surgeon at Nevill Hall Hospital, UK, it was he who identified the potential for a modified version of Xiros' existing generic implants to optimise the repair of chronic massive rotator cuff tears.
"The original open weave structure of the Poly-Tape, our generic implant, remains a central section to provide a scaffold for tissue ingrowth, while thin corded ends were incorporated into the design to enable the implant to pass more easily through small bone tunnels, and the undulating structure of the cords was designed to allow for a small, highly secure knot. The Rota-Lok was launched by Neoligaments in 2010, and continues to be a bestselling product."
Beside interest in technological advances and innovations, Xiros emphatically believes that its core strength is its people. This is perhaps best reflected in the fact that it has held the prestigious Investors in People Standard since July 2000, and achieved Investors in People Gold Standard Accreditation in March 2016. Further to this, a recent assessment saw the company awarded '3 Star Best Company' accreditation, highlighting its 'extraordinary' levels of employee engagement, capping of a fine 2017 that also saw it listed within the London Stock Exchange Group's 1000 Companies to Inspire Britain report.
Xiros' focus going forward is on becoming the leading innovator of implantable textiles and devices, and this means continuing to develop new and innovative products wherever possible. "We remain committed to recruiting people with relevant special skills, as well as investing heavily in new equipment and machinery, to ensure that we keep on top of ever-increasing demand for our products," Alex concludes. "To accommodate this we have successfully completed several minor extensions to our building, and in 2018 we will begin work on our new build extension that will almost double the square footage of the company."
Xiros Ltd
Products: Textile-based medical innovations