Dreaming big
Passionate about offering advanced non-invasive skin cancer treatment therapy systems, Xstrahl has developed a wide range of products that have put the company at the forefront of radiation oncology
"Our vision is to be innovators in the application of X-ray technology, which serves our ultimate purpose to help eradicate cancer," exclaims Adrian Treverton, CEO of Xstrahl. Over the course of pursuing this noble cause, the developer and manufacturer of superficial orthovoltage medical X-ray systems used in cancers and dermatological disorders treatment, has become
one of the brightest names in the radiation oncology world, with manufacturing facilities both in the UK and the USA. Furthermore, Xstrahl has developed expertise in providing accurate and specialised research solutions to life science investigators, radiobiologists, radiation oncologists, and radiation physicists by offering a broad range of pioneering radiation-based research systems.
Traditionally, the company has directed its focus on producing machines that treat non-melanoma skin cancer, but especially in the period between 2006 and 2009, Xstrahl developed the Life Sciences side of the business intensively, through which it has introduced a variety of pre-clinical research systems. "We worked on a system that replicates human treatment on animals, following the exact pathway of directing radiation straight to the tumour in an animal model, which allowed us to explore the latest developments in radiation oncology," Adrian recalls. "The product line really took off in the USA and we have sold about 70 of these systems since 2010. Intelligibly, North America is one of our strongest markets, but we have also had the machines installed all over Europe, in Brazil, Australia, China, and Korea."
Given the rapid advancements in radiation oncology, even in areas of the world that were previously less developed in this respect, Xstrahl is seeing multiple opportunities to promote its products in a number of markets. "Countries like the UK, Australia, and Canada, where the health system is very similar, are our core markets, because patients are often subjected to radiation treatment, which allows for the use of our systems. At the same time, China has been investing a lot in cancer research, which enables a potential for growth for our Life Sciences products. We can also see that certain post-Soviet countries in Eastern Europe are now rolling out cancer treatment programmes, looking for alternative skin cancer treatment methods, so this region forms another geographical area where we can bring our equipment," Adrian discusses.
Cleverly adapting in line with the ongoing field trends, Xstrahl launched its RADiant product earlier in 2018, having identified an increasing demand for smaller, mobile X-ray therapy systems. The system was specifically designed to move around the clinic and from room to room, meaning no lengthy installations. In addition, the unit's small footprint allows for the adaptability of a busy treatment room, while its mobility makes for better use of space within the treatment room. Its low energy and short exposure times means the treatment room requires less shielding compared to a higher energy systems, as well.
"The RADiant product is the first of a new generation of X-ray therapy systems we are working with. We have now established an R&D roadmap that looks at adapting the core technology around the patient's needs, while also investigating the opportunities to use other new technologies to deliver even more portable variants of the system," comments Adrian.
"There is a core technology with all of our products, which means that they are controlled, filtered, and commissioned in a very similar way to each other. What sets us apart is the expertise of our people and the skilful way in which we manage our supply chain," he explains. "We are a manufacturing systems integrator and have formed fruitful relationships with our suppliers over many years, as we outsource various aspects of the manufacturing process. Still and all, we put a great emphasis on putting our people through a lot of training. A big part of what we do involves the implementation of our quality management system, so our employees need to be process-driven and understand what they are meant to be doing."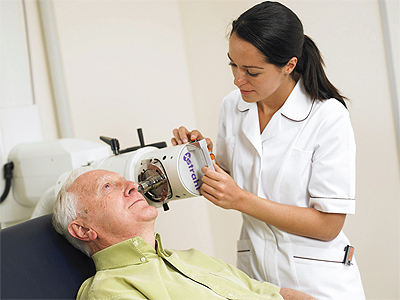 Adrian happily embraces the fact that Xstrahl operates in an exciting area where the company can make an actual difference to the well-being of millions of patients around the world. "There are two main goals we would like to achieve with our Medical division," he outlines. "First, we want to provide as many skin cancer patients as possible with an access to the systems we have developed, so they can go for this non-surgical approach. Second, we want to see that the inflammatory conditions that can be treated by our products are better understood by the public, as scientific progress now allows the patients to receive painless radiation therapy treatment. In the meantime, we will continue to innovate in the Life Sciences department and look for new ways that make the treatment more available to patients worldwide."
Hitting certain financial targets has inevitably been a goal for Xstrahl, too. In March this year, Risk Capital Partners bought a majority stake in the company to support its future growth. "Being adaptable seems to be crucial in our aspiration to develop into new markets. We have to tweak our products, so that they are functional in different sectors with different requirements. Sometimes, it is innovation in simplicity and making systems easier to use that is needed to make them successful in diverse market areas, where people have a different level of training and understanding of how they work," Adrian points out.
"We are a company, which focuses on growth and on the development of its own people, who then support the customers and help them deliver the best patient care and the most insightful research in the area. Our ambition is to stay innovative and nurture our collaboration with some of the biggest universities in the world, whilst extending our network of customers, so that we can drive our growth forward," he wraps up.
Xstrahl
Products: X-ray systems for treating cancer and dermatological disorders